Oliver Bonas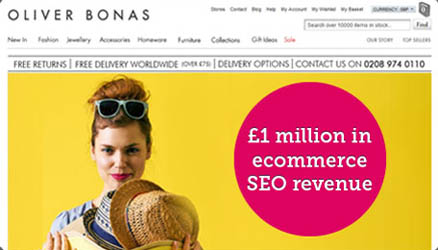 The Situation
An online department store selling fashion, homewares, furniture and gifts wanted to increase revenue from their website.
The Solution
Keyword research identified that there was an opportunity to rank on the 1st page of Google results for the keyword "next day delivery dresses" which had a high intent to buy
Meta data optimisation applied the target keywords to title tags, meta descriptions and headings across every page of the site
Content optimisation best practice guide was distributed to website administrators so that their product descriptions could include the target keywords when relevant
Link building included fashion blogger outreach, Pinterest content creation, Polyvore content curation and MyDeco community engagement to increase the value of the inbound links
Non-branded SEO revenue increased 368% in 12 months
The Results
Found on page #1 of Google for the keywords "unusual jewellery", "unique dresses", "next day delivery dresses" and tens of thousands of other non-branded keywords
SEO revenue from non-branded keywords (keywords searched for by new customers that didn't use the company's brand name or brand name variations) increased by 368% within 12 months
Revenue from SEO traffic sources increased to in excess of £1 million
Chartered Institute Marketing (CIM) Marketing Excellence for Retail / FMCG Awards Finalist 2013
"Thank you for the great contribution you have made to the Oliver Bonas website. Thank you too for all the information and guidance. We would like everyone to know how much we appreciate everything ThoughtShift has done for us."
- Jamie De Cesare, eCommerce Manager, Oliver Bonas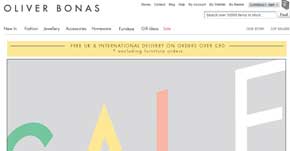 Get a Smarter Digital Marketing Analysis
If we can grow your business faster, one of our consultants will show you how within the next 1 business day.