Food and Drinks Industry Marketing Trends and Statistics
Food, glorious food. The Food and Drinks industry is more important to the UK than ever. According to Lloyds Bank, it employs over 4,000,000 people and worth getting on for £22 billion to the economy every year.
So we take a delicious dunk into the latest food and beverage marketing trends and statistics set to drive growth for 2018 and beyond.
1. Last minute menu planning, a world of opportunity for content marketing
There was a time when menus were planned on a weekly basis. Maybe you even had the same thing each week, Fish on Friday, Curry on Saturday, Roast on Sunday, leftovers Monday, Sausages on Tuesday. Things have changed.
According to a fascinating trends report by Waitrose, two thirds of us call in at a supermarket more than once a day either regularly or occasionally. They found that most people don't decide what they are having for dinner until lunch time and one in ten don't decide until just before they eat.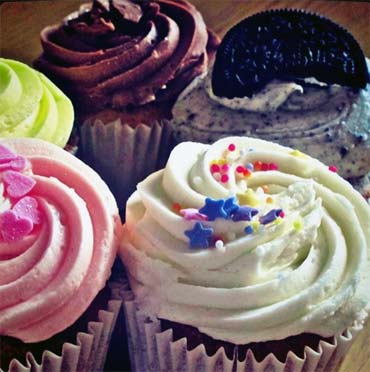 So that's people making lots of decisions more often. And each time someone makes a decision there is an opportunity to influence them with your content. And that content needs to be easy to find, persuasive and easy to digest. Just like your product.
1 in 10 don't decide until just before they eat
Perhaps the most fascinating indicator of our changing shopping habits is largely anecdotal. Waitrose reports that while it used to open its stores with around 200 big trolleys and 150 littluns, known as 'daily shoppers' in the trade, its all changed and now the typically Waitrose start of day trolley line up is 250 daily shoppers accompanied by just 70 of their big brothers. This reflects a lot of what we know about retail shopping across all sectors, people are getting the big boring stuff delivered and shopping instore for the more interesting treats.
2. Instagrammable food photography
When we last checked there were 260,819,245 Instagram posts tagged #food. #foodporn accounted for 150,819,245.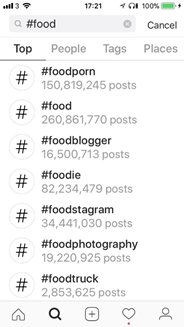 Albert Roux is clearly fighting an uphill battle when he tried to ban customers photographing their food in his Waterside Inn restaurant. According to Zizzi, reported in The Independent and elsewhere, 18-35 year olds spend the equivalent of five days a year browsing food pictures on Instagram and 30% say they would shun a restaurant if they had a week Instagram presence. So being on Instagram is obvious, no?
18-35 year olds spend the equivalent of five days a year browsing food pictures on Instagram
With 70% of posts going unseen, it's not that simple. You need to build engagement, choose your tags with care and consider advertising. The great thing about Instagram Advertising is that you can target in the same way as Facebook who, after all, do own Instagram.
So that means being able to target your existing customers, assuming you have their email addresses, to target their friends, lookalike audiences, which we have found most effective overlaid with special interest audiences and all with pin-point geo-location targeting.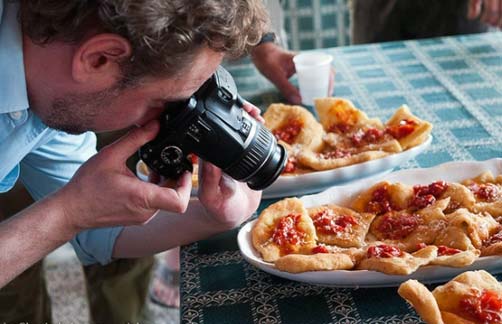 3. Harvesting the rise in consumer demand
According to a survey by the Vegan Society there are three times as many vegans in Britain as there were ten years ago with an estimated 542,000 refusing all animal products.
While we have seen search terms using the modifier 'vegan' outstripping search prefixed with 'vegetarian' there are, according to the NHS, around 1.2 million people identifying as vegetarians in the UK. So there is something interesting going on there with the need to search for the two food types.
That's why Pret have opened three vegetarian branches and why Just Eat have predicted that plant-based food options will be the food trend of 2018, a conclusion they reached after seeing a 987% increase in demand for vegetarian options in 2017.
UK Gluten Free food market will be worth £673 million by 2020
The other big rise noted by Just Eat was the rise in demand for gluten-free options which increased by 72% in the UK. Mintel predict the UK Gluten Free food market will be worth £673 million by 2020 and reporting that a third of Brits bought or ate free-from foods over the preceding six months.
It's good to know what people are searching for, obviously. And once you know what they want, if your goods fit the bill you need to make sure your site is optimised for those terms. OK, let's assume you sell cakes. Are your cakes gluten-free? Then let the world know!
Ethical food trends
The need for transparency to reassure the consumer about the safety and trustworthiness of food is another trend identified by Mintel.
'Natural product' claims appeared on 29% of global food and drink launches from Sept 2016 to August 2017.
Ethical and environmental claims appeared on the packaging of 22% of food launches over the same period, a rise from just 1% over the same period the previous year.
57% of UK adults who use and buy milk say they are more likely to buy the products from a supermarket that spells out how they support its farmers.
Once again, for marketers this is about optimised content. You need to sing your own praises and make sure you can be found for your many virtues.
Healthy food trends
On the subject of food trends, Google found functional foods with 'healthy' qualities continue to grow in popularity.
Healthy food trends

| Keyword Search Term | Growth in Demand 2011 v 2015 |
| --- | --- |
| Best food for acid reflux | +921% |
| Best food for upset stomach | +321% |
| Best food for skin | +131% |
| Best food for energy | +131% |
Meanwhile, the same report identified this staggering increase for the keyword 'turmeric' which grew +56% in just three months up until the end of January 2016.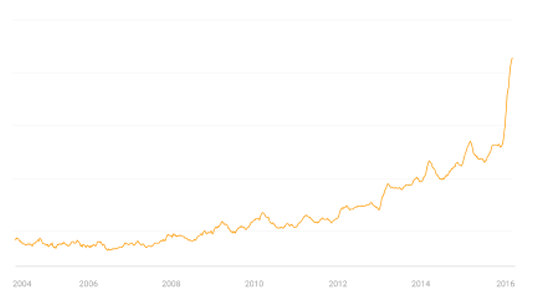 3. Food gifts for every audience and season
People increasingly give food as a gift. And the trend is reflected in data from the USA which reflects an $18 million market growing in both consumer and corporate sectors (source: Packaged Facts).
From 'Mother's Day gift ideas' for the truly clueless to 'luxury chocolate gifts' for the decided and 'organic food gift ideas next day delivery' for the late but discerning. And don't forget all those good people looking for corporate gifts. It's a growing market with a very healthy average order value.
Luxury biscuit gift company, Biscuiteers, increased their website traffic from new customers by 90% and SEO revenue by 77% in 6 months by optimising category landing pages for different types of food gift buyer and season.
By specifically targeting each type of buyer through integrated digital marketing campaigns throughout the year, they were able to appeal to many different types of customers and present them with the most suitable product choices for their situation.
4. Futuristic buying food experiences from 1-click to no-click
While we are calling into the shops more often and making decisions about our meals at the last moment we still need to buy the regular, the everyday and the boring. While Amazon want us to buy regular supplies at the push of a branded Amazon Dash button and subscription services cater for customers who know what they want and how often they want it, quick and easy is clearly important to us all.
According to Mintel, 35% of consumers like the idea of adding to their shopping lists by barking orders into their Amazon Echo, Google Home or The Apple HomePod.
Meanwhile, Domino's have trumped everyone
Looking to recreate the days when a regular customer could stumble into a store and be greeted with a smile and a one word enquiry 'usual?', Domino's have introduced a 'no-click' online shopping experience.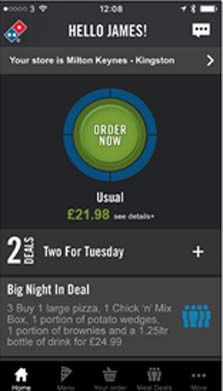 Once the customer has stored details of their favourite food choice, delivery address and payment, all they have to do is open the app and not interrupt while it confirms the order.
All of this begs a question – how easy is it to buy from you?
To keep up-to-date with more eCommerce marketing trends and statistics, subscribe to our email newsletter, or request a free digital marketing analysis.