Biscuiteers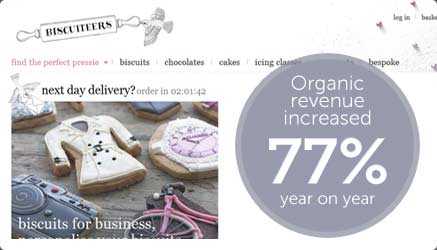 A luxury edible gift brand specialising in hand iced, bespoke biscuits, cakes and chocolates
ThoughtShift provided SEO & PPC services
The Situation
Luxury biscuit gifting brand, Biscuiteers, wanted to increase sales from their website on the same budget despite an influx of competitors in their industry.
The Solution
Keyword research identified opportunities to rank on page 1 of Google for highly relevant keywords including "iced biscuits"
Meta data optimisation applied the target keywords to title tags, meta descriptions and headings
A range of seasonal audience-led campaigns were set up in order to take advantage of seasonal search traffic such as targeting the corporate Christmas gift market which drive larger orders
Monthly linkbuilding included baking and mum blogger outreach and a variety of community engagement to increase the variation and value of the inbound links
Implemented callout extensions for PPC ads and upgraded the site links to enhanced site link extensions, increasing the click through rate and keeping the cost per click down
Optimised PPC campaign by location and time to increase Quality Score and conversions
The Results
New organic users increased 90% year on year
New visitors from SEO increased 90% year on year
SEO revenue increased by 77.88% year on year
Page 1 of Google for "corporate Christmas gift ideas"
PPC spend decreased by 23% year on year
"Our search engine marketing campaign from ThoughtShift is a great success story. We've increased eCommerce SEO revenue by 77% year on year with 90% of SEO traffic being driven from new visitors. This was achieved whilst reducing our Google AdWords spend to provide a better overall return on investment from search."
- Becky Lynch, Head of Marketing, Biscuiteers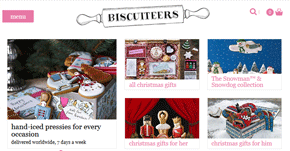 Get a Smarter Digital Marketing Analysis
If we can grow your business faster, one of our consultants will show you how within the next 1 business day.