Bloodwise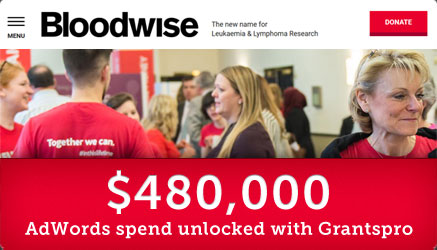 Blood cancer charity, raising awareness, offering support to those dealing with blood cancer and researching cures
ThoughtShift provided PPC, SEO and Social Media
The Situation
The UK's specialist blood cancer charity wanted to increase brand reach to increase awareness of the variety of blood cancers and the support they provide having rebranded from Leukaemia & Lymphoma Research to Bloodwise. Additionally Bloodwise wanted to increase online donations and sign-ups for fundraising sporting events.
The Solution
56% increase in PPC transactions year on year
Keyword research identified opportunities to rank for the overarching visibility campaign to rank for keywords such as "blood cancers" and "hodgkins lymphoma"
Keyword research around event fundraising found the opportunity to rank well for keywords including "charity cycling events 2015" and "bikeathon 2015"
Restructured the Google AdWords account with keyword optimisation, ad copy creation, inclusion of more granular site links and mobile preferred ad copy
Managed Google AdWords with regular search query analysis and ad copy review to continually improve performance
Gained a number of high authority links through outreach to event and transport websites such as TFL (Transport For London)
Engaged in cycling, family and fundraising forums to build links back to the site whilst reaching target audiences
Integrated PPC and SEO teams met regularly and planned campaigns to ensure that opportunities across each channel were fully utilised
Created Facebook Advertising campaigns which specifically targeted a cyclist audience to drive Bikeathon sign ups
Seasonal campaigns included Christmas Shop campaign set up and management across Google AdWords and Google Shopping
Hit the Google Ad Grants budget cap for 2 months in a 6 month period and maintained a CTR of over 1% for 6 months to successfully upgrade the Google Ad Grants to the Google Grantspro
The Results
Number 1 rankings for "leukaemia research" and "leukaemia & lymphoma research"
14.55% year on year increase in all site traffic
11.70% year on year increase in organic traffic
79% year on year increase in event sign-ups from SEO for fundraising events like Bikeathons
55.12% year on year increase in PPC traffic
56.25% year on year increase in PPC transactions
39.90% year on year increase in PPC revenue
$480,000 of free Google AdWords advertising generated by unlocking the Grantspro account (£317,764 based on November 2015 exchange rates)
"I have worked closely with ThoughtShift throughout my time at Bloodwise, their experience and knowledge in digital media has been both invaluable and an education, and the way they deliver has always  been a pleasure to work with. For me the highlight of the campaign so far has been getting $480,000 worth of annual funding from Googles Grantspro which has helped us extend our reach in paid advertising, other significant highlights have been the a massive 79% increase to organic fundraising event sign-ups and increasing paid media eCommerce revenue by 39% year on year."
- Rich Williams – Head of Creative & Digital at Bloodwise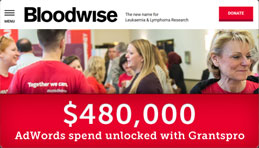 Get a Smarter Digital Marketing Analysis
If we can grow your business faster, one of our consultants will show you how within the next 1 business day.