ThoughtShift places a high value on the positive impact we have as a business within the community, the environment and our social responsibilities.
Charity
We work with local charities who make a positive impact on the Brighton community by raising awareness and sharing our expertise. We carry out pro bono work for some amazing registered charities, as well as holding annual fundraising events including:
Our charity partnerships include The Clock Tower Sanctuary, Whitehawk Foodbank, Starr Trust, Rocking Horse, St Mungo's, The Red Box Project (Brighton & Hove) and St John's School and College.






Community
ThoughtShift has always been passionate about helping young people start their career in Digital Marketing, creating a diverse and inclusive culture that supports young people starting out in their Digital Marketing careers.
We love working with local schools, colleges and universities. Our leadership team regularly visit centres of learning to hold workshops on Digital Marketing, discuss the career opportunities available, as well as teaching them how to be safe online.
ThoughtShift have enjoyed working closely with Varndean School, Varndean College, and BHASVIC taking part in their Digital Programme at BACA (Brighton Aldridge Community Academy) and PACA (Portslade Aldridge Community Academy). ​
Social
We want to make a difference and that starts with building a diverse and inclusive team of skilled experts who love working together to help EVERYONE reach their potential.
Skills & Talent Manifesto
As part of ThoughtShift's ongoing commitment to making a difference we have joined Wired Sussex pledge to help make Brighton the best place to have a fulfilling career in the digital sector. ​
Our work within the community will continue to build upon the relationships we have with local schools, colleges and universities. Promoting equality and inclusion. We are dedicated to encouraging a diverse and collaborative community.
Living Wage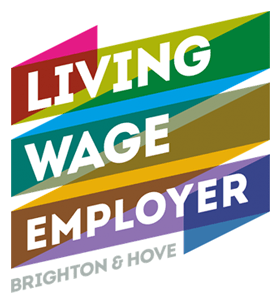 ThoughtShift places a high value on the positive impact we have as a business within the community, the environment and our social responsibilities. We want to make a difference and part of making a difference is supporting this fantastic campaign by encouraging all businesses to make that change, so everyone can meet their potential without being financially vulnerable.
Academy
ThoughtShift's Digital Marketing Academy is a continuous learning programme, designed to nurture fresh talent and develop future Digital Marketers. Interns are welcomed here with open arms and are given a real 360 experience on all our digital marketing services. They are taken through our Essential Training Programme and work closely with our team of experts across different departments.
We welcome work experience students from local schools and colleges. Giving them hands-on experience inside a busy agency, as well as a better understanding of Digital Marketing and the career opportunities open to them.
Sustainability
ThoughtShift is committed to reducing our carbon footprint. From the very beginning we have consciously chosen to work with business who are aligned with our own ethos when it comes to sustainability and their environmental impact.
We do this through many different ways. Diverting waste from landfill, and recycling as much as possible and reducing plastic waste. We regularly review where we can make changes and take action and value any suggestions on how we can continue to reduce the impact on our precious environment.
Wellbeing
Health and Wellbeing are integral to having a healthy and productive team. At ThoughtShift we value and support our team by prioritising their wellbeing. We encourage open and confidential communication around mental health and wellbeing. We hold regular events throughout the year, a fantastic EAP (Employee Assistance Programme), anonymous surveys and private one to ones so we can help protect our teams wellbeing and give them the support they need. We are currently working towards Minds Workplace Wellbeing Index, so we can benchmark ourselves and work towards continuous improvement.
Free Digital Marketing Consultation
Grow your online revenue with Website, SEO, PPC and Social Media strategy advice from our award-winning team