Google Shopping Agency
Promote all your eCommerce products with Google Shopping and Product Listing Ads (PLAs)
How our Google Shopping approach works
Our Google Shopping & PLA PPC Audit & Management service is completely bespoke and includes:
1. Google Shopping Strategy
Our Google Premier Partner Agency Consultants start by understanding your unique challenges and goals. We then advise and guide you through the entire process of either auditing or setting up your Google Shopping account and product feeds.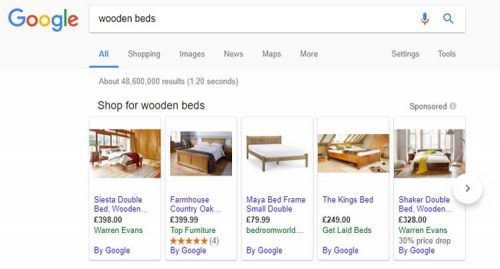 2. Product Feed Consultancy
The success of your Google Shopping campaign is dependent on your website producing a valid product feed that can be uploaded into Google Merchant Center. Failure to provide an acceptable product feed on three occasions can result in your entire Google Shopping campaign being blacklisted and your ads being pulled from Google. So before we start a Google Shopping campaign we work with you and your web developers to make sure your product feed has everything you need.
3. Negative Keyword Research
As eCommerce PPC specialists, the key to success in Google Shopping campaigns is the use of negative keywords. Google Shopping works differently to Google AdWords campaigns. Rather than bidding on the keywords you want to appear for, Google Shopping matches the product names and custom columns in your product feed to the customer search query. Therefore to appear for the words you want, we add negative keywords to your Google Shopping campaign to reverse target your products to appear in the most relevant searches. 
4. Google Merchant Center Customisation
Once your product feed is updating products, prices and availability information dynamically within Google Merchant Center, we can add additional customisation. There are a wide array of different targeting capabilities by applying optimisation to different data sets, for example we can flag products with the highest profit margin or tag product sets based on Spring/Summer or Autumn/Winter season. The more data points within our campaigns the greater the relevance, the lower the cost per click and the greater the PPC ROI.
5. Google Shopping Campaign Management
Once approved and live, our Google Shopping consultants manage your campaigns on a daily basis. Google Shopping management activities include directing your Shopping strategy, analysing account performance, refining negative keywords, testing new Google Merchant Center customisation and deploying new campaigns as products change throughout the year.
6. Google Shopping PPC Reporting
As eCommerce PPC specialists, our agency reports track search impressions, clicks, cost, revenue performance and return on ad spend as standard. All our PPC reporting is bespoke and is tailored to your goals with actionable insights and what we will be doing next on the first page.
What you can expect from our Google Shopping agency
Our Google Shopping and PLA management service starts with a Google Shopping PPC Audit & Strategy which includes setting measurable monthly and quarterly goals. Followed by daily Google Shopping management, regular reports, campaign calls and strategy reviews.
Phase 1
Increase search impressions and clicks
Phase 2
Increase click through rate and revenue
Phase 3
Increase return on ad spend (ROAS)
Phase 4
Increase return on investment (ROI)
Google Shopping agency prices
Our Google Shopping agency management costs are completely transparent and flexible. We include everything in one fixed monthly fee, so there's no surprises and you can scale up or down to suit your growing needs. We specialise in managing monthly Google Shopping media spends of £1000 – £50,000+ per month.
Free Digital Marketing Analysis
Why not have an award-winning digital marketing agency review your current digital marketing strategy? We can show you what revenue and profit you could be getting