Gopak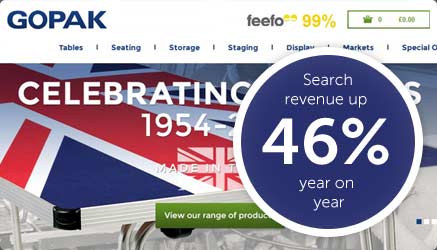 A leading UK furniture manufacturer and retailer of lightweight folding tables
ThoughtShift provided SEO & PPC services
The Situation
A leading UK table manufacturer wanted to increase traffic and eCommerce revenue from their website. With more competition from consumer websites like Amazon, Ikea & Tesco for their generic terms a new approach was needed to increase B2B sales.
The Solution
Audience segmentation identified schools, universities, churches and scout groups as bulk buyers
Competitor backlink analysis identified an opportunity to rank on the 1st page of Google's results for the keywords "school folding tables" as well as more generic terms like "folding tables"
Meta data optimisation applied the target keywords to title tags, meta descriptions and headings.
Category and sub category pages were optimised for relevant keywords and internal links
Monthly linkbuilding included school and church buying group outreach and a variety of community engagement to increase the variation and value of the inbound links
Added Feefo reviews to rich snippets and star ratings to ad copy to increase conversion rate and Quality Score
Created individual PPC campaigns for top selling products and branded terms
Optimised bids on keyword terms and tested new ad copy to increase landing page Quality Score
The Results
PPC revenue increased 30% year on year
Ranked #1 in Google for audience specific keywords like "school folding tables" and "contour folding tables"
SEO traffic increased 245% year on year
SEO revenue increased by 82% year on year
PPC revenue increased 30% year on year
"In the short time that ThoughtShift has been managing our SEO and PPC campaigns the positive results they have generated are testament to their hard work and understanding of both our products and our business model.  With declining PPC stats, they have efficiently reversed this trend with Paid Search Revenue increasing by 30% YOY and Organic Revenue a staggering 82%.  This is good news when our online presence becomes the core vehicle for generating direct sales."
– Diane Ponting, Sales & Marketing Director, Gopak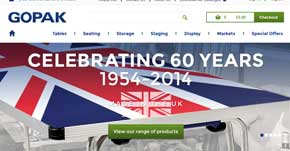 Get a Smarter Digital Marketing Analysis
If we can grow your business faster, one of our consultants will show you how within the next 1 business day.