The Situation
18:1 ROAS on paid media campaign
A chandlery and technical boating clothing retailer wanted to increase online sales from their website.
The Solution
Keyword research identified opportunities to rank on page 1 of Google for relevant keywords with a high buying intent including "windlass" and "marine electronics".
Meta data optimisation applied the target keywords to title tags, meta descriptions and headings.
Technical consultancy resolved issues with canonical URLs to help comply with Google's guidelines and increase organic rankings.
A range of seasonal campaigns were set up in order to take advantage of seasonal search trends and increase website traffic and brand awareness.
Blogger outreach created audience relevant offsite content on sailing blogs which increased the Marine Super Store site authority and drove relevant traffic back to the site.
AdWords campaigns were segmented to ensure a high impression share for key products.
Search query report analysis provided insights for campaign expansion across the most successful AdWords campaigns.
Hundreds of negative keywords were uploaded to ensure that ads were only appearing for the most relevant searches.
Google Shopping campaigns were optimised to give top converting products a higher impression share.
PPC campaigns were optimised by location and time to increase Quality Score and conversions.
The Results
85% year on year increase in total revenue.
Achieved page 1 rankings for competitive keywords including "windlass", "marine electronics" and "chandlery".
91% year on year increase in transactions.
52% year on year increase in conversion rate.
38% quarter on quarter increase in PPC revenue.
18:1 Return on Ad Spend (ROAS) on paid media campaign.
"ThoughtShift have been excellent. The team are always willing to help and talk through problems and the results have been great so far. Looking forward for the new season where the big gains are! I wish all our functions could keep up with them!"
- Andrew Ford, Commercial Director at Marine Super Store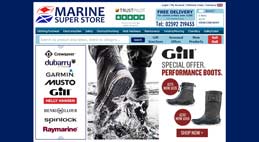 Free Digital Marketing Analysis
If we can grow your business faster, one of our consultants will show you how within the next 1 business day.