Roomservice by CORT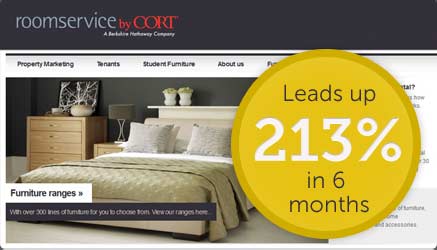 Leading home furniture rental company in the UK 
ThoughtShift provided SEO and PPC services
The Situation
Leading UK furniture rental provider, Roomservice by CORT, wanted to increase leads across the UK without increasing their Google Adwords spend.
The Solution
Keyword research identified opportunities to rank for relevant keywords like "furniture for hire"
Meta data and content optimisation applied the target keywords to title tags, meta descriptions and page copy
Engaged in landlord, interior design and student forums to build links back to the site whilst reaching target audiences
Gained a number of high authority links through outreach to university and government websites
Created dedicated landing pages and optimised them for specific organic campaigns
The existing Google AdWords campaign was analysed and restructured for top terms at campaign level and segmenting by match type to control media spend and increase visibility
Phrase match campaigns were paused and replaced by 'Broad Match Modifier' match types
Individual campaigns were created to target London users
Created new ad copy and performing A/B testing
The Results
Ranked #1 in Google for the keyword "furniture for hire"
Lead generation increased by 213% within 6 months
Organic traffic up 103% year on year
Ranked #1 in Google for "furniture for hire" and "furniture for rent" within 6 months
Organic leads up 143% year on year
Cost per lead decreased by 79% within 6 months
Overall PPC spend across the campaign decreased by 16%
"Our integrated SEO and PPC campaign generated some really great results including an increase in lead generation by 183%, number 1 organic rankings in Google and decreased cost per lead by 79%. We have a great relationship with ThoughtShift and with the collaboration of our in house team this has led to our CIM Marketing Excellence Award win!"
- Laura Shepherd, Senior Marketing Manager, Roomservice by CORT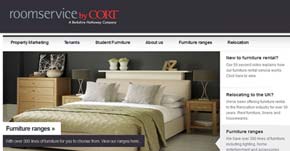 Free Digital Marketing Analysis
If you're wondering what could be possible for your brand, drop us a line and based on our initial digital marketing analysis of your website, we'll let you know what growth options you could realistically achieve right now and how you can measure success.