The Situation
A heritage watch winder brand wanted to rebrand and migrate their websites in the USA and UK without losing traffic or rankings.
The Solution
Rebrand from wolfdesigns.co.uk to wolf1834.co.uk and wolfdesigns.com to wolf1834.com.
Implemented 301 redirects on a page by page basis to migrate authority from the old UK and US websites across to the new ones.
Set up Google Search Console on the new websites and submitted the XML sitemap to ensure that all pages of the new websites were indexed in Google.
Provided support for linking Sage to website CMS for stock, order and revenue reporting and management as part of migration consultancy.
Ranking reports identified keywords the current websites were ranking for, along with keyword research to identify new opportunities for keywords like "designer jewelry boxes" and "designer jewelry boxes" for the US and "automatic watch winder" for the UK.
Meta data optimisation applied the target keywords to title tags and meta descriptions of the new websites.
Offsite linkbuilding included luxury and male style blogger outreach and a variety of community engagement to increase the variation and value of the inbound links.
Reviewed and restructured Google AdWords account into branded and non-branded campaigns and refreshed the ad copy to increase Quality Score and conversions.
Set up Bing Ads, Google Shopping and Display campaigns.
Provided Product Feed analysis, recommendations and consultancy.
The Results
3:1 ROI on marketing spend target achieved
3:1 ROI on marketing spend target achieved
155% year on year increase in traffic to the UK site
354% quarter on quarter increase in PPC CTR
22.85% increase in eCommerce conversion rate
180% year on year increase in transactions on the UK site
505% year on year increase in revenue for the UK site
31% year on year increase in revenue for the US site
All 18 target keywords maintained or increased rankings after the UK website migration and 16 out of 18 keywords were maintained or improved for the US site
"ThoughtShift have more than exceeded my expectations. They are thorough and detailed, providing me with reports that are easy to understand and logical. I have seen a 31% increase in web driven revenue for the US site, which in this highly competitive market is solid. In the UK the increase has been a whopping 505% – all in all we are very happy with the results!"
- Simon Wolf – WOLF, Director/CEO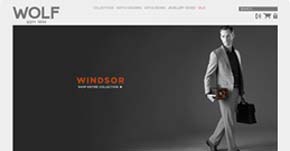 Free Digital Marketing Analysis
If you're wondering what could be possible for your brand, drop us a line and based on our initial digital marketing analysis of your website, we'll let you know what growth options you could realistically achieve right now and how you can measure success.