The Problem​
A Cotswolds holiday cottages company wanted to increase bookings via SEO and paid search.​
The Solution​
Increase visibility and ad engagement to generate more opportunities for bookings, and increase conversion rate to gain more bookings for our media budget.​
Informed by our audit of the advertising accounts, we restructured existing paid search campaigns by match type and device to control media spend and increase visibility.​
Informed by our analysis of the ranking keywords, we de-optimised the Cotswolds cottages pages to increase visibility for the homepage, with which most high-ranking keywords were associated.​
We promoted Manor Cottages with blogger reviews, guest posts, community engagement, social bookmarking, and directory submissions.​
Informed by our analysis of search queries, we launched new campaigns targeting Christmas, New Year, and size-based terms to increase visibility.​
Informed by our analysis of ad performance and competitors' ads, we refreshed our ad copy to increase ad engagement.​
Informed by our analysis of our ad campaigns, we optimised them by time of day, day of week, location, and device to increase conversion rate and bookings.​
The Results​
SEM sessions increased 19% year on year on year*​
SEM bookings increased 19% year on year on year*​
SEM sent 3,096 in the last 12 months (Aug 17–Jul 18)​
SEM new users increased 29% year on year on year*​
* We calculated the average of​
the % increase from Aug 16-Jul 17 Aug 17-Jul 18​
the % increase from Aug 15-Jul 16 to Aug 16-Jul 17
Following an increase in market competition, I decided to work with ThoughtShift to increase my websites' online visibility. Over the years we've collaborated to dominate the first page search results across multiple search engines, which has grown our traffic, bookings and sales by 16% on avg. each year. They've helped my sites recover from decline after new site launches, supported in successfully re-launching new websites, suggested new opportunities to elevate online performance and always delivered return on investment. An honest, knowledgeable and friendly team who always make me feel they've got mine and my businesses' best interests at heart. I'd strongly recommend ThoughtShift.
- Chris Grimes, Managing Director, Manor Cottages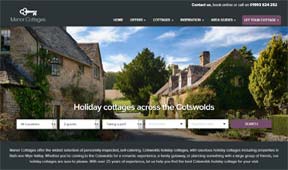 Free Digital Marketing Consultation
Speak to our award-winning team to find out how you can improve your performance