Harness the Power of Sequential Advertising with Facebook Video
If you work in performance marketing, then you're no doubt sick of being told that this is 'the year of mobile' (for the past couple of years running). Well I have some good news; Welcome to a new era of Facebook advertising.
The era of video!
Why video ads?
"A year or two from now, we think that Facebook will be mostly video"  - Ted Zagat, Head of Ad Products, Facebook. 2015
Cost effectiveness. Facebook want to ensure that the news feed provides a good user experience, and video is key to this. This is the reason why video ads tend to get the lowest cost per thousand views/cost per view (CPM/CPV) of all ad types.

Only pay when your video is viewed. Facebook have introduced a feature whereby you are only charged when a user views 10 or more seconds of your video.
Video ad consumption is growing exponentially. There are now 4 billion video views per day on Facebook (65% of those views are on mobile - which is more than on YouTube!).
That's all very interesting, but how can I use video to grow my brand? 
It goes without saying that video media is much more engaging than text media, and is a great way of generating brand awareness, but what about the bottom line?
As a direct response marketer, I must admit that video has been on the back-burner for me because although it generates a lot of engagement, it hasn't been as successful for me when driving conversions. The reason being is that the call to action button that contains the website link isn't visible until the video has been watched all the way through to the end.
So what has piqued my interest in video adverting since?
You can now Build Website Custom Audiences of users who have engaged with your video content.
Every time a user views your video, they are added to your Website Custom Audiences to build a highly qualified and engaged set of users to be retargeted as part of a sequential advertising campaign.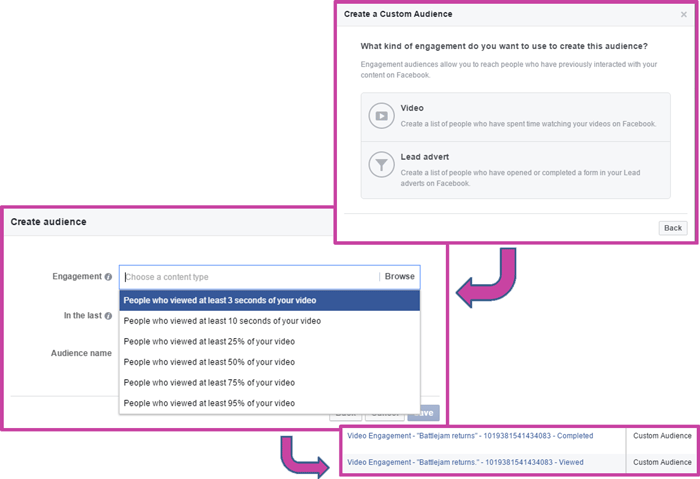 What is sequential advertising? 
Sequential advertising is all about creating a series of ads that initially drives brand awareness, but then progresses to tell the user a little more about the product. A final ad is then served with the intention of driving conversions. A good way to envision this approach is to consider that there are three stages to a sequential advertising campaign; brand awareness, consideration and ultimately a conversion. More traditional direct-response strategies will just focus on driving conversions from the very beginning.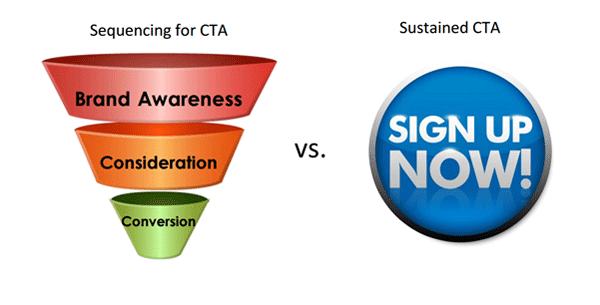 Sequential advertising in action
A good example of this form of advertising in action is Honda's 'The Power of Dreams' campaign.
Initially users were shown a video highlighting a range of Honda models in order to drive awareness of the Honda brand.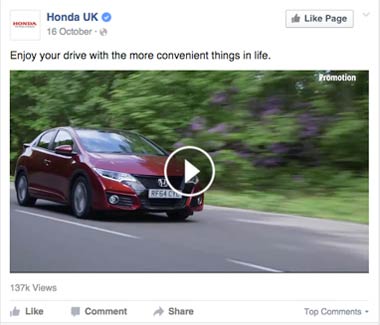 In the second phase, the videos became more targeted to meet the needs of the audience sub-segments. For example, the angle of safety and comfort was promoted to parents, whereas the aesthetics and power of the sports range would be targeted to younger users.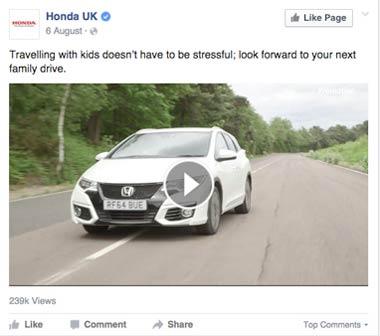 By delivering a sequenced series of video ads, Honda were successful in both driving awareness of the brand whilst also driving the bottom line. This campaign resulted in a 4x lower cost per lead, 5x lower cost per visit and a 12x increase in test drives.
Summary
It's well known that Facebook's organic news feed algorithm favours video content, because people enjoy it, and Facebook ultimately want their platform to be a source of enjoyment.
Generally speaking, what works for the organic news feed algorithm will also work well for Facebook ads. The more engaging your ad is, the more successful it will be at driving the desired outcome. This will obviously make the advertiser happy, and also Facebook happy as you continue to spend money on their platform.  
It is for this reason that advertisers know that video is a great way to extent their brand reach, but converting these viewers into purchasers hasn't always worked so well. By encouraging advertisers to consider the entire user journey to conversion, we should start to see ads which are much less invasive, and therefore ultimately more effective, as advertisers harness the power of sequential advertising.
In other words, if video isn't part of your advertising strategy, then you better hop to it!
Follow my contributions to the blog to find out more about Paid Social, or sign up to the ThoughtShift Guest List, our monthly email, to keep up-to-date on all our blogposts, guides and events.
Sources