Icon Live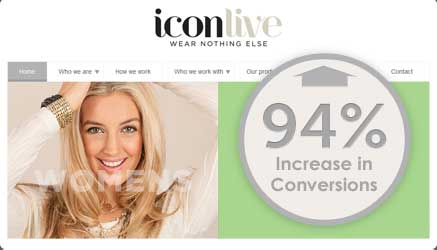 World leading fashion accessories supplier offering wholesale and concession services
ThoughtShift provided Web Development, SEO & Analytics services
The Situation
A fashion accessories company wanted to launch a new website as part of their re-branding. The website needed to be built on a tight deadline, incorporate a job database with search functionality and maintain current SEO authority.
Website project delivered on time within 2 months
The Solution
Worked collaboratively with the Icon Live team to ensure that the website design accurately reflected the brand values
The website was built in Drupal to allow the content to be easily edited by the team at Icon Live and to handle the job search functionality
Carried out keyword research to identify new opportunities to rank and checked the rankings for the old site to ensure these were maintained
Meta data optimisation applied the target keywords to title tags and meta descriptions
Performed 301 redirects for all URLs on the old website to migrate authority to the new site
Set up Google Analytics to track conversions on the new website
Created a customised MailChimp email sign up form to capture email addresses and record customers' area of interest
Carried out training for Icon Live employees and wrote a bespoke manual to ensure that the Icon Live team could update the website CMS easily
The Results
Responsive website designed and built to work across different browsers, desktop, tablet and mobile devices
Website project delivered on time within 2 months
Previous SEO rankings maintained in search engine results such as Google and Bing
Traffic increased by 22% year on year within 2 months of launch
Average time on site increased by 13% within 2 months of launch
Job applications increased by 94% within 2 months of launch
"Everyone is so pleased with the results and it was a completely pain-free process. We look forward to working with the ThoughtShift team on new developments in the future as we continue to take our website to the next level"
Craig Dunn - Head of Visual Marketing at Icon Live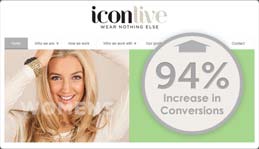 Free Digital Marketing Analysis
If we can grow your business faster, one of our consultants will show you how within the next 1 business day.