The Situation
Organic traffic to the site increased by 91% year on year
An online gadget shop wanted to increase natural search rankings, traffic and eCommerce revenue in time for their shopping peaks around Christmas and Father's Day.
The Solution
Keyword research identified that there was an opportunity to rank on the 1st page of Google's results for the keyword "gadget gifts" and "gift ideas for men".
Meta data optimisation applied the target keywords to title tags, meta descriptions and headings across every page of the site.
Producing a range of bespoke content around gifts for men, gifts at Christmas and new gadgets and promoting this content across social media to maximise reach.
Link building included gadget and tech blogger outreach, content curation and community engagement to increase the value of the inbound links
The Results
Ranked #1 in Google for the keywords "gadget shop", "gadgets for men" and on page 1 for tens of thousands of other non-branded keywords
eCommerce SEO sales increased by 57% year on year
Organic traffic to the site increased by 91% year on year
"Wow eCommerce SEO sales are up 57% year on year in December, our busiest month of the year! ThoughtShift has continued to increase revenue for the third consecutive year in a row now."
- Kate Sprague, Marketing Manager, RED5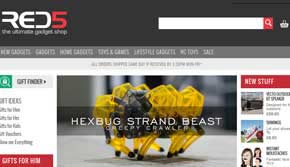 Free Digital Marketing Analysis
If you're wondering what could be possible for your brand, drop us a line and based on our initial digital marketing analysis of your website, we'll let you know what growth options you could realistically achieve right now and how you can measure success.