Shopify Case Study: How We Built a 7 Figure Niche Ecommerce Store
Shopify has become a major buzzword, and hundreds of thousands of ecommerce stores are switching to it, as well as new entrepreneurs and seasoned business owners who are looking for an investment. But what's real and what's just hype? Wouldn't it be great to see a real shopify case study without fluff?
I am the CEO of Goldspot Pens, a niche ecommerce store specialising in fountain pens and luxury fountain pen brands. I'm going to share with you, for the very first time, how we built up our shopify store and grew it to over 7 figures.
How We Built Our Shopify Store to Maximise Traffic and Conversions.
Site structure does not get talked about as much as it should in the ecommerce space. Having the correct technical SEO implemented into your site's framework is crucial, as well as developing a site that gets conversion rates above 2.00%. This can be a demanding technical skill involving the engagement of professional marketers and seasoned developers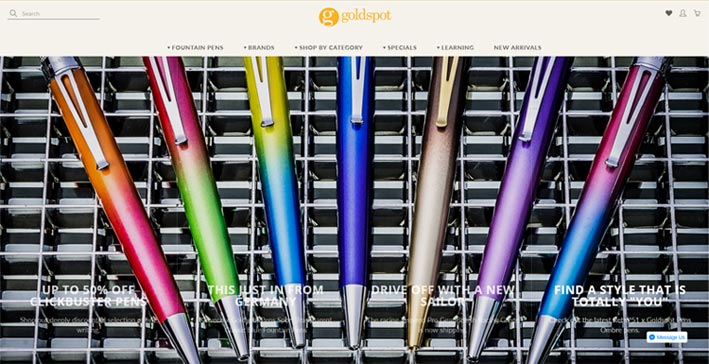 SEO Site Structure
Having a technically intelligible site structure leads to a better understanding of your website by Google, in-turn increasing your organic traffic. What is site structure? It's the way your website is organised with URLs, categories, and navigation. Site structure is how the different pages on your site are linked together, determining how Google bot goes through your site as well as how page rank (link authority) spreads to the rest of your site. Typically a good site structure for SEO is simple and delineates things into easy categories.
What are the main types of products you sell? For good ecommerce site structure, you want to make a silo that goes from the most general categories to the more specific product categories and products themselves. Use the main product types you sell as the top of the silo. For us, this is fountain pens, fountain pen bottled ink, notebooks and journals, and pen pouches and cases. Under fountain pens, we have hundreds of brands of fountain pens you can easily get too and that each acquire thousands of monthly traffic.
Optimising Your Site for Conversions
A major advancement in our niche ecommerce store (focused on fountain pens) was optimising our site for conversions. We began from step 1, ideation. Especially if your site is older, you need to decide if you should have a new site developed. This involves re-imagining your site, and is something that you can't easily just hand off to a developer. You need to hire a professional designer and work one-on-one with them to get your site looking amazing.
Having a pretty site is just one element of ecommerce conversion optimisation. There are many steps you should start proceeding with. Begin reviewing which shopify plugins you should buy or try. Review your checkout experience to make sure it is optimizing for additional purchases and makes the checkout experience as easy as possible. We saw a massive improvement by implementing a premium "suggested products" after each purchase.
Establishing a Youtube Content Strategy.
Another major marketing channel we used for Goldspot Pens was Youtube. Youtube fluctuates between niches, but if it is possible to develop a coherent content strategy utilising youtube, it's a no-brainer. Youtube is one of the biggest social media platforms right now, and it's organic reach is greater than nearly any of the other platforms (as instagram and facebook continue to lower their organic reach in preference to their ads). We created a Youtube channel that has acquired over 2,700,000 views and over 19,000 subscribers that love our Goldspot Pens brand.
Youtube content is about two things: consistency and valuable content. Consistency is simple, you need to be publishing at-least once a week for the youtube algorithm to favor your channel. Valuable content for your niche is harder to ideate, but it can be done relatively easily. You know your niche better than anyone. Discover what they are interested in learning about. One good method to do this is to research what competitors are doing on Youtube or on their blog. What kind of content are your competitors producing? Use this as a start and see how to add your unique voice to the mix afterwards.
Growing Our Inventory and Organic Traffic
One aspect of ecommerce seo that is rarely discussed is growing your product inventory to increase traffic. By investing in expanding our product catalogue, we increased our organic seo traffic by a considerable amount, along with our fountain pen Youtube channel, SEO content, and conversion optimisation techniques. You can immensely grow your organic traffic by expanding your product catalogue, creating new product and category pages that will grow your keywords to rank for. Begin by researching category / product page keywords and seeing which ones are less competitive but still profitable, and begin a list of these category / product pages you want to add to your inventory and site so as to increase your SEO. You can use competitor analysis to find which keywords competition is using by utilising the power of Ahrefs or SEMRush.
By intelligently growing our inventory, we significantly grew our organic traffic and bottom-line revenue. You need to have a professional grasp of the products and product categories that people buy in your niche. This way you can slowly begin to expand your inventory and reach of your Shopify store's organic traffic.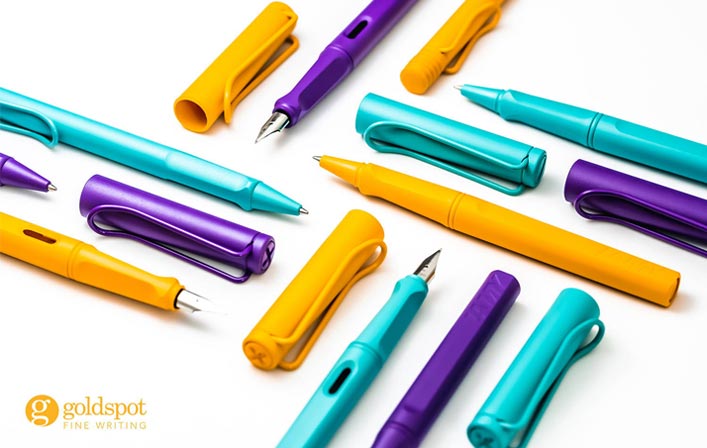 Growing Our Brand, Audience, and Email List
The core of a long-lasting ecommerce brand is building a consistent audience of buyers that fall in love with your products. An easy marketing KPI for this is keeping track of our returning-users and our email list. You have probably heard the phase, 'the money's in your list,' and this is definitely the case for our fountain pen and fountain pen ink niche we've found ourselves in.
Growing an audience of enthusiastic buyers should be a thought in each of your marketing channels, whether that's Youtube, other social medias, advertising, or creating useful SEO content to rank on Google. But one of our favorite techniques is email. You should be keeping a database of every person's email who orders a product from you, but, even more than this, you should be promoting an opt-in so readers and customers can personally input their email address to be subscribed to your newsletter. And, after all this, you need good emails to send out on a consistent basis. This can be promoting your content from other channels, a written content piece just for your email subscribers, or deals and coupons for your dedicated buyers!
Building an audience that loves your product (fountain pens for us), and your brand, is one of the best ways to increase your bottom-line for everything you do. Although many tasks don't involve this, such as SEO, once you have a solid brand and audience built, the traffic you acquire from ecommerce SEO campaigns convert into long-lasting buyers that love your brand.