Sunsetting Universal Analytics and What It Means For You
If you've seen a message from Google about the sunsetting of Universal Analytics urging you to move to Google Analytics 4, we've outlined some commonly asked questions and what this means for you.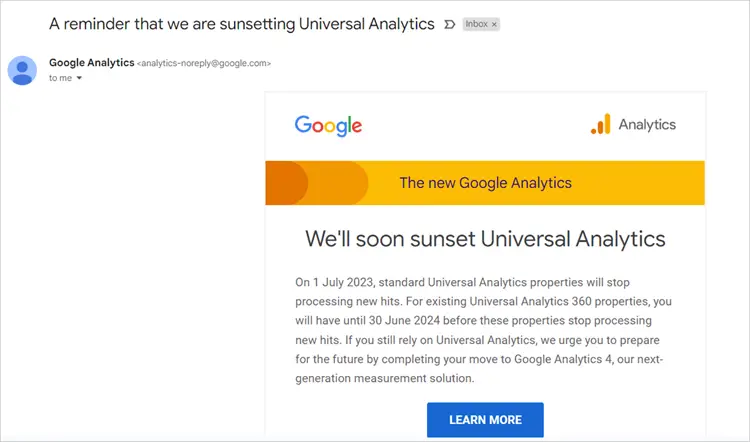 When is the current Google Analytics version being replaced by Google Analytics 4?
Universal Analytics (also known as Google Analytics 3) will stop collecting new data from 1st July 2023 onwards, so you'll need to migrate to Google Analytics 4 (GA4) by 30th June 2023 at the latest.
GA4 is the next generation measurement solution from Google and will continue to have a free version.
Brands with Universal Analytics 360 (the premium version of the tool that costs from $150,000 per year), have until 1st July 2024 to make the switch to GA4 360.
Is it easy to upgrade from Universal Analytics to the new GA4?
Unfortunately no, the switch from Universal Analytics to GA4 is the biggest change to the free analytics tool we've ever seen since Google Analytics was first introduced in 2005.
You will need to create a separate GA4 Property and unless you're already using Google Tag Manager across your site, you'll also likely need to create a Google Tag Manager account and add new tracking code to all the pages of your website to start recording data in GA4.
Can I import my historic data from Universal Analytics into GA4?
Unfortunately no. Your data will only be available from within GA4 from the date you start to collect data in GA4.
However, all your historic processed data in Universal Analytics will continue to be accessible for at least six months after July 1, 2023, and it can be exported to Excel, TSV or Google Sheets. Google Analytics 360 customers also have the possibility to export their data to the data warehouse BigQuery.
What are the key differences between Universal Analytics and GA4?
The measurement model is changing from a session-based model in Universal Analytics to an event-based attribution model in GA4.
In Universal Analytics, all data is grouped into sessions and user interactions such as page views, transactions and time spent of a page are reported as hits, under sessions. In GA4, all user interactions are captured as events. This means that in GA4 a session is an event, a page view is an event and a transaction is an event.
GA4 is also introducing Data-Driven attribution as its default attribution model; a model that distributes conversion credit by looking at the different touchpoints that led to a conversion. In comparison, Universal Analytics' default data attribution model is Last-Click attribution, meaning that it assigns all of the conversion credit to the last touchpoint before a conversion.
In a nutshell this means that users interactions with your website, apps and marketing campaigns will be measured entirely differently and all your data will be reported from a radically new interface including a multitude of new metrics.
The key benefit will be that GA4 should more accurately demonstrate marketing value across the different touch points of the user journey.
What does Universal Analytics moving to GA4 mean for my brand?
The impact on your brand of the move from Universal Analytics to GA4 will scale depending on:
How vital your current analytics data is to your brand's strategic decision making
The key performance metrics you currently report on
The complexity of your marketing mix of channels, campaigns and activities
Your marketing budgets and teams
Your current team's data insight and digital analytics skills and resources.
For everyone, the move to GA4 will likely require some additional resources over the coming months and with 99% of competitor marketing teams in the same situation, the sunsetting of Universal Analytics is a great opportunity to review your digital marketing reporting and upskill your team.
How do I track digital marketing performance in GA4?
Once your GA4 property is collecting data, you'll need to assess your current Universal Analytics and GA4 properties to decide what sales and marketing performance goals you'd like to measure in GA4.
GA4 no longer uses goals and instead uses events to measure interactions. So to start measuring conversions such as form submissions and button clicks, you'll need to manually configure and test each event and mark as a conversion within GA4.
GA4 will also need to be linked to all marketing or advertising platforms that you use such as Google Ads, Google Search Console, Meta (Facebook Ads and Instagram Ads) and Mailchimp/Klaviyo.
Ecommerce websites will also typically require both ecommerce analytics and web development resources to configure the GA4 data layer to correctly pull revenue, transaction and product data through from your ecommerce platform such as Shopify, Magento, WooCommerce and payment gateways such as Paypal, Sagepay and Klarna.
What is ThoughtShift doing to support teams moving from Universal Analytics to GA4?
ThoughtShift are data-driven digital marketing specialists and we've invested in a dedicated Analytics R&D Project Team to:
Develop robust processes to transition from Universal Analytics to GA4 before July 2023
Survey our clients to understand their individual analytics requirements
Create a roadmap for UA to GA4 analytics communications, training and support
Ensure each of our clients are set up with a GA4 property and are collecting data ASAP
Provide a free GA4 audit for our clients to identify any data issues and provide bespoke recommendations for GA4 configuration
Migrate all of our client reporting from using Universal Analytics sources to using GA4 sources by July 2023 and agree a plan for saving historic data from Universal Analytics before 31st December 2023
Upskill all our own team and offer training for client teams who'd like to learn GA4
Publish a series of blogs to support marketing teams in the switch from the old Google Analytics to the new GA4
Update our ThoughtShift newsletter subscribers with our latest blogs by email
Launch our 1 Day GA4 Online Training Course to help teams be confident in navigating the GA4 interface and find the data you need
We hope that helps to answer your Universal Analytics and GA4 questions and look forward to sharing our next instalment in the series. Alternatively, if you have any analytics queries in the meantime please don't hesitate to drop us a line.