Why Is Reputation Management So Vital for Business Success?
With the increasing need to build a positive image for a company, reputation management is a must. A business leader or an entrepreneur has a lot of responsibilities, and oftentimes, the online image of their company is left out of the equation. Yet, consumers are increasingly turning to the online image of a business when evaluating a new product or service, escalating the importance of business reputation.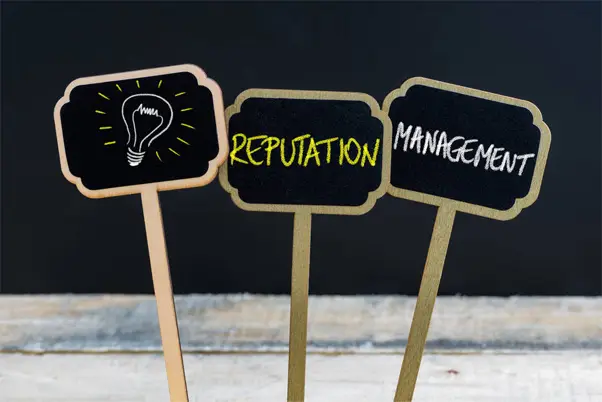 Business leaders and entrepreneurs should check out how reputation affects business and must stay aware of reputation management importance for their businesses. Reputation management involves keeping a positive image in people's minds. People judge people and companies based more on their reputation and less on their product or service quality.
Let's discuss in detail how reputation affects business and why it is so vital for business success:
Helps Your Business Build Trust
When it comes to building long-lasting and unquestionable trust for businesses, most CEOs, business leaders, and entrepreneurs agree on reputation management importance. Companies with undoubtedly vital trust factors typically get more business. Bu building trust for your business among your potential clients and customers, reputation management services can help you attract more business, thereby increasing your overall ROI.
If you want to improve the online reputation of your business, reach out to a leading reputation management consultant that offers one of the best and most recommendable reputation management services in Sheffield, UK.
Helps Build a Company's Image
Understanding the importance of business reputation can benefit small and large companies alike. A positive reputation inspires loyalty and generates revenue, while a negative one hurts brand perception and diminishes customer retention. But more than just the financial benefits, reputation management also benefits the company's image. Enhancing your online presence strategically can help you create a positive outlook for your business on the web.
Choosing the right reputation management agency can help alleviate your concerns about reputation management. If you want to have a good reputation in business, reach out to one of the best reputation management agencies for your business and let them do their magic!
Helps Your Business Rank Higher Search Engines
One aspect of online reputation management is SEO or search engine optimization. This method involves optimizing content in various mediums, including blog posts, social media videos, press releases, and landing pages. SEO tactics include targeting keywords, backlink building, and technical optimizations. If you're unsure what to do, reach out to the reputation management consultant now!
Online reputation management is vital for e-commerce websites. In addition to improving search engine rankings, it can increase conversion rates for your online store. A business can also use reputation management to increase its positive feedback.
Helps You Manage Online Reviews
Online reviews have become critical in protecting a company's digital reputation. Online reviews and comments create a solid foundation for customer relationships and brand awareness. They also help companies differentiate themselves from competitors. Reputation management can help you manage and improve online reviews, create a positive brand image, and build trust. It's imperative to have a good reputation in business as consumers now check reviews before making a purchase.
Customers who are satisfied with your product or service are more likely to recommend it to others. Negative reviews, however, tend to drive away potential clients. Consequently, it's imperative for your company to create good reviews. Online reputation management can help you do just that.
Helps You Monitor Social Media Impact
Social media is becoming essential to the digital marketing mix, and reputation management is no different. While traditional reputation management methods focus on monitoring the reputation of a particular brand on specific channels, social media monitoring also involves checking out the other channels in which a brand might be mentioned. This is an integral part of reputation management to maintain the brand's reputation.
The right choice of social media is also crucial. Hire a reputation management agency if you want to boost and manage your social media visibility. Online reputation management can also help you reach your target audience through social media channels.
Helps Deal with Negativity
It's crucial to understand how reputation affects business on social media platforms. Whether a review is positive or negative, a good reputation in business largely depends on your customer's experiences with your business. Brands must take care of their online activities and how they communicate with their customers and respond to queries or even negative comments. It's essential to respond to reviews as quickly as possible.
When responding to a negative social media comment, companies should apologize and try to defuse the situation. Companies should match their tone, jargon, and humor to the specific complaint posted by the customer. After all, the goal is to reassure the customer, not to stoke a negative sentiment.
Key Takeaways
While discussing the importance of business reputation, it's vital to know and understand how reputation affects business and how reputation management consultants can help companies deal with the negativity surrounding them. The impact of reputation management on your business's success can be significant. Negativity and criticism are inevitable but how you respond to them sets your business's future. This is where reputation management services are critically important.
Reputation management services help business owners establish trust among their target audiences and increase their credibility in the industry. By improving their online reputation, businesses can establish themselves as the authority, thought leader, and go-to service provider.