2014 saw an increasingly sophisticated digital audience shun human interaction in favour of digital research, planning and booking. But in an industry that was once dominated by high levels of customer service and personal contact, how can the travel industry adapt to relatively new consumer trends? We examine some key statistics to see how consumer behaviour and the travel industry itself is changing as we enter 2015.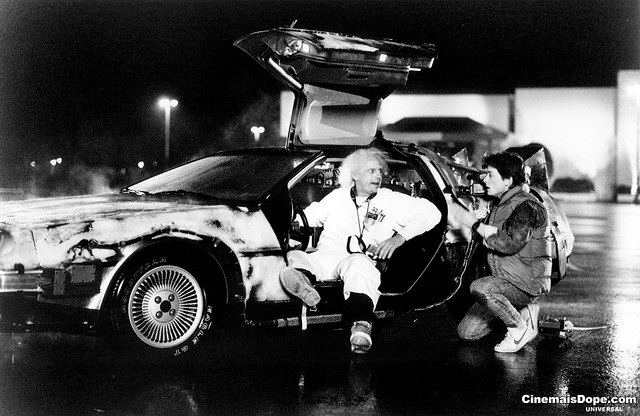 Image source: Jinho Jung via Flickr
1. The UK Spends £31 Billion on International Tourism Annually
Travellers from the United Kingdom are rated the fourth highest spenders on international travel after China, Germany and the USA, spending $52.3 billion (£31.12 billion) on international travel [1].
This figure looks set to increase with 1 in 5 (19%) consumers anticipating they will spend more on holidays next year compared to only 16% who anticipate spending less [2].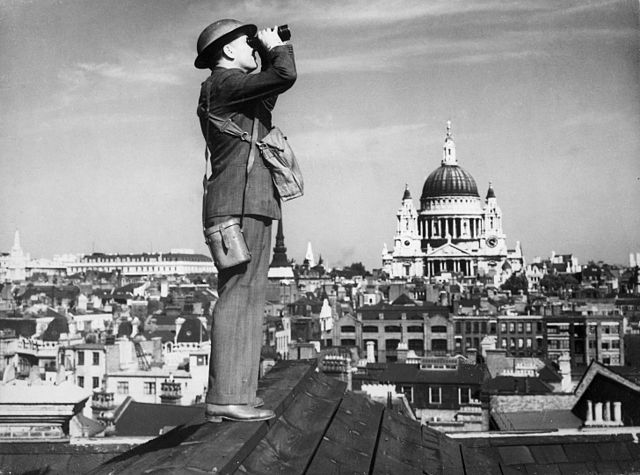 "Battle of britain air observer". Licensed under Public Domain via Wikimedia Commons
2015 Travel Digital Marketing Trend: Personalisation
The increased predicted spend from the UK tourist market combined with the decreased cost of face to face employees offers an opportunity to use big data to personalise the shopping experience online.
Personalisation is something which consumers are increasingly expecting online and can offer great opportunities for marketing on your website and by email or even direct mail. Of course there is potential for disaster when personalising your communications with customers, to avoid this, ensure that you have set up an appropriate CRM system and developed a thorough CRM management process to keep your data accurate.
The better you understand your customer the more you can predict where they are in the buying cycle and their needs, creating opportunities for marketing which anticipates this behaviour and is tailored to the individual.
2. Two Thirds (66%) of Leisure Travellers Use Search Engines to Research Travel Online
At least 66% of leisure travellers (and 59% of business travellers) use search engines to research travel online [3]. And according to a recent survey by TripAdvisor 92% of UK travellers say that reviews are essential when booking a holiday [4].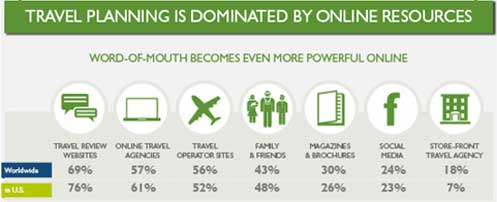 2015 Travel Digital Marketing Trend: Curation
Not only is the booking process for much of the travel industry taking place online, the crucial research and planning stages are also done online. This means that customers have a need which you can fulfil as a travel service provider by producing highly targeted information on your website such as destination guides. If you don't provide them with the information they are looking for, they will just go somewhere else (and potentially book somewhere else too). As a provider of travel services you will be well placed to understand the typical customer challenges, motivations and needs, so based on what previous clients have asked you can produce content which answers these questions.
No matter how much you provide consumers with information on your website, they will likely seek out other sources in addition to what you provide. Consumers are inclined to believe that information which your company provides is biased and so seek out an impartial source of information. For this reason, make sure that you are connected to all the right third party curation websites and spend time maintaining these listings, gathering good reviews, effectively dealing with the negative reviews, providing them with expert content and making sure company information is up-to-date.
3. 1 in 2 (49%) UK Consumers Buy a Holiday Abroad Online
Not only do a huge proportion of consumers research their holiday online but research from ABTA shows that 49% of UK consumers buy a holiday abroad online [5].
2015 Travel Digital Marketing Trend: Heavy investment in user experience
Conversion rate optimisation and user experience testing was big in 2014, but this trend looks set to continue as more and more people continue to book online. As so many people are spending a lot of money booking their travel online, businesses can simply no longer afford to neglect the user experience of their website, particularly when it comes to the check out and booking process.
Often travel companies will be paying large sums for marketing to drive visitors to their website, but if visitors have a bad user experience then the website will have a very low conversion rate, causing a large proportion of these visitors, which you have invested in, to leave. So it makes sense to spend some of the marketing budget making sure that visitors can easily purchase and convert rather than just spending money on attracting new visitors who then leave without purchasing.
The Future of Travel Digital Marketing is Agile
Digital marketing plans that include a mix of Digital Marketing Strategy, Analytics, Web Development, Content Marketing, SEO, PPC, Social Media and Email Marketing are not enough. Savvy travel companies also need to have the ability to adapt on a short term basis to a changing range of channels and devices to reach an increasingly disparate audience who continue to seek out more ways to plan and book their holidays than ever before.
Want more travel digital marketing trends and stats? Read our most recent travel digital marketing trends post on the opportunities mobile brings in 2017.
Thanks for reading, if you are interested in digital trends and consumer behaviour get our Guest List email for expert up-to-date blogs or follow my contributions to the ThoughtShift blog for more similar articles.
---
Sources