3rd Day Of Xmas: A Call To Action
So you've got your website up and running, well done by the way, and nothing seems to be happening. Your sites got a healthy amount of traffic, but looking at the rate of conversions is getting you down – loser.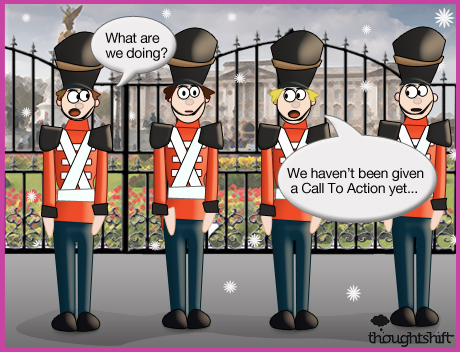 You decide to sit down and whilst looking at your site, pouring through the content and searching for reasons why users aren't interacting and you suddenly realise – there's no call to action for your audience. Cue ironic applause here. There's no point setting out your digital strategy and getting all of your website's features ready, only to have users unclear on what their purpose is.Calling your customers to action is an immensely important aspect of user experience, and you need to make sure they're effective so that your website is able to function properly and reach your target audience. It's not just about guiding users through your site, it's also about showing the motivation your site has – which reflects your brand positively, to both converting and non-converting traffic.Make your website have a clear purpose, an army can't win a campaign without a cause to fight for.Look at and enjoy today's illustration, and make sure you check the ThoughtShift Blog tomorrow for the next one.