5 Benefits of Email Automation and 5 Workflows You Should Start Using Now
49% of companies are already using email marketing automation as a part of their digital strategy to streamlinetheir business. So, if you are still writing individual emails for each of your subscribers or sending a general email blast to your entire subscriber list, it is high time you switch to email marketing automation and stay ahead in the competition. After all, 63% of companies are outperforming competitors with the help of email marketing automation.
The transaction rate of personalised email content is 6 times higher than those with generic content
What is email marketing automation?
Email marketing automation is the use of software such as Mailchimp, HubSpot, and many more to send relevant and targeted emails in response to an action taken by your customers. Simply put, email marketing automation is all about sending the right message to the right customer at the right time.
5 benefits of email marketing automation
1: Accelerates transaction
An email marketing automation platform increases transactions by helping you personalize your emails with fields like first name, company name, and so on. Simply put, customizing your email for your customer base can have a huge influence. It can be proved from the fact that personalized subject lines have a 26% higher open rate. Also, the transaction rate of personalised email content is 6 times higher than those with generic content.
Simply put, getting personal with the help of email automation helps in creating a robust relationship between a prospective customer and the business.
2: Makes way for relevant messages
83% of businesses believe that email marketing automation helps them send relevant messages to their subscriber base. You can do the same by leveraging marketing automation for segmenting your customer or lead database into various groups based on criteria such as interests, demography, purchase history, buying behaviour, and more.
This, in turn, can help you tailor your email and ensure that your subscriber base receives only such content that's relevant to them, thereby increasing customer engagement. After all, marketers who segment their email campaigns witness 14.3% higher open rates and 100.95% higher click-through rates.
3: Increases revenue
Email marketing automation works towards sending transactional emails. These are messages which are automatically sent to the website visitors based on a specific action they take such as making a purchase, downloading an ebook, or subscribing to your newsletter. To put it in other words, transactional emails include basic information which the customer was expecting and waiting to receive such as estimated shipping and delivery date, the link for a free download, and so on.
Hence, transactional emails, if leveraged the right can work wonders in encouraging customers to take the next step. Do you know transactional emails help businesses generate 6 times more revenue than other email types? So you see how this marketing automation strategy can be highly successful?
You can make the most out of it by including a recommended product section in your order or pick up confirmation email just the way Fleet Farm does it.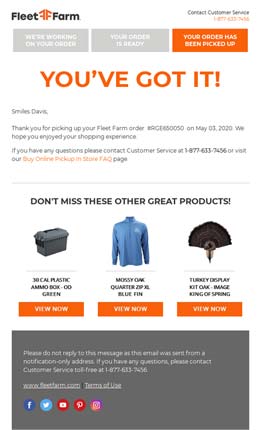 You can even go a step ahead and include a discount or a coupon while sending a thank you email to your customer for subscribing to your newsletter.
4: Helps in being in sync with the customer purchase cycle
Email marketing automation can also help you schedule your email in a way that reaches your subscribers at the right time. For instance, if you are into pharmacy ecommerce, email marketing automation will help you send a reminder email to your subscriber who needs to restock a specific medicine, thereby increasing their chances of a repeat purchase. Such emails are sent 3 weeks after the customer has purchased a product. See this email template from FullScript where they remind their customer to refill a medicine that was prescribed to him 4 weeks back.

5: Enhances lead engagement
Email marketing automation can help you increase lead engagement through drip campaigns. It is a series of emails that are sent to the leads on a scheduled basis for a set period of time. It is a great way of keeping your business at the top of such customers' minds who are interested in a product but aren't ready to purchase it yet. Drip campaigns keep such leads warm by incorporating strategies such as answering FAQs, addressing customer pain points, demonstrating how your products and services can solve their issues, and more.
What is an email workflow?
Now, since you know what email marketing automation is all about, let's talk about email workflow. An email workflow works as a series of automated emails that comes in action on the basis of a subscriber's behavior or data. To put it in other words, email workflows allow you to trigger actions based on any information that you acquire about your leads. From placing an order and abandoning a cart to opting for a subscription to registering for an event, email workflow sends automated emails based on all such customer actions.
5 Different workflows that you can use
Here's a look at the different email workflows that can help you do the needful.
1: Welcome email workflow
The average open rate of a welcome email is 82%. So, it wouldn't be wrong to say that welcome emails are by far the most popular email workflow. Email automation helps you make a good first impression by sending a welcome email the moment a prospective customer signs up for your brand. Apart from thanking the subscriber for subscribing or signing up, the email informs the customers why signing up with the brand was a great decision. We love how Chipotle leverages its welcome email in an excellent way.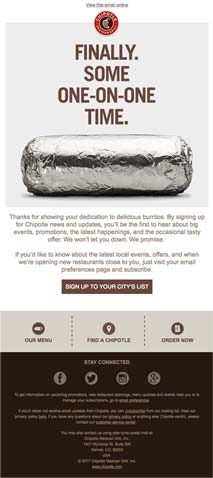 2: Lead nurturing workflow
If there is a subscriber who has downloaded several marketing offers, the chances of them making a purchase are higher. This is where you can use email automation to create a lead nurturing workflow with a sale in the mind. In addition, you can also use email automation for setting up notifications for the sales department. This will send a notification to the sales department to follow-up with the lead once they have met certain criteria.
3: Re-engagement workflow
If you are noticing certain inactive subscribers in your email list, you can set an automated workflow to re-engage them. For instance, you can schedule a workflow based on a subscribers time duration when they last visited your website, opened your email along with a number of other metrics. You can also try wooing them back by offering a special coupon or discount just the way SKILLSHARE does. See how it strikes an emotional chord with the subscriber with a "We've missed you" email copy while giving a discount on its premium service to entice customers to give them a shot again.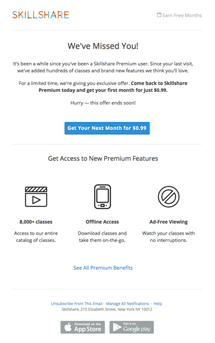 4: Abandoned shopping cart workflow
People abandon their carts for a variety of reasons. Distractions, indecision regarding the purchase, deciding to purchase an alternative from somewhere else are the most common. In short, it is difficult to comprehend why a subscriber has abandoned their cart. This is where the abandoned shopping cart workflow can come in handy. It will help you send an automated follow-up email where you can remind your customer of their pending purchase while including a special offer to entice them to buy now. Take some inspiration from the abandoned cart HTML email template from Rudy's which uses a quirky email copy to encourage customers to complete the purchase.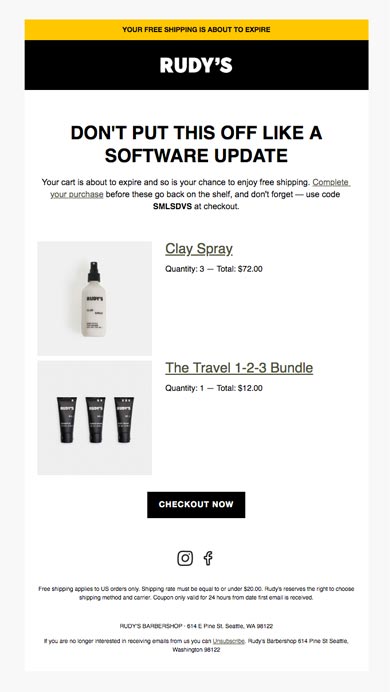 5: Customer satisfaction workflow
Customer satisfaction is a critical aspect of any business. However, it is difficult to have 100%, satisfied customers. So, it becomes imperative to determine the satisfaction level of your customers. You can do so by asking for feedback and reviews from your customers about your products and service. Once you know this, you can segment them based on their satisfaction and dissatisfaction level. While you can turn your satisfied customers into your biggest brand evangelistic by providing them with exclusive perks and discounts, you can work towards having better communication with your dissatisfied customers by providing them with solutions and content that address their specific issues.
Wrap up
Email marketing automation is becoming prevalent for all businesses. It can be deciphered from the fact that 75% of marketers are currently using at least one type of marketing automation tools.
So, go ahead, make the most out of email marketing automation. From closing more sales and marketing your business efficiently to keeping your leads engaged, email marketing automation can help you do it all.
The above-mentioned automation benefits along with an overview of different automation workflows will assist you in taking the right decision. You can even leverage Mailchimp email templates and HubSpot email templates to automate your email marketing campaign seamlessly.