Face to Face with a Paid Media Architect
Introducing Pinky Lee, Paid Media Architect. Let's find out some more about her job, how she got here and her likes and dislikes as a digital marketer.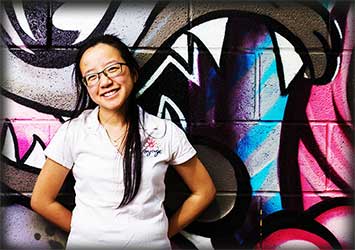 Please describe your job: What do you do?
As a paid media architect, I:
advise the client on their online advertising strategy
create, launch and optimise digital advertising campaigns
manage the client's advertising accounts
work together with the organic media team to help achieve my clients' goals
stay up to date with what's new in my field and create and train others in processes that help us work more efficiently.
What kind of skills do you need to be effective in your role?
You need to be analytical as ads generate a lot of data that should be used to inform your client's marketing strategy.
You also need to be efficient and flexible as you need to react quickly to sometimes unexpected changes in the competition or search trends.
Finally, you need to be comfortable with getting, organising and presenting data, especially as an important part of the job is to manage and stay within the client's media budget that may be shared across many different advertising platforms.
How did you get where you are today?
By learning from the collaboration meetings and the training that frequently occur at ThoughtShift, advice, feedback, and mistakes.
Also, by making the most of monthly catch-up meetings with my line manager to request training, more work that I especially enjoyed doing, and new areas I wanted more practical experience in.
What do you love about your job? What sucks?
I am thankful that my job is not repetitive; I can learn about the many industries that ThoughtShift clients are in, be surprised by the fast-paced nature of the day-to-day work as well as the ever-changing state of the digital marketing world, and work with – even if not directly – a variety of marketing channels through ThoughtShift's integrated marketing approach.
While some manual tasks may seem repetitive, points to consider in each of the tasks vary with the type of client, and the emphasis on efficiency without automation at ThoughtShift allows for a better understanding of digital marketing for those new to the profession.
What kind of goals do you have? How do you measure your success?
Objectives are set and discussed at the monthly catch-up meetings to help me get the best out of ThoughtShift and ThoughtShift to get the best out of me.
What makes me feel successful is seeing proof of a client's target having been met or surpassed because of my work.
What are your favourite tools to help you get the job done?
Google Keyword Planner, Facebook Audience builder, AdWords Editor, and Google Analytics. They help me to research my target keywords and audience, save elements of or whole campaigns in draft, and see how users driven to the website by my campaigns behave once there.
How did you get into this role, and where might you go from here?
I became a consultant after joining ThoughtShift as a paid media intern after graduating from university, with a creative marketing internship at a digital publishing start-up in between.
I have worked my way up to become a Paid Media Architect with more responsibility and input into ThoughtShift's own marketing strategy. I am looking forward to settling into my new role and progressing further by exploring and building the service.
Do you have any advice for people who want to work for a Digital Marketing agency?
Collaborate with your teammates to better meet your goals
Keep note of the terms and abbreviations you come across as you will constantly encounter new ones
Ask the client questions as their replies may reveal opportunities that you would not otherwise know existed
Store useful data sets as you never know when a platform will stop allowing you to create them
Get some fresh air outdoors and away from the computer from time to time in order to better concentrate while at the computer
Why did you choose a career in digital marketing?
I wanted to work in marketing because of the range of channels it involved and the innumerable industries the profession serves.
I chose digital marketing because it comprises the predominant share of UK marketing spend and is a growing industry, and because digital marketing allows a first-time marketer to be creative as well as feel justified in their work as it is better supported by data and more easily attributable than traditional marketing.
What advice do you have for people who want to get into Digital Marketing?
The level of training and support differs from agency to agency, and for a comfortable entry into Digital Marketing I would suggest you research into marketing campaigns that have made an impact on you and websites on which you have had a good experience. If you are at a loss, look up digital marketing awards and blogs to see what is the most talked about by the profession.
You can look into some of the platforms yourself, using your email to login, though it must be Gmail for Google.
What's the best piece of advice you have ever been given?
Seize every opportunity to enrich yourself, exceed expectations, and make yourself indispensable.
Thanks for reading. Follow my contributions to the blog to find out more about Digital Marketing careers or apply for a role with our awesome, award winning agency.