How to Find the Secret Keywords Sending You eCommerce SEO Sales
When you know what search terms are driving eCommerce SEO revenue, you then have the secret of how to continuously increase your organic eCommerce sales.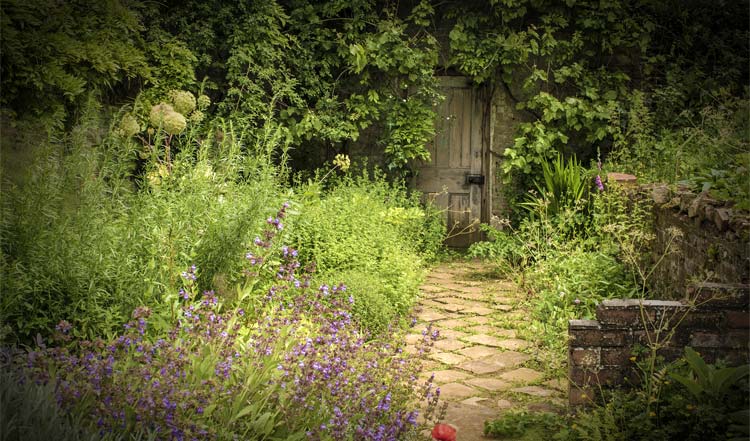 But how do you find which keywords are driving your SEO revenue when 95% are not provided in Google Analytics?
Over the years, we've developed a number of eCommerce SEO insights and analysis techniques as part of our ThoughtShift Digital Marketing Methodology™.
We've arranged these SEO techniques into the following 6 steps to help you uncover the keywords you should be targeting to grow your eCommerce sales.
1. Find which landing pages are driving the most eCommerce SEO revenue already
95% of keywords are not provided in Google Analytics
If you're ready to reveal your revenue, jump into Google Analytics and select a good time period such as the last quarter or a year (taking into consideration seasonal search behaviour skews), then:
Go to Behaviour > Landing Pages > Segment by "Organic Traffic" (removing the "All Users" segment)
What you're left with is all of your top landing pages that have sent you eCommerce SEO revenue (organic revenue only, excluding your paid, email, social and referral traffic).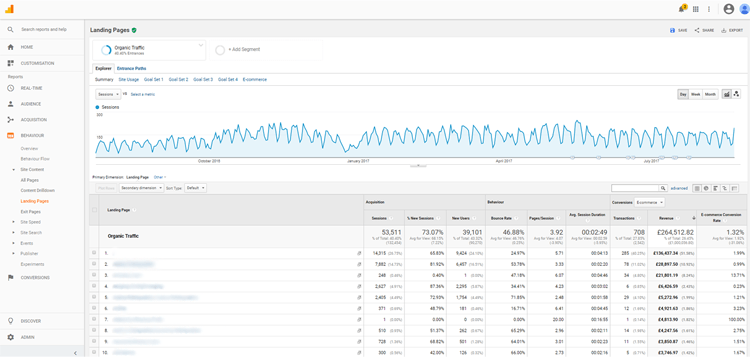 2. Cherry pick the pages that are sending multiple transactions with a higher-than-average average order and the best conversion rates
To better analyse your data, particularly if you're fortunate enough to have hundreds of thousands or millions of pounds worth of data, you can click on the "Transactions", "Revenue" or "eCommerce Conversion Rate" column headings within the Conversions section to sort the data by each metric.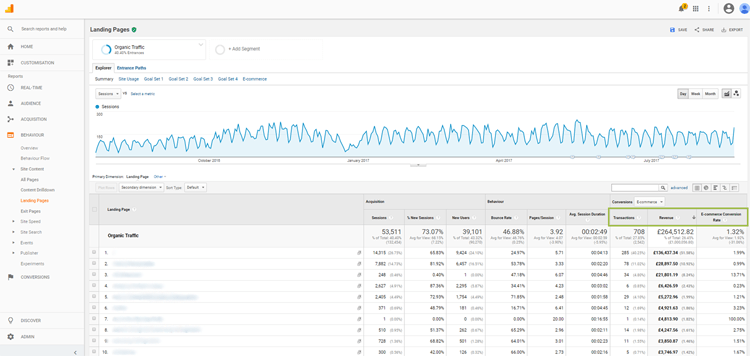 Identify which pages sent the highest volume of transactions
Now, this may be a red herring as this particular page may send lots of orders but at a lower-than-average average order or at a low profit margin. Focusing on the wrong page for your SEO campaign, could be a mistake that could drive your SEO return on investment through the floor. You can easily work the average order out for each page of interest by dividing the revenue by the transactions and comparing it to the site-wide average order value. 
Do look out for low value accessories pages here, these products are usually better to be merchandised alongside big ticket items at the basket rather than the main focus of your SEO campaign.  Instead, keep an eye out for higher value products or high margin products, if you can increase the rankings and traffic for those products, whilst maintaining the conversion rate you're going to be on route to exploding profitable sales.
Identify which pages sent the most revenue
This is very likely going to be the homepage (shown as /) and your top category pages, but look out for surprises and how much revenue these top pages generate in comparison to other pages that get way less traffic. Those are strong indicators that if you can increase the keyword rankings associated with those pages and all other metrics stay the same, you will increase your sales from SEO.
Identify which pages had the highest conversion rates
Again, an easy mistake to make is to go after pages that have the highest conversion rates, but if that conversion rate is 100%, check that there was more than 1 session to that page. Ideally you want an on par or higher-than-average conversion rate with volume of traffic as well. Although, if you got one click and one sale you could also be sitting on a gold mine if there's a lot more traffic like that to send to that page so it may well be worth shortlisting. It may turn out that the 1 new customer you got was from a keyword languishing on page 3 and then you should jump for joy as there could be a significant sales opportunity awaiting you when you increase that ranking to page 1. 
The juiciest pages to prioritise for the next stage are going to be those that feature in 2-3 of the top 10 pages sending the highest revenue, highest converting and highest number of transactions. If a page keeps coming up, you then have multiple sources of commercial evidence that improving the SEO of that page is going to increase sales.
3. Reverse engineer what the landing page is selling and optimised for
Once you've got your shortlist of a handful of pages that you want to investigate further. Go and review each page and see which keywords that page is optimised for.
To check what keywords a site is likely to be found in Google for:
Extract keywords in the product title or page heading – is the page a category results page with 18 oak bookcases on it? The keyword is going to be "oak bookcases"
Extract exact match keywords in the title tag – the fastest way to check the metadata is to put the search parameter "site:" at the beginning of the page URL and punch that into Google e.g. Search for "site:http://www.mypageulheregoeshere.com"
Look for keyword variations of the exact match keyword in the page copy
4. Analyse the rankings of your suspected keywords to confirm your theory
At last you've got some suspected keywords. At this point, I like to imagine that I'm a detective and when you catch those suspects lurking on page 1 or 2 of your favourite keyword ranking analysis tool such as, Moz Rank Tracker, it's a seriously-satisfying gotcha moment!
So before moving on to the next stage, just take a moment to revel in the glory from having hunted down the keywords that are responsible for slaying your sales targets.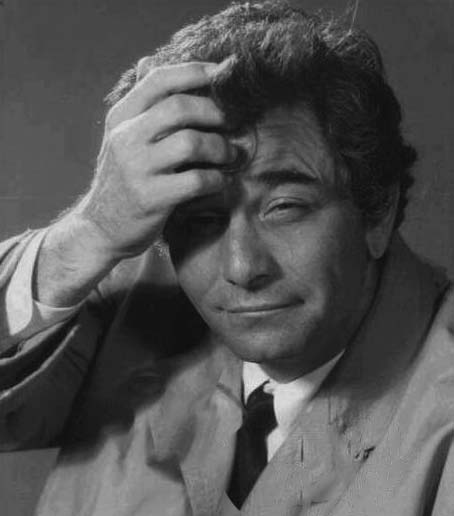 5. Know that ranking in position 1 in Google can generate up to 100 times more traffic than position 10
According to our own proprietary ThoughtShift data from increasing rankings, traffic and sales for over 350 websites and tens of thousands of keywords, as well as multiple data sources such as Smart Insights Click Through Analysis, click through rates are proven to increase the higher your position, with a number 1 ranking delivering a click through rate of up to 100%!
Now before you get too excited, this kind of click through rate is associated with extra-long tail searches (search terms with 5-6+ keywords), that also have very low competition and are even more likely to convert, but don't expect 100% across the board! A typical number 1 click through rate for a high search volume retail category keyword like "gifts for men" is more like 10-35%. But this varies a lot!
Your actual click through rate will depend on a combination of factors:
The competition for that keyword at that precise moment – the more competitors there are, the lower the click through rate and don't forget seasonal search behaviour
Your own metadata including Title Tag, Meta Description and Schema Markup such as Rich Snippets – our retail furniture case study shows a 27% increase in click through rate by having the 5 star rating compared to having none in the same position
The calibre of the paid ads above the organic listings – if your AdWords foes aren't using the latest Ad Extensions like Ad Seller Ratings and Callout Extensions, rub your hands together with glee!
6. Pick your battles wisely by prioritising campaigns based on the authority of competitors above you for the keywords you want to increase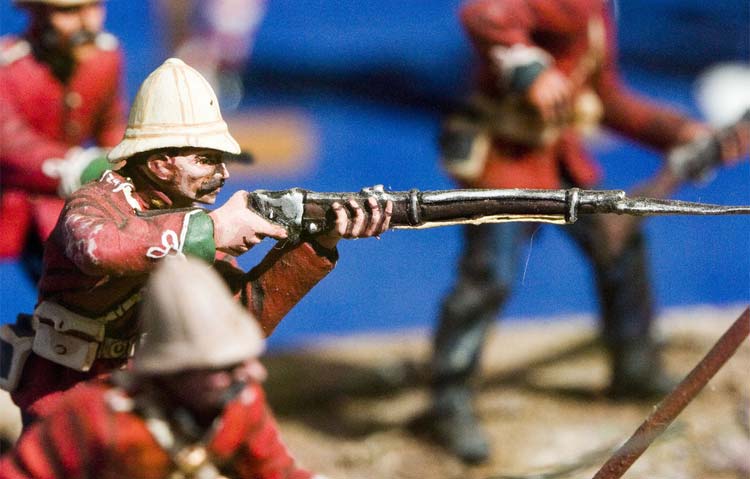 Before you go gung-ho creating innovative eCommerce SEO strategies to increase your rankings for your verified target keywords, there is one final check.
Take a look at the domain authority of the page you want to increase the ranking for in comparison to your search competitors ahead of you.
Remember, Google ranks pages not websites and so you'll need to grow the authority of every page you want to increase the keyword rankings for. So running your web page and your competitors' pages through a tool such as Open Site Explorer will reveal how near or far you are to winning in the short term.
If your page authority score (a score out of 100) is a few points away from your competitor for a certain keyword and 10s away for another, create an eCommerce SEO campaign for the keyword with the path of least resistance.
The short term advantage of strategic eCommerce SEO is that by increasing the authority of very specific landing pages proven to drive sales, you will get the fastest possible increase in sales from your target pages. Plus, in the long term, you will grow your overall domain authority which will flow to your other pages, improving countless keyword rankings and subsequent sales from other pages as well.
To stay up-to-date with all the latest digital marketing strategies and eCommerce insights, subscribe to the ThoughtShift Guest List to get our monthly email newsletter delivered straight to your inbox.