Intertwining Innovation: Content & Design Meet – Part II: How To Build It
In my last blog post I wrote about the cutting edge of innovative content marketing. The examples I gave included the superb interactive multimedia articles created for The Guardian and the New York Times. If you haven't had the chance to look at these yet then I strongly recommend that you do so before reading on.It's one thing saying how amazing a piece of content is, but that's not particularly useful in a practical sense. I assume what the digital world would really like to know is how to build these kinds of data driven content projects and visualisations. They are, as can be expected, fairly complex. It's a far cry from your average blog post, meaning that at the very least it will take a significant amount of time.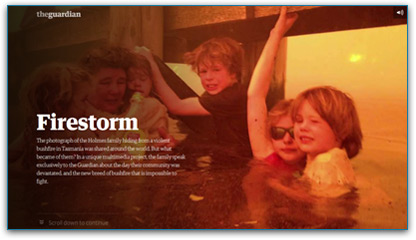 According to an article earlier this year by Alastair Reed on Journalism.co.uk on the making of Firestorm, an interactive content piece from The Guardian, the process took months to complete. Reed calls these pieces of content 'rich articles', which is perhaps a beneficial term but probably doesn't capture all that this type of content encompasses.Nonetheless, let's look at the process of creating these innovative pieces of content in a bit more detail.
Feature Writing – Finding The Structure
Many of these pieces of content have a strong journalistic aspect, but that doesn't necessarily have to be the case. Exploring the details of a specialist industry would be a worthy alternative. In terms of subject matter, it could be very diverse – so don't feel limited.The writing of the content is the first step; everything else is added in and built around this. After the content is written it is necessary to determine the progression of the 'rich article' overall in order to create a plan of action and develop the rest of the piece.When writing the feature, the following aspects are desirable for this type of content;
Concise Sentences & Paragraphs – The textual content of these multimedia projects is crucial to propelling the user through it to the end, as a result concision is important.
A Narrative Progression – The writing for multimedia content projects is often based around a narrative, designed to bring the reader along and lead them to the various other media in the piece.
Grounded In Fact – Paired with the journalistic nature of this content, the text is grounded in fact. This is somewhat similar to how an infographic might display information. Snippets of information help guide the narrative and give you the opportunity to visually display data later on.
The writing of the content is perhaps the most important part of the process, as it provides a solid base upon which to build. You can build a strong initial foundation for a rich article by developing a good solid structure – beginning, middle and end need to be in place first and all the rest of it comes later.
The Design Phases
With the structure in place, design needs to be built in so as to create the interactive elements of the content. The written content will help indicate what sort of pictures and imagery will be best suited; additionally when a topic is discussed within the content there can be opportunity to add any other relevant media such as videos or data visualisations.Before any technical work takes place, a multimedia content project will need to have the following completed;

Storyboards – Storyboarding is a simple visual representation of the finished product, in a kind of comic book form. It's the same principle as film or any other visual production. If additional dialogue and audio are required they should be scripted at this stage.
Image & Data Collection – After everything is planned, it is necessary to collect all the data and images required for the piece. These may vary, but as the 'Firestorm' piece I mentioned earlier illustrates it will most likely be photographs or graphics around your subject matter. You will also need to clear any copyrighted imagery or video you wish to use.
Technical Mapping – Mapping out the technical features in detail is necessary to make sure that all requirements are met when the piece goes into development. All features should be mapped and specified to ensure that they each work as intended and are able to interact with each other in the finished product.
This is a heavy time in the production of a multimedia content piece. Design considerations are of the utmost importance and will require the collaboration of various expertise. Content, design and development experts all need to be involved at this crucial stage before development commences.
Development
I'll readily admit that although I work with the web I'm not too well versed in the technical side of things including programming, design and development. Being much more of a content expert I'm not able to go into immense detail with the practical considerations of this stage. I will however provide an overview.
Video Production – Any original video needs to be produced.
Platform Development – It is necessary to develop the piece for the desired platforms, tablets are particularly suited to this type of content so this is a common requirement.
HTML5 – The development of a multimedia article will usually be in HTML5 to pull off the visual side of the content.
Testing – Of course this type of content is very complex, as a result it is necessary to put the content through an extensive period of testing to ensure that it works properly once released.
Peer Review – This may not be necessary for more journalistic subject matter, but if you're doing a piece for a particular industry or anything that requires a very specific and detailed knowledge then have it reviewed by an external expert. These projects are so big you don't want any silly mistakes.
If You Build It, Will They Come?
To pull off this type of content effectively you really need to have a great team around you. It's certainly more than any one person could do by themselves, although there are some experts out there such as Benji Lanyado who are somewhat pioneers of this kind of digital production.It is a big job, and upon completion you will still need to get it out there. Building an innovative piece of content is only part of the overall production of a compelling content experience. If there are no users viewing the content then your time building it has not been worthwhile.My next post will explore the promotion and distribution of these forms of interactive 'rich' articles. How do you get it out there? It's all well and good to create these but you need to push them to get any ROI.Please do let me know what you think and come back to the ThoughtShift Blog for all the latest from our team. Feel free to browse the rest of my posts and please follow me on Twitter for more - @GhastlyChimera.
Resources