Music and Musical Instrument Retail Trends and Statistics
Musical instrument retail is expected to take £438.2 million in revenue by the end of 2017. According to Ibis World this will result in £17.1m Profit between 1,688 businesses which pay out £68.2 million in wages.1

There are opportunities, but also challenges and, as we will see, some companies are clearly playing all the right notes in the right order.2
Starting young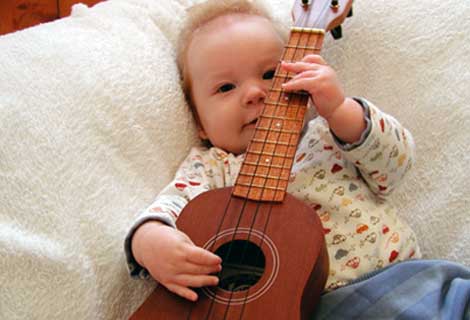 Playing an instrument can be a lifelong habit learnt as a child. According to The Associated Board of the Royal Schools of Music (ABRSM), seven out of UK children say they currently play a musical instrument. A staggering 85% of children say they have played an instrument. That compares to 74% of adults. So the trend is distinctly positive.3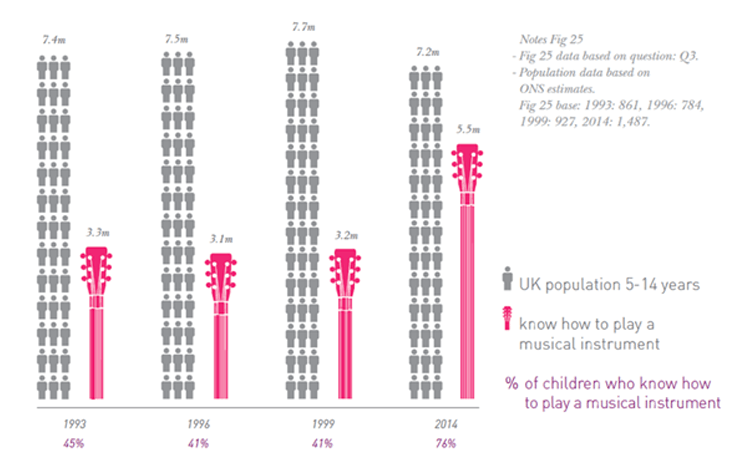 And what are they playing? Pianos, recorders and other keyboards still dominate but the growth in electric guitars, percussion and bass is encouraging for all us would be Jack Blacks.4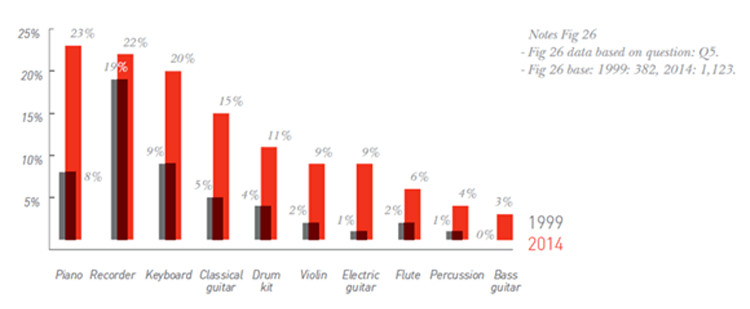 Just over one in five young people (21%) say they play an instrument but have never had lessons. The ABRSM concludes that they are learning through friends or digital tools. There are many insights to be drawn from this, not least a motivated market of digital natives.5
Audio equipment is another growing market
Musical instruments are just part of the music retail market.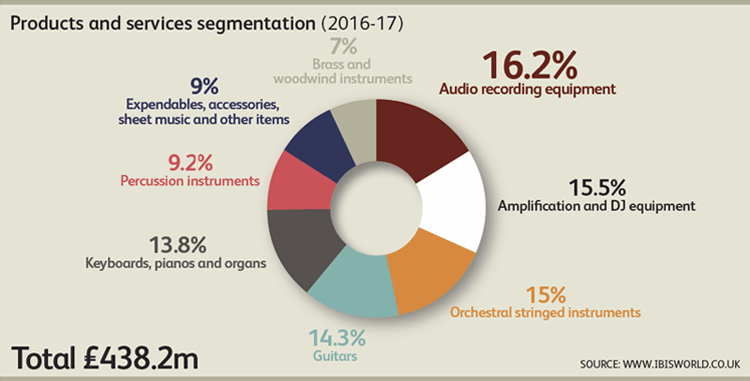 The development in digital technology means home recording studios are more within the reach of many enthusiasts and well as professionals. Audio recording equipment sales now make up over 16% of the market. MIDI controllers and digital instruments, such as electronic drums are also identified as an area of growth. Once the preserve of pioneers like Brian Eno, many musicians now use software and musical instruments together. Software bought online can be downloaded immediately. For musical instrument retailers, this is a major advantage of an online presence.
The Buying Journey
While there are clear advantages to buying music related software online, a musician's relationship with their instrument tends to be emotional rather than purely pragmatic. Buying a musical instrument can involve a complex buying journey involving consideration, research, comparison and the eventual transaction though physical showrooms, mobile devices and laptops. As previously found for many other industries, the challenge for digital marketers is presenting the right messages at the right times.
Advanced Amateurs and Would Be Professionals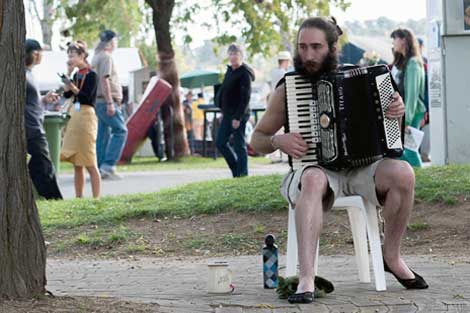 As Ibis World notes, hobbyists and students make up the majority of the market for musical instruments generating 61.5% of revenue. The distinction between the market for professionals and enthusiasts is an interesting one. While working for the highly successful photographic supplier Calumet, ThoughtShift identified a market segment made up of amateur photographers who were demanding professional standards of equipment. Amongst other opportunities, understanding this enabled ThoughtShift to develop digital marketing campaigns around Christmas gifts for products that would not usually be associated with seasonality.
The Impact Of Brexit On The Musical Instrument Market
With the usual 'no one knows yet' caveats, the impact of Brexit on the musical instrument retail market is likely to mainly be associated with the fall in value of the pound. The majority of musical instruments are manufactured outside of the UK and there will be pressure on prices. The impact on the market, either at the top, professional end or amongst students and enthusiasts is to be seen. One company, Gear4Music has responded by opening distribution centres in Sweden and Germany.
Music Sales, Tracks and Albums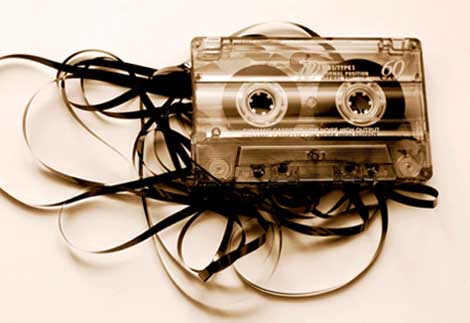 Musical instruments and audio equipment are, just part of the story. There continues to be a strong but ever changing market for people who want to listen to and experience music. Shifts in the market for buying music have been started with online retailers such as Amazon replacing record shop chains. Between 2004 and 2006, a quarter of independent record shops in Britain shut, according to figures from the Entertainment Retailers Association.
The main chains other than HMV and Virgin have sunk, and those two have lost a third of their branches since 2000.6
Interestingly, some independents are thriving. Rough Trade have opened a 5,000 sq foot shop in London's Brick Lane, complete with a cfé and permanent stage. Record Store Day, an annual celebration and promotion of Independent Record Stores celebrated its tenth anniversary this year with sales 40% up on the previous year.7
Just as we had replaced our vinyl with cassettes, our cassettes with CDs and then started buying vinyl again, we started buying tunes with nothing tangible to have or hold. And then we stopped buying tunes and started to subscribe to streaming services. Why buy a song when you can buy access to millions of them?
Music Sales Format History
Year
Format
1930s
Vinyl widely available
1950s
Demand for vinyl grows thanks to Elvis, Burt Bacharach and others
1960s
The Beatles sell 1.6 billion records alone
1970s
Sony Walkman Introduced 1979
1980s
Tapes dominate. Michael Jackson, Bruce Springsteen, Bob Marley, Guns N' Roses etc top the charts, each selling between 15 and 30 million copies of their individual albums
1990s

CDs introduced

Oasis' (What's the Story) Morning Glory?, sells 5 million copies in the UK alone
2000

iTunes released in the UK June, 2004. Apple became a dominant force in music distribution

2010

More than 3.2 million vinyl records were sold in 2016, a rise of 53% on the previous year according to the BPI, which represents the music industry.

2014, 35 billion songs sold on iTunes
Data from TSG.com8 and BPI 9
Album Official Sales
Album Sales
Metric
2013
2014
2015
2016
2016+/-
Streaming Equivalent Albums
Units
7.5.
14.8m
26.8m
44.9m
+67.5%
 
% total
6.2%
12.6%
22.1%
36.4%
 
Track Equivalent Albums
Units
18.2m
15.6
13.3
9.8
-26.2%
 
% total
15.2%
13.3%
10.9%
7.9%
 
Digital Albums
Units
32.6m
29.7m
25.7m
18.1m
-29.6%
 
% total
27.2%
25.3%
21.1%
14.6%
 
Physical Albums
Units
61.4m
57.2m
55.8m
50.6m
-9.3%
 
% total
51.3%
48.8%
45.9%
41.0%
 
CD
Units
60.6m
55.7m
53.6m
47.3m
-11.7%
Vinyl LP
Units
0.781m
1.289m
2.115m
3.2m
+52.6%
Other
(incl. cassettes, MiniDisc, DVD Audio)
Units
0.073m
0.134m
0.084m
0.059m
29.5%
TOTAL (AES)
Units
119.7m
117.2m
121.6m
123.4m
+1.5%
© Official Charts Company8
Direct-to-Fan Music Sales Models
Change is constant. As Alison Coleman noted in Forbes, 'disruption has now shifted up a gear. Social media markets direct to fans. And artists can be in direct contact with their fan base'. Tickets are marketed and bought on line.
One of the companies leading the change is Music Glue, founded in 2007 by Mark Meharry, with the goal of allowing artists to sell their music directly to consumers. Based in London, with offices in New York and Sydney, Music Glue is championed by the likes of Mumford and Sons, one of the first bands to use its services. They, and other artists sell music, tickets and merchandise direct to fans from a single marketplace with all the associated cost savings.10
What Does This All Mean?
People love music. We want to listen to music, to play music and for music to be part of our lives. The companies who successfully sell music, musical instruments and audio equipment of all sorts understand their customers passion and the need to engage at every part of the buying journey. They don't simply embrace change, they lead it.
Follow my contributions to the blog to find out more about retail statistics, or sign up to the ThoughtShift Guest List, our monthly email, to keep up-to-date on all our blogposts, guides and events.
Refs