Why You Need an Integrated Ecommerce Marketing Strategy
The possibilities with digital marketing are endless, which is why finding the perfect strategy for your business can feel overwhelming. In this article we're going to cover how to understand your customer's conversions paths and why this is the most important element in your ecommerce digital marketing strategy. We will also cover some of the ways you can reach your target audience, using paid media marketing and why integrated ecommerce marketing strategies are the most effective.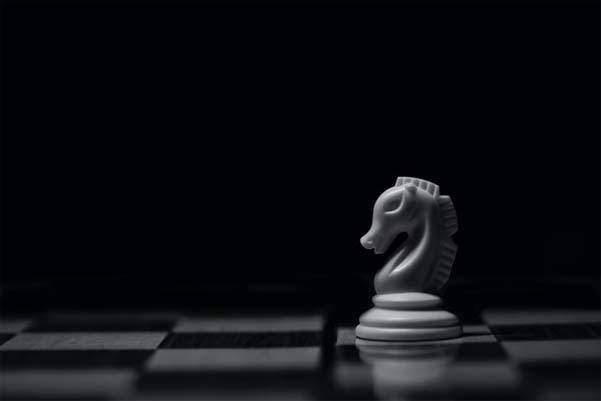 What is an ecommerce customer journey?
Google display campaigns place image banner ads across the Google display network, this includes websites, mobile apps, YouTube, and Gmail.
An ecommerce customer journey is a term used to describe the point from which your customer first discovers your brand, to the point they make a purchase. In Google Analytics this is known as a conversion path. Ecommerce conversion paths are not always as simple as you might think, especially if the product you're selling requires a longer decision-making process. For example, a customer may decide to buy a £20 pair of gloves for themself, quicker than they would decide to purchase a £400 piece of artwork as a gift for their partner.
Therefore, there is no typical conversion path. Every conversion path will differ from product to product and person to person but it's important to understand what your current customer's journeys look like and what they potentially could be.
Why do you need to know your customer's path to purchase?
Understanding your customer's conversions path is crucial to online businesses. According to research carried out by Oracle, it can take consumers up to 6 touch points before making a purchase. If you have a finely tuned digital marketing strategy that provides your customers helpful information at each key touch point, you're going to win. However, if you're currently only visible via organic search, you're missing out on a multitude of opportunities to drive online sales.
How to map your customer's journey
Now that we've established just how important it is to know your customer's typical path to conversion, how exactly do you find that information?
If you want to understand your customer's current conversion paths, you can find this data in Google Analytics by going to, conversions > multi-channel funnels > top conversion paths. Here you will see the top 10 conversion paths your customers are taking when making a purchase online.
In the example below you will see how the conversion paths differ and how organic search and paid search work together, providing multiple touch points for their consumers. If the business below hadn't run paid search ads, they would have missed out on almost 25% of their total revenue each month.

Whilst this data is helpful to understand the effectiveness of your current marketing channels, you also need to consider the multiple possible customer journey's which aren't represented in your current data.
Spend some time thinking about and researching your typical customer's journeys. It can be helpful to create a visual representation as shown in the example customer journey map below. You may want to create multiple customer journey maps to visualise different scenarios and target audience personas.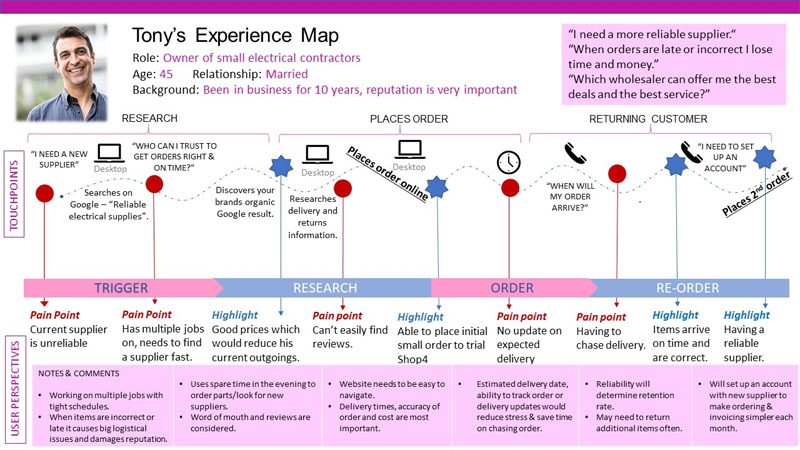 Integrated ecommerce marketing
Once you have a good understanding of your customer's typical paths to conversion, you can begin to build an integrated ecommerce marketing strategy that ensures you're reaching your ideal clients with the right information at the right time.
Here's a breakdown of the different paid channels you can use in your strategy and why they're so effective.
Google text ads
Let's say you're selling knitted beanie hats but struggling to gain visibility in the top positions of the organic search results. Google text ads provide the opportunity to quickly gain visibility amongst your competitors and appear at the top of page 1. Even if you are already on page 1 organically, Google Ads is also a great way to reinforce your brand's presence and dominate the search results.
Google shopping ads
Google Shopping ads are yet another way that you can gain visibility for your products at the top of the Google search results. Google Shopping ads appear above Google text ads and display an image of your product, making it easier for potential customers to browse and therefore tend to have higher conversion rates than text ads.
Google Ads are extremely effective, especially if your products are competitively priced or unique.
Google display ads
Google display campaigns place image banner ads across the Google display network, this includes websites, mobile apps, YouTube, and Gmail. Let's say you're selling electrical accessories for the home; you may want to place a banner ad on specific interior design or homeware sites that your target audience may be using, this is a great way to build brand awareness. You can even place banner ads on websites similar to your competitors.
Dynamic display remarketing campaigns will place images across Google's display network, of the products your recent website users have added to cart but not yet purchased. This is an extremely effective way to increase online sales and conversion rates.
Paid Social
Platforms such as Facebook & Instagram provide a cost-effective way to reach large numbers of your target audience, increasing brand awareness and traffic to your site. Therefore, paid social is a great channel to use for customer acquisition. You can then build remarketing ads to re target recent website visitors who did not purchase, with stronger calls to action and a greater incentive to buy.
Conclusion
The paid media marketing options above, provide the opportunity to exponentially increase your online revenue. When organic search, paid search and paid social channels work together in harmony, you're able to digitally build a relationship with your potential new customers. Presenting your customer with the right images, messaging, and information at the right time, on the right platforms. Building relationships and staying top of mind is essential in the highly competitive and saturated world of ecommerce.
At ThoughtShift we specialise in multi-platform, integrated ecommerce marketing strategies. If you'd like to learn more about how our approach can increase your brands visibility, website traffic and online revenue, request a free digital strategy consultation.
Resources: