Outdoor Clothing Industry Digital Marketing Strategy Ideas
It's getting cold and I want a nice, new, warm coat. Which is handy because there are lots for sale out there. In fact, the choice is quite daunting. According to the Great British Wardrobe Report Brits spend an average of £1,042 per year on clothing. Broken down further, British women spend an average of £74 a month while men spend around £100. Make of that what you will. But if you are a company selling winter clothing, or outdoor clothing, or whatever you may call it, how do you reach me?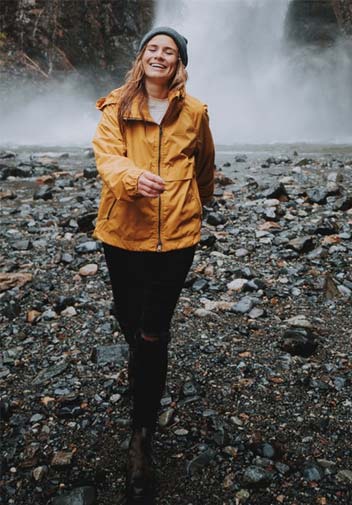 Start with the customer
With metadata you need to start with broad terms for your home page, getting the attention of people who are looking for the whole range of products you sell
You need to get a really good picture of your customer before you embark on any sort of marketing. Where are they, male or female, age, physical location, what do the like or don't like, where do they shop, what do they read? Some companies will commission surveys to discover these facts, others will rely on their knowledge of who buys from them. We can help by using a variety of tools which tell us where we can find your customers online.
Words matter
So what do you call your outdoor / winter/ warm / coat / jacket? SEO matters because you want to be found by people who are looking for you online, by typing their chosen selection of words into a search engine.
| Keyword | Avg. monthly searches |
| --- | --- |
| women's winter coats | 60,500 |
| waterproof jacket | 40,500 |
| winter coats | 40,500 |
| mens winter coats | 33,100 |
| mens winter jackets | 27,100 |
| womens waterproof jacket | 27,100 |
| mens waterproof jacket | 22,200 |
| waterproof coat | 18,100 |
| berghaus jacket | 18,100 |
| fur hooded coat | 18,100 |
| winter jacket | 14,800 |
| winter jackets for women | 14,800 |
| outdoor clothing | 12,100 |
| girls winter coats | 12,100 |
| ladies winter coats | 12,100 |
| ladies waterproof jacket | 12,100 |
| womens waterproof coat | 12,100 |
| boys winter coats | 9,900 |
| plus size coats | 9,900 |
| women's rain jackets | 9,900 |
| jack wolfskin jacket | 8,100 |
| womens wool coats | 8,100 |
| mens rain jacket | 6,600 |
| north face waterproof jacket | 6,600 |
| waterproof running jacket | 6,600 |
It is unlikely that you will be selling just winter coats or waterproof jackets. Odds are that you are a fashion brand or a sports retailer. In which case these are the words that you will want on your category pages. It is unlikely that Boohoo will be using 'ladies winter coats' much more likely 'women's' or just 'winter coats'. In fact, they are such a strong brand that they could expect people to search for them by brand, so 'boohoo winter coats'.
That's the thing about SEO, it can be tricky. It isn't enough just to search out keywords, you need to apply them with an understanding of your customer. Here is a page of metadata taken from Alpkit.com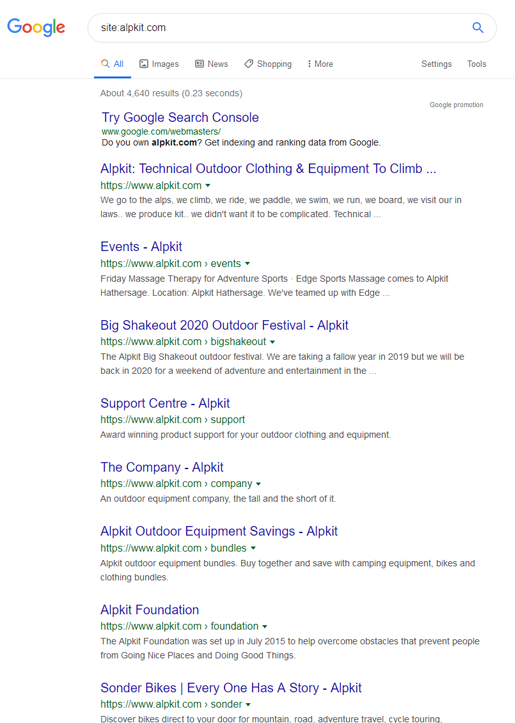 Start with your home page
Exactly what goes into a trust score has numerous factors but ultimately it determines how authoritative your page is
You can see that their home page is optimised for 'Technical Outdoor Clothing & Equipment To Climb'. That covers off a lot of searches for 'technical clothing' and 'outdoor clothing' and probably 'Climb Equipment'. But there after the pages aren't that well optimised or, at least, the pages which Google is seeing as most important. The men's waterproof jacket page is optimised for 'Lightweight Waterproof and Windproof Jackets – Alpkit'. That's good metadata but it isn't amongst the top 100 pages as viewed by Google. So there maybe an issue regarding internal linking.
With metadata you need to start with broad terms for your home page, getting the attention of people who are looking for the whole range of products you sell.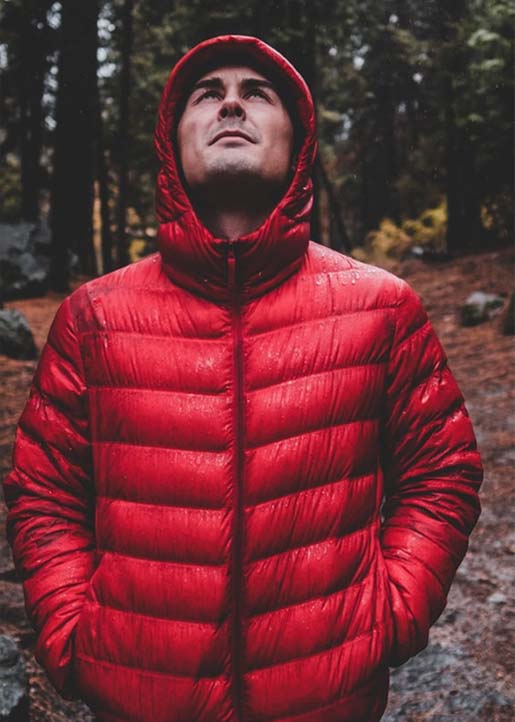 Get more specific as you get to 'buy now'
More specific terms, like 'waterproof, windproof, coats' will be better for a category page. Add 'mens' or 'womens' to differentiate further. Then you get down to product pages which is where you might want to optimise the precise product name 'Katabatic mens primaloft gold active jacket' for people who know what they want but can't remember where they saw it. You need to make sure you use all the 60 characters and spaces available and avoid repetition.
Repeating metadata
Repeating metadata across your pages has the effect of reducing the authority of any individual page. Of course, you can make sure that your pages are all nicely, individually optimised but you can't control what other people's sites are doing. If huge companies like Blacks, Millets and Decathlon are also optimised for those terms then you aren't going to get a look in. That's because they will have much higher trust scores than you.
Expertise, Authority and Trustworthiness
Exactly what goes into a trust score is the subject of much debate. We do know that something called EAT is very important to Google. Expertise, Authority and Trustworthiness. This seems to be about the expertise of the author for content. And it is reasonable to assume that it applies to content which is linking to your site. We also know that the content on your page needs to reflect the title tag it is optimised for, but in a natural way, clearly written for humans, not for SEO.
The point is, with the help of an expert, you can increase your EAT score by a few points but odds are that your competitors will also be increasing theirs. So you need to know which of your competitors it is worth competing with and the terms to compete on.
Web speed matters
The other thing you need to do is speed up your website. Slow sites are penalised by Google. You can test your site in Google
SEO is a medium to long term strategy. There are no instant paths to success, but it can be massively cost effective. You just need a very clear focus and a little patience.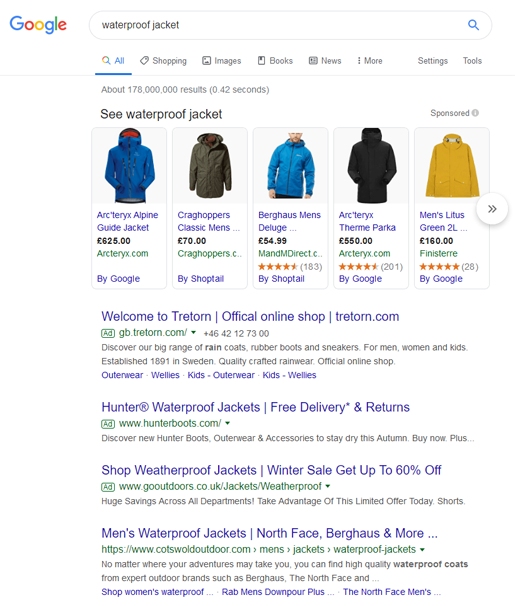 Alternatively, you could just pay to get to the top of the listings.
Paying to be top
That's a page of search results for 'waterproof Jacket'. And before you get to 'organic' or 'free' listings you see text ads – with an 'ad' just to the left of their url and before them, 'shopping ads', small images of a single product, a price and a supplier. Click on one of those and you get to the page which is selling that product. The lack of information here means it is important to use what is available well. 'Womens waterproof' on the right of our sample doesn't, for example, include the brand name. The images are all against a white or grey background, which is good. The other major difference is that the Blacks Ad includes stars. The stars are from one of a small number of companies which provide onsite reviews which can carry the stars through to the ads. It is important to select carefully if you want to go down this road. And it is a good road to go down, the stars bring results.
There are other things to know about shopping ads. One is that it is important to get your shopping feed right. To start with, if you end up advertising something you don't have available in stock then Google will count it as a strike. And if you get too many strikes then your shopping ads will be disallowed. Next, you need to decide what you really want to advertise. We see a lot of campaigns where people have set their shopping ads to advertise everything they sell. It makes a lot more sense to focus your budget on items which you already know sell well and profitably. That may mean including a new field in your shopping feed to indicate that a product should or shouldn't be included.
Negative Keywords
The other thing to know about is 'negative keywords'. Someone will get to see your ad by virtue of typing the right combination of words into the search engine. Google takes a notoriously liberal definition of what the words you have selected to trigger the ad and will tend to serve it if it believes the meaning of the words typed in have a similar meaning. And that's before we start to consider the impact of things like 'broad match' search terms. In short, it is worth building a comprehensive 'negative keyword' list which you tell Google not to serve your ad against. You can see the words which have cost you money but haven't returned any revenue in your Google accounts. Thereafter it is a matter of judgment.
Instagram and Facebook Ads
So far we have talked about how to sell to someone who is actively looking for a new outdoors coat or waterproof jacket. But how do you catch people who aren't at that stage yet? Our favourites are Facebook and Instagram ads.
Both owned by the same company, Facebook and Instagram both work in a very different sort of way from Google Ads. With these 'Paid Social Ads' you define the audience you want to show your ads to. One of the most effective ways of using them is to download emails you have accumulated of people who have bought from you before or have signed up to you and advertise to them. Existing customers are much more likely to be profitable. And when you have advertised to your existing email list you can start to advertise to 'look-a-like' audiences with similar characteristics. We recommend you do this with care, spreading the list slowly so that you can tell what is working.
Talk to us
That should give you a few things to think about if you are selling outdoor clothing. If you would like to talk to someone about it we are all ears.