SEO, PPC & Social Media Strategies for Skincare Clinics
According to Mintel, British women spend over £1.5 billion pounds on skincare each year. A lot of that is on creams, lotions and the occasional magic potion. But a growing proportion take the step of 'getting work done' at their local skincare clinic or cosmetic treatment centre. Along with laser treatments, dermaplaning and chemical face peels are increasingly popular. So, if customers are looking for skincare treatments how do they find the best place?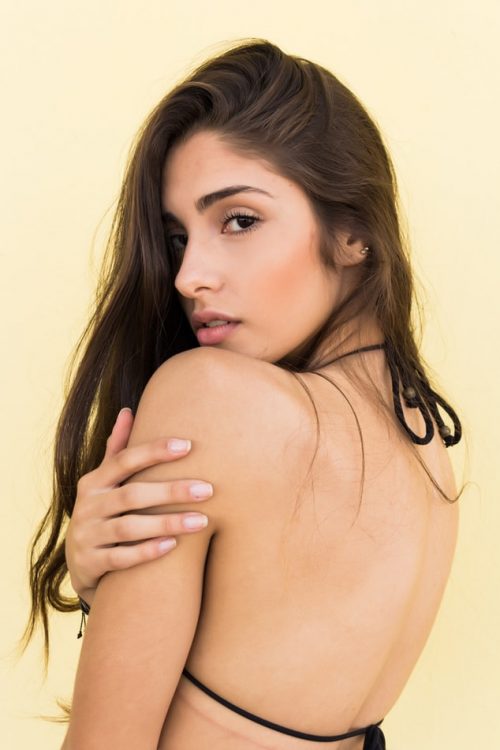 Three steps to Digital Heaven - Research, Consideration, Buying Decision
People tend to take three steps before they decide to buy a course of skincare treatment or just about anything else. Research, consideration and then the buying decision. Maybe your potential customer doesn't even know that there is such a thing as dermaplaning. All they know is that her skin looks like it could use a little work.
SEO or Search Engine Optimisation
They may search for skincare advice, mole removal or even scar treatments. They are not ready to buy, just researching. This is where content such as blogs and FAQs can come in handy. Basically, you are seeking to answer all those questions. Why not just leave the answers to someone else and just swoop in for the sale? If you attract someone to your site you will start to build up familiarity with them, they will know your brand. Also, thanks to Google, you will become a site they know and as such will appear higher in the listings. You will also change colour! The change is subtle, but your Google listing will change enough to attract the attention of someone returning to browse again.
Let's imagine that your potential client, let's call her Samantha, has visited lots of sites and has determined that dermaplaning is what she may be looking for. Next she will go through the consideration phase. The questions she is asking at this stage are probably 'does it hurt?', 'what are the side effects?' and 'how much does it cost?' Again, your site needs to answer these questions but closer to the 'book an appointment' button.
Next up is the buying decision. Expect searches like 'dermaplaning near me' or 'dermaplaning London Evenings'. You need the page with the buy now button to be optimised for all those terms. That's all well and good, but what do we mean when we say optimised?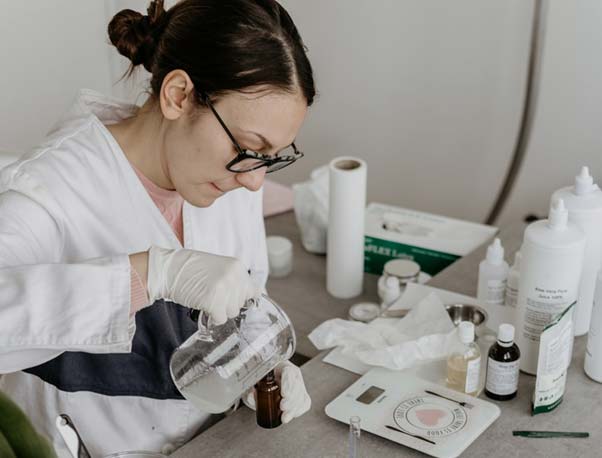 ThoughtShift has our own three step approach. Data Insight, Digital Strategy, Performance Impact. In other words, we first find out about you and your customer data, we then set out a strategy for reaching them and then we make it happen. There are, of course, lots of reports and reviews built in. But you get the basic idea. We start with research. And part of that research is keyword research. We typically research a couple of thousand words but, for the purpose of writing a blog, here's twenty.
| Keyword | Avg Monthly Searches | Page One Competition | Suggested Pay Per Click Bid | Est Monthly Traffic | Est PPC Budget |
| --- | --- | --- | --- | --- | --- |
| dermaplaning | 60,500 | 23 | £1.48 | 12,100 | £17,908 |
| laser hair removal | 60,500 | 100 | £3.65 | 12,100 | £44,165 |
| mole removal | 18,100 | 80 | £2.25 | 3,620 | £8,145 |
| hair removal | 14,800 | 100 | £2.85 | 2,960 | £8,436 |
| chemical peel | 12,100 | 100 | £1.25 | 2,420 | £3,025 |
| facial hair removal | 12,100 | 100 | £1.57 | 2,420 | £3,799 |
| laser hair removal near me | 9,900 | 95 | £5.02 | 1,980 | £9,940 |
| acne scars | 9,900 | 100 | £1.99 | 1,980 | £3,940 |
| ipl hair removal | 8,100 | 100 | £2.19 | 1,620 | £3,548 |
| facelift | 6,600 | 49 | £5.18 | 1,320 | £6,838 |
| skin peeling | 6,600 | 88 | £1.11 | 1,320 | £1,465 |
| permanent hair removal | 6,600 | 100 | £1.76 | 1,320 | £2,323 |
| dermaplaning near me | 6,600 | 8 | £1.84 | 1,320 | £2,429 |
| electrolysis hair removal | 5,400 | 100 | £2.23 | 1,080 | £2,408 |
| foot peel | 5,400 | 100 | £0.19 | 1,080 | £205 |
| dermaplane facial | 5,400 | 47 | £1.48 | 1,080 | £1,598 |
| non surgical face lift | 4,400 | 97 | £2.37 | 880 | £2,086 |
| face peel | 3,600 | 100 | £1.17 | 720 | £842 |
| dermaplane | 2,900 | 86 | £1.40 | 580 | £812 |
| dermablading | 2,900 | 100 | £1.34 | 580 | £777 |
Several things spring out straight away. Three phases 'dermaplane' and 'dermablading' have 2,900 monthly searches each, which isn't bad. But compare it to 'dermaplanning' with over 60,000 monthly searches. We have a winner!
So we have an effective, much searched for keyword. What now? Here's the meta data from sk:n clinics. You can see yours by just typing 'site:' and then everything that follows the 'www.'of your domain name.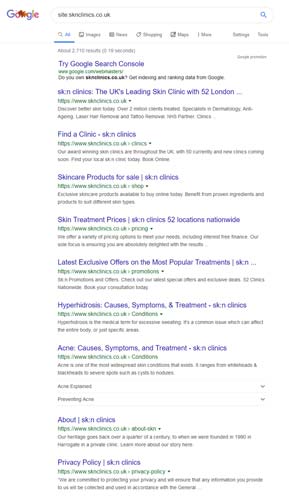 The top blue line is the meta data and that is where Google will look first to find the keyword that Samantha will have typed into her search engine. And the pages are in the order of priority as Google sees them. For sk:n clinics it is good news that their home page comes first. And there is a useful guide to finding your nearest clinic as the second page. They also seem to have largely avoided duplication. This is important because if you have the same meta data on two or more pages you will succeed only in confusing Google. If it doesn't know which page to show for a given keyword it will split the 'authority' or, if you prefer 'Google Goodness' between the two pages and they will both rank lower. Sk:n clinic haven't always used all 60 spaces for their meta data. That's a bit like paying for a billboard and just writing a few words in the corner. Some of those pages could work harder.
And while we are looking at meta data, a quick word about the descriptions which appear under the meta titles. That's the meta description. There's a school of thought which encourages people to largely ignore the descriptions because Google doesn't use them to rank pages. We know, however, that if you write them well, think of them as a mini advert, then people will click on the link above them and that drives traffic and sales!
So you need to put keywords into the meta data. You also need to make sure that it appears in a natural way on the page.
Google Ads
Let's get back to what we are trying to achieve, more paying customers! This time I've typed 'chemical skin peel near me' into the search engine. And this is what I got –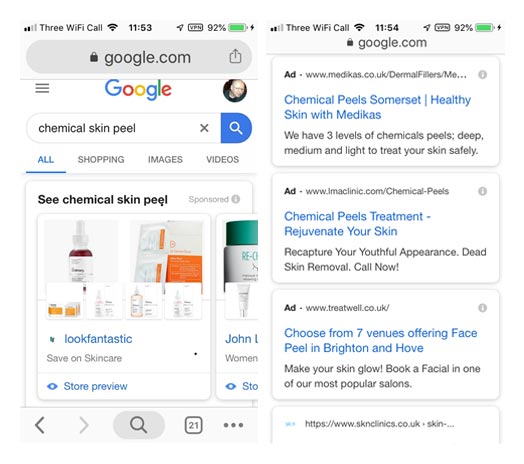 The ads at the top of the page are Google Shopping Ads. They click through to the purchasing website and let you buy the product. Which is all very cool but doesn't really work for Samantha and her dermaplaning needs. The following entries are all paid 'text ads'. These appear above the organic, or 'not paid for' listings. Again, you can see you only get a few words to attract the click. How high you appear depends on how much you pay, Google Ads is a 'live auction' and also your Google Ads Quality Score.
The exact components of your Quality Score are never revealed by Google but we know that relevance is important. So you need to make sure the word which triggers your ad is used on the page your ad points to. And a quick word about the stars you see in some text ads. There are only a few review companies which Google will take stars from, and it needs to be set up properly. But stars do make a real difference.
You can organise your account so that you show different ads for mobile, tablets and desktop. You can also control the time of day your ads are served and the demographics of who they are served to. Something else we do is to track the revenue generated by specific ads according to the search term which triggered the ad. We then roll back on the ads which aren't, so to speak, cleaning their face and spend more on the terms which have resulted in revenue.
Paid Social
The other way of attracting customers to you is with Paid Social, advertising on platforms such as Facebook and Instagram. These are different from Google Ads in as much as they are not triggered by people typing in keywords but by a selected audience. A good way of starting is with your carefully nurtured GDPR opted in email list. That generates a customer audience who can be served your ads. You can then go beyond there to use 'look-a-like' audiences which are based on your audiences.
We recommend you spread out to using the new audience slowly so that you can continue to watch for what is working and what doesn't. Our experience with Facebook and Instagram is that they can both be incredibly effective. We've got a 43:1 Return on Investment from Facebook. The retail client had a high average order value and a very tempting credit offer, but we would love to repeat the success!
So that's our quick guide on how to sell your skin treatment services. If you would like to know more or request a free digital marketing consultation, don't hesitate to get in touch.