ThoughtShift Named Top 50 Agency in The Drum Independent Agency Census
The Drum Independent Agency Census looks at over 200 agencies across a variety of media, branding and design marketing channels on a yearly basis. Agencies are split into categories by size, ThoughtShift was judged in the 1-25 staff bracket and ranked #47 in the financial category, #49 in the client rankings and #20 in the regional rankings.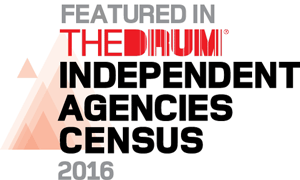 The Drum Independent Agency Census looks to recognise key players leading trends and growth in the marketing sector. The report put together by The Drum, in partnership with The Recommended Agencies Register reviews independent agencies across the UK based on financial performance, client satisfaction and region. 
Helen Trendell, Managing Director & Co-Founder at ThoughtShift commented:
"ThoughtShift love collaborating with our clients to create digital marketing happiness by achieving fantastic results like triple digital eCommerce revenue growth, so we're thrilled to be recognised as a top 50 independent agency in the UK!"
The Drum Independent Agency Census can be purchased in full here.
To follow ThoughtShift's latest awards and accreditations read my contributions to the blog or sign up for our emails and hot digital marketing news and trends straight to your inbox.