Top 6 Influencer Marketing Trends for 2021
Influencer marketing has proven to be an effective tactic for brands. With many brands integrating it into their core digital marketing strategy, it shows no signs of slowing down. In fact, according to a Business Insider Intelligence report, brands will spend up to $15 billion on influencer marketing by 2022.
As the market continues to grow and evolve, it's crucial that you're on top of any changes, so you can stay ahead of the curve and competition. In this article, we're sharing 6 of the most important influencer marketing trends to watch in 2021! You'll also find tips on how you can benefit from them.
TikTok continues to rise
TikTok experienced a ton of growth this year. Popular with Gen Zers, the social media channel now has 800 million monthly active users and over 2 billion downloads globally. In March this year, TikTok was the most downloaded non-game app worldwide, reaching 115.2 million installs - a 94.8% increase from March 2019.
Two reasons for TikTok's popularity is their creative, bite-sized 15-second videos, and their algorithm. TikTok influencers are skilled in shooting and editing videos that are both entertaining and creative. That's why users spend an average of 45 minutes a day on the platform.
TikTok's algorithm also allows for accounts that have a low following to go viral overnight and amass millions of views on their content. This opens up an opportunity for TikTok influencers to bring some virality to brands.
Because of their rapid user growth, particularly with hard-to-reach millennials and Gen Zers, and the potential to go viral, it's a channel brands will be taking more advantage of.
Brand Example
Pringles launched their "Pop, Play, Eat" campaign on TikTok, with the hashtag #PlayWithPringles, in Germany, Italy, and France.
They wanted users to get creative with the Pringles can, and share the content using the hashtag. To get the campaign going, they worked with TikTok influencers in each market to inspire users.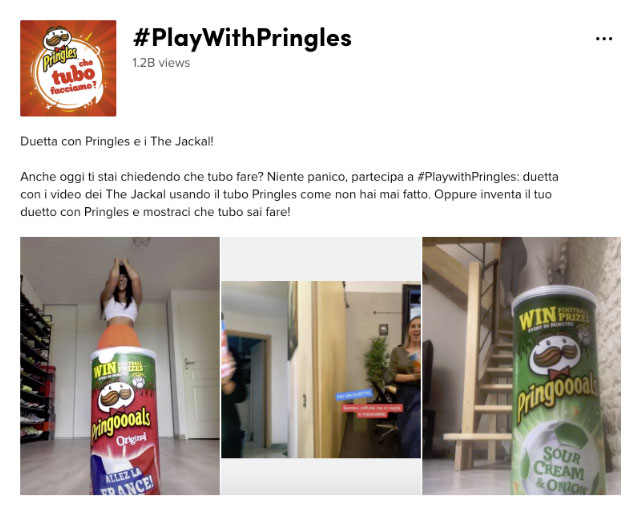 The campaign was quirky, fun, and creative, which made it a viral success. It got over a billion TikTok users to engage with Pringles. It had a 13% average engagement rate, and generated over 343,000 videos.
How to stay ahead of the trend
To successfully master influencer marketing on TikTok, there are a couple crucial tips to keep in mind:
Align your target demographics with TikTok to ensure you're reaching the right audience. Nearly half their users are between 18-24 years old. 60% of their users are female, and the other 40% are male.
TikTok is all about trends, and new ones can develop on a daily basis. One of the best ways for your brand to get seen is by moving quickly on them. Make sure you're on top of what the trends are by scrolling through the For You and Discover pages, so you can jump on an idea and use it to kick off your campaign.
Immerse yourself in TikTok. Dedicate time to understand what's popular, who's popular, and why they're popular. If you're scrolling through the For You and Discover pages daily, you'll quickly understand what might work for your brand, and what won't.
TikTok is all about short-form videos. This means you have a small window of time to capture users' attention. So look for influencers who are great storytellers. They need to know how to utilize text, titles, videos, and sound to attract attention from the second the video starts.
Twitch gains traction
Twitch is a live streaming platform that's gaining traction with influencer marketing. But how popular is Twitch?
The platform currently has 17.5 million average daily visitors, who spend 95 minutes a day watching live streams. In Q1 of 2020, Twitch broke 3 billion total hours watched for the first time ever, and in the following quarter, they experienced a whopping 62.7% increase in hours watched.
Similar to TikTok, Twitch is popular with millennials and Gen Zers. More than half of their users are between 18-34 years old, and 14% are between 13-17 years old. Though the platform was previously dominated by gaming content, there are streamers that now share content about other topics like art and cooking.
There are several key benefits to launching campaigns on Twitch:
Twitch viewers can respond to streamers in real-time, which results in a highly engaged audience. Brands can get feedback as streamers record their sponsored content.
Because Twitch content is unfiltered and live, it's more authentic and trustworthy.
Twitch content is lengthy, so streamers tend to have engaging personalities. This makes them great at calling attention to brands.
These benefits might explain why Twitch viewers are open to streamers sharing sponsored content. According to Twitch, 82% of viewers believe sponsorships are good for the gaming industry, and 80% are open to brands sponsoring streamers and esports teams.
As Twitch continues to grow, brands will collaborate with more streamers before the platform gets too saturated.
Brand example
UberEats paired up with Tyler "Ninja" Blevins, a popular Twitch streamer, to share a 25% discount with viewers.
But for the campaign, they presented it as a challenge. For every kill Ninja made on Fortnite during a specified time frame, his viewers would get 1% off UberEats orders.

Ninja managed to get a 25% discount for his viewers. The campaign was a huge success, with the maximum amount of promotions being redeemed in a single day.
How to stay ahead of the trend
Because Twitch is a live streaming platform, you might be unsure of how you can collaborate with influencers. Here are several tactics for you to consider:
Twitch streamers can give you a shout out at the beginning of their video to raise awareness of your brand. Be sure to give the streamers a clear call-to-action, so their viewers know what to do.
Send them products they can unbox live. They can share any initial thoughts about your products, explain how they plan to use them, or showcase them in a real-world setting.
Provide streamers with a product they can give away to their viewers. Everyone loves getting freebies, and it'll get people to engage with your brand.
Give streamers some branded products that they can use in their videos. They can talk about your products while using them.
Choosing long-term partnerships over one-offs
When influencer marketing took off, most brands were working with influencers on a campaign-per-campaign basis. This started shifting in recent years.
While many brands are already working with long-term partnerships, expect to see more of them moving in this direction. They're recognizing the value of creating lasting relationships with influencers who are a good match for their brand.
Doing this comes with many advantages:
It saves brands time. They won't need to find and vet new influencers every time they launch a campaign.
It creates more trust and authenticity. Influencers who endorse a brand over time will be seen as genuine by their followers.
It produces a steady flow of content. Brands receive content regularly that they can reuse on their social media, ads, website, and emails.
It increases ad frequency levels. By exposing the influencers' followers to brands frequently, it'll lead to a lift in ad recall and purchase intent.
How to stay ahead of the trend
Carefully measure how individual influencers are performing in your campaigns.
Are there any who produced standout content or results?
If there are, they're likely a great match for your brand. Get back in touch with them and pitch long-term collaborations.
Be aware that many brands have already started forming exclusive ambassadorships with influencers. If you don't want to lose out on great influencers to your competitors, you need to get the process started!
Increased demand for transparency
As influencer marketing continues to grow, transparency will be more strictly enforced in 2021.
For years, governmental bodies like the Competition and Markets Authority (CMA), Committee of Advertising Practice (CAP), and the Advertising Standards Authority (ASA) have clarified guidelines on how to properly disclose sponsored content.
But they're concerned not all influencers are following the regulations.
In fact, the CMA recently launched a probe into Instagram. They investigated the platform for not protecting consumers from being advertised to.
As a result, Instagram committed to launching new tools next year that will require influencers to confirm whether they've been incentivised to promote a product. Instagram will also create new algorithms to detect whether posts contain advertorial content.
Brands can expect to see more enforcement like this as more ads flood social media platforms.
How to stay ahead of the trend
Be sure to get familiar with the marketing regulations in your country. You can find a summary of how disclosures work in the UK and US here.
Generally, the key to disclosing sponsorships properly is for influencers to add the word "ad" clearly to their content. This means it should be the first word in their captions or descriptions, and it must be legible.
To avoid running into any trouble with your local marketing body, add a section about disclosure into your briefs. This will make it clear to influencers what they need to do to properly disclose the sponsorship when posting their content.
Data will play a key role in decision making
Brands have started committing more budgets into influencer marketing activities. As brands invest more in influencers, there's more demand for their marketing teams to have a strategy in place that generates results.
To do this, brands will focus less on influencers' vanity metrics, such as follower size and likes. Instead, they'll rely heavily on deeper data and insights to make decisions about their campaigns, from influencer selection to campaign optimization.
This shift will make influencer marketing platforms more important. Platforms provide brands with insights, such as:
Audience demographics: Brands can access information about influencers' audience, such as their age, location, and gender. They can use it to target an audience that fits their ideal customer profile.
Fake follower detection: Platforms will vet the influencers for fake followers, so brands can go into collaborations knowing they'll reach real people and bring real results.
Reporting: Brands need to understand how their campaigns and individual influencers performed. Platforms provide detailed charts and results to make it easy for brands to optimize their campaigns for success.
Brand affinity: Influencers represent the brands they work for, so they need to stand for the same values. Platforms offer an analysis that can be used to determine how closely aligned influencers are to brands.
Past performance: Brands want to work with influencers who can help them reach their campaign goals. Influencers typically have their past collaboration results featured on their platform profiles, so brands can see how they perform with sponsored content.
With the right platform, brands will be able to make smarter decisions and ensure they're getting the most out of their budgets.
How to stay ahead of the trend
Make sure you know what you need from an influencer marketing platform before diving into your options. There are a considerable number of platforms available, and what they offer differ from one another.
To understand what you're looking for, start by asking yourself:
Do I have my own list of influencers?
If you do, maybe you don't need a platform that focuses on influencer discovery. Instead, you might want a platform that excels at campaign management, to handle campaigns with your list of influencers.
There are also some platforms that allow you to invite external influencers to join a campaign. This feature makes it easy for you to funnel all your influencer marketing activities to one place.
Am I looking to save my team time?
Then what you need is an all-in-one platform that's intuitive and simple to use. You'll want a platform that has registered influencers who are already checked for quality. This will prevent your team from spending time finding and vetting their own.
You'll also want a platform that supports everything from influencer communications and campaign management to reporting and payments. This will prevent your team from hopping from one tool to another, saving them both time and headache!
Do I have a specific focus for my campaigns?
Some platforms have specific focuses. They may only support one social media channel, like Instagram. They might also specialize in a single vertical, such as fashion.
If you're looking for omnichannel influencers to run campaigns across channels, an Instagram only platform won't do the trick. So be sure to check that the platform you choose will enable you to achieve your campaign goals.
Influencers and social responsibility
Social responsibility is top of mind for both influencers and their followers. This year, a large number of influencers have become vocal about social issues they feel passionate about. This has impacted how they work with brands, who they choose to work with, and what message they share.
Influencers will continue to scrutinize the brands they partner up with, and turn down ones who don't match their values. Their highest priorities will be brands who share their ethos, support the same social causes, produce socially conscious products, and aim for inclusivity.
This trend will lead to more authentic, socially conscious campaigns. Brands will also take this unique opportunity to engage with consumers, tap into meaningful conversations, and build trust.
How to stay ahead of the trend
When you're ready to invite influencers to your campaign, there are two key things you need to do to appeal to them:
Do your research. Socially conscious influencers talk about causes they care about frequently. You'll find these discussions in their posts and comments. They might also indicate what causes they support directly in their bios.
Make a reference to your findings in your initial outreach messages, so the influencers know you've looked into who they are. It'll also show you're aligned with what they stand for.
Be transparent about your values and mission. Influencers will get a better understanding of whether you're a fit for their profile and followers. It'll make it easier for them to agree to a collaboration.
It'll also help them formulate a great story about your brand in their sponsored content.