Why Twitter Is Fab For Charities
Morning! Afternoon! Evening! Right let's get this party started with some stats. We all love a dose of stats in the blogging world. You know I'm here (cos I'm presuming you have read the title) to talk about how fab Twitter is for charities, but just in case you have forgotten or didn't know, I would like to remind you about just what a big deal Twitter is, period.
So Why Should Charities Choose To Use Social Media In The First Place?
By using social media charities can nurture human connections and relationships on a much larger scale than can be done by going out and meeting supporters personally. This hasn't gone unnoticed. There are now over 2.8 billion social media profiles, which is representative of about half of all internet users in the world  and, according to the 2012 Social Charity Index, published  by Visceral Business, UK charities have doubled the number of followers they have attracted on key social media channels. The top 100 charities now have 3.7 million followers on Twitter up from 2 million in 2011.Visceral Business describe this study as "The biggest and most comprehensive study of the state of social business in charities conducted in the UK". They analysed how the top non-profits were using social media and then ranked them using key metrics.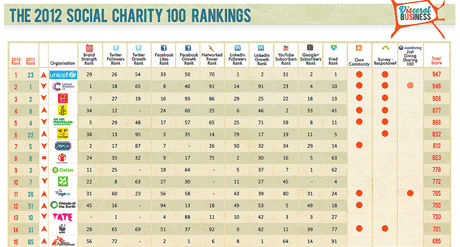 But Why Choose Twitter As A Platform For Charities?
We already know just how many people are using Twitter and for a non-profit organisation trying to raise awareness of their cause and encourage fundraising this is a huge opportunity to reach out to their audience and achieve these exact goals.  Twitter is fabulous, not only because it is free, but this micro blogging platform doesn't take as much time to manage as other platforms. This is most likely a result of its nifty 140 character limit. But don't just take my word for it.
According to Alex Goldstein, the Dog's Trust's social media and community editor, 'Of the networks it's the easiest to maintain…' She also said 'If a charity were going to use any social network, this is the one that provides the most instant response and takes the least time to maintain. Because people will always see your reply, you're more likely to have a longer, more meaningful conversation with them than if you, say, write on a wall on a Facebook page (though that has a different, important value too); ironic given the 140 character limit!'
How This Charity Used Twitter
Epic Thanks was created by non profit organisation Epic Change @epicchange. Epic Thanks originally called Tweetsgiving is a global celebration. Back in 2008 they launched a Twitter campaign to raise $10,000 dollars to build a classroom for children in Tanzinia. They asked Twitterers to tweet their gratitude along with their website, used the #tweetsgiving and enlisted influential Twitterers to help spread the word. In addition to this made it easy for people to donate via Chip-in.
The results? They became the number on #1 trending topic on Twitter. People tweeted 3,000 gratitude tweets, they gained 1,331 Twitter followers, more than 100 press and blog mentions and their website received 15,830 page views from 7563 visitors in 101 countries and of course reached their donation goal. Pretty impressive right?
So How Can Charities Best Use Twitter?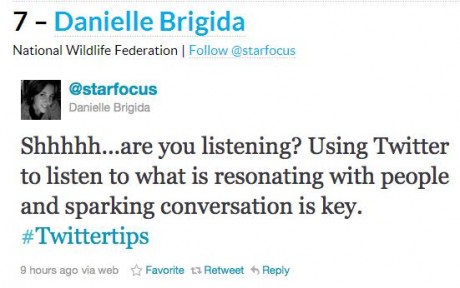 Twitter is a conversation. It's not a platform to just talk about your opinions or ask for donations or it would just be a digital noticeboard. It's about being human. Being social. It's social media after all. Danielle Brigida, senior manager of social strategy and integration at the National Wildlife foundation, who have a very well established Twitter account as  well as various other social media accounts, said 'I think it's better to keep audiences intrigued and provide helpful information. If you can add value, they appreciate it much more. It's about engaging with people and answering their questions, supporting their fundraising.'
People trust people and if charities are able to cultivate this trust then a circle of support, donation and action can be set up.
But guess what?  40% of companies admit to having no training or governance of social media so…
Come To Our Free Wifi Workshop!
Ahoy! Charities! Want to know how to grow and engage your followers so that you actually keep them? Then sign up for our FREE 1 hr Wifi workshop in Brighton on Wed 27th of March. You get oodles of helpful information on Twitter, a free drink (yes you read that correctly) and the pleasure of my scintillating company and expertise! Some other members of our gorgeous team will also be on hand to help answer your questions and to discuss further training opportunities and free workshops.
If you represent a charity and wish to apply for the Twitter for Charities workshop please tweet at ThoughtShift @ThoughtShiftUK including the hashtag #twitterforcharities or email wifiworkshops@thoughtshift.co.uk.
If you would like further information on the Twitter for Charities workshop, take a look at the page on the ThoughtShift Wifi Workshops page