3 Reasons Not to Panic About Google's Mobile Update
If you like many other businesses have received emails from Google Webmaster Tools urging you to fix mobile usability issues you might have been left worried and confused. These emails are a result of an imminent mobile focused Google Algorithm update poised to launch on April 21st 2015.
Google's Zineb Ait Bahajji from the Webmaster Tools team was quoted at SMX Munich as saying that the mobile algorithm "will have a greater impact on search results than the Google Panda update or the Google Penguin update". But before you panic, let's look at the potential impact this could have on your website.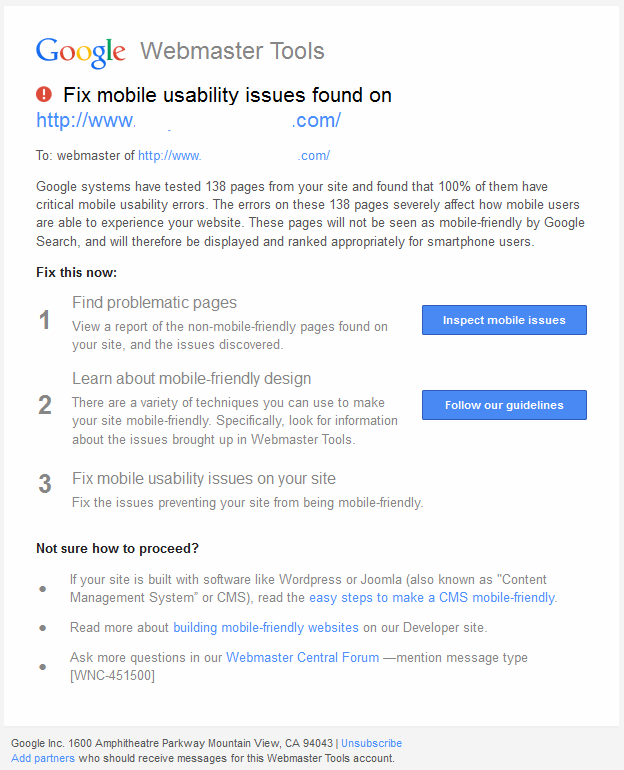 1. Is the importance of mobile a surprise?
Unless you've been hiding under a rock for the last few years the importance of mobile usability for your customers will not come as a revelation to you. Gradually over the last 5 years, making your website responsive and mobile friendly has become less of a "nice to have" and more of a must have.
Some research from GlobalWebIndex states that 36% of adults purchased a product via their mobile last month. The same research shows that young internet users are the primary drivers in the growth of mCommerce with 4 in 10 16-24 year olds using mobile to shop online each month.1
2. Trust YOUR Data
OK so you have known a mobile update was coming for a while but you haven't rolled out or perhaps even planned to make your website mobile friendly yet. You have probably come to this decision because either:
a) You have lacked the budget and resources to change
b) You consider the mobile traffic to your website insignificant
Well if it's reason A I'm afraid the mobile trend is not a flash in the pan and is here to stay. Accepting that you must make these changes is the first step, followed by a plan of what you can realistically implement and when.
If it's reason B why you haven't invested your energies into mobile, is it just a hunch or have you looked into the data in Google Analytics to support this belief?
As Google has clearly stated the update will only affect mobile search results go into analytics, select a large date range of about a year so you're not thrown off by seasonality and have a look under Audience > Mobile > Overview.

What percentage of your overall website traffic comes from mobile? Whatever the percentage of traffic from mobile devices is, this is the amount of traffic to your website which is vulnerable from the update. In this overview area, you should also be able to see your bounce rate and the conversions from mobile devices.
You have less than 10% mobile traffic
If you have a very small amount of visitors from mobile then there's even less reason to panic. As I've already mentioned the mobile trend is likely here to stay, so don't discount this traffic as insignificant and make sure you plan mobile updates into your website's future.
You have a decent amount of mobile traffic but a high bounce rate and no conversions
If you have a good amount of mobile traffic but not many mobile conversions and a high bounce rate, this might suggest that you have a bad user experience for mobile visitors. However, this also indicates that the mobile traffic that you have now is not very valuable to your website. So although you are likely to be affected by this update, your site which is currently serving up a less than desirable experience will no longer be disappointing your visitors. Look at this as an opportunity to protect your brand from presenting a bad façade to mobile customers and work to get mobile issues fixed as soon as possible, making whatever start you can.
You have a good amount of mobile traffic and conversions
So you've got both mobile traffic and mobile conversions? This means that visitors are having a relatively good experience on your website on their mobile. Although you may have received an email telling you to fix mobile usability issues, it's hard to predict the effects on your website before the update.
As your mobile traffic is very valuable to you, fix the issues that are easiest first, on the most valuable pages of your site and systematically work your way through. Use Google's tools to assess what needs fixing on your site:
https://www.google.com/webmasters/tools/mobile-friendly/
And follow their best practice guidelines:
https://developers.google.com/webmasters/mobile-sites/?hl=en
3. Expect a shift in mobile competition
You can expect a fair bit of fluctuation in organic mobile rankings as the update rolls out. Everyone is worrying about their own site being hit, but there is also the chance that some of your competitors will be affected by this update which could be beneficial to your website. This could also throw up some new competitors in mobile search results.
Thanks For Reading
Follow my contributions to the blog to find out more about the latest digital marketing news or sign up to the ThoughtShift Guest List, our monthly email, to keep up-to-date on all our blogposts, guides and events.
Sources