Every home needs lights, and the growth of the UK lighting market by 44% from 2013 – 2017 with a further 4% growth each year shows that it is a market to be involved in (AMA Research). A lot of the growth maybe attributable to the increase in LED bulbs.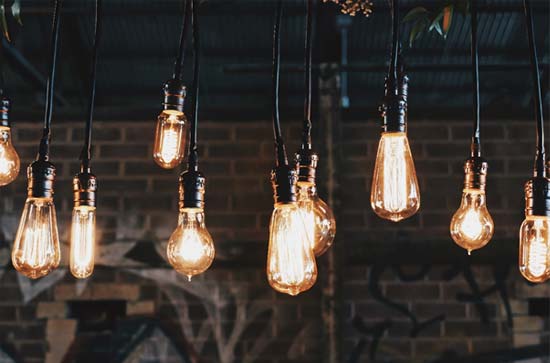 But when it comes to high end, designer lighting, how should you be selling it online?
We've focused on three aspects of the best digital ecommerce marketing strategies for high end, designer lighting, Organic Search, Paid Advertising and Social Advertising.
Start with the customer
We always start with getting as clear an understanding of your customer as possible. What are they like? What do they like? What are the problems they want to solve when they look for the products you are selling? Once we've shone some light on that, we can roll our sleeves up and start to think about the words they will be using when they search for the lights you are selling. Keyword research reveals the words consumers are using, not the words the industry thinks they should use.
Before we get into a couple of examples, how do you choose the words to research?
Choose the right mix of keywords
| Keyword | Avg Monthly Searches | Page One Competition | Suggested Pay Per Click (PPC) Bid | Estimated Monthly Traffic | Estimated Monthly PPC Budget |
| --- | --- | --- | --- | --- | --- |
| ceiling lights | 110,000 | 100 | £0.80 | 22,000 | £17,600 |
| wall lights | 60,500 | 100 | £0.82 | 12,100 | £9,922 |
| lighting | 49,500 | 100 | £0.88 | 9,900 | £8,712 |
| led lights | 33,100 | 100 | £0.69 | 6,620 | £4,568 |
| lights | 27,100 | 100 | £0.88 | 5,420 | £4,770 |
| led ceiling lights | 18,100 | 100 | £0.72 | 3,620 | £2,606 |
| designer lighting | 2,900 | 100 | £0.43 | 580 | £249 |
| lighting design | 1,600 | 61 | £3.66 | 320 | £1,171 |
| lux light | 720 | 26 | £1.38 | 144 | £199 |
| luxury lighting | 720 | 100 | £1.82 | 144 | £262 |
| ceiling light design | 720 | 100 | £1.43 | 144 | £206 |
| designer pendant lights | 390 | 100 | £1.80 | 78 | £140 |
| bedroom wall lamps | 390 | 100 | £0.76 | 78 | £59 |
| bedside table lights | 390 | 100 | £0.92 | 78 | £72 |
| led light fixtures | 390 | 100 | £1.01 | 78 | £79 |
| exterior led lighting | 390 | 100 | £0.64 | 78 | £50 |
| bedroom wall lamps | 390 | 100 | £0.76 | 78 | £59 |
| decorative wall lights | 390 | 100 | £1.15 | 78 | £90 |
| luxury lamps | 210 | 100 | £1.32 | 42 | £55 |
Keywords fall into three categories according to how people are searching. There are general, simple terms, we sometimes refer to them as caveman search terms. Often just one or two words such as 'light' or 'wall light' they are often used for research and have little 'buying intent'. Consideration terms are more sophisticated and will often be a simple, caveman type term plus an adjective, for example 'brass wall light'. These are searches by people who, at least to some extent, know what they want. The third category are buying search terms, often including brand names such as 'octagonal brass led pendent light' or 'Tom Dixon style pendent light'. There's less people searching but a greater proportion are heading for the buy now button. In other words, as buying intent increases the number of searches decreases. You need to use a mix of all three and to use them with care.
Strategic metadata – careful what you do with those words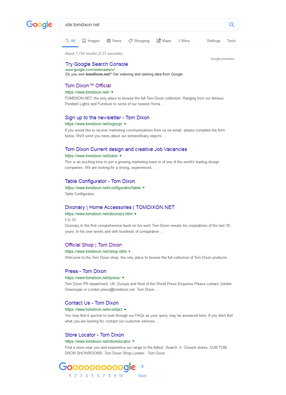 This is the meta data from high end, lighting designer Tom Dixon. You can see your meta data by typing 'Site:' and then the main part of your website URL into Google.
Meta data is the most important place to use keywords that you want to be found for in Google search results. However, there's no point in spraying your carefully researched keywords here, there, and everywhere. We sometimes see the same keywords in the meta data for many pages on the same site. Google responds to that by either sharing the attention between them, so none of them rank highly, or ignoring your most cherished page completely. You need a clear strategy to determine what goes where. Category pages are important, as are products. But beware blogs. It's great to have a blog but optimising them with keywords which ought to be sending people to the products they are ready to buy is plain daft. And be sure to use all the space available. You have 60 characters available. Maybe rather than 'Tom Dixon – Official' something like 'High End Designer Lights Pendants, Wall Lights by Tom Dixon'.
The competitive landscape
Let's imagine that you've found a keyword that lots of people are using to search for the very product you want them to buy from you. You've also thought about exactly where to use the key word for the greatest impact on your sales. Part of your strategy to get your site to rank highly for that search term needs to consider where you are now and what you need to do to compete.
Here's page one of Google for the search term 'designer lighting'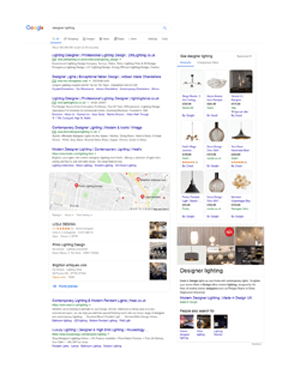 The first thing that strikes you is how dominated the page is by paid advertising – text based and shopping ads. We will come back to that.
The point is, you want to rank as highly as you can. Our own research has shown that companies at the top of page one can get 98% of the clicks. That doesn't leave much for the others.
Let's have a close look at the companies who are ranking well up at the top of page one.
Once you get to the organic listings you find search results for companies who will sell you something to light up your life. Houseology are an interior design resource with backers which, according to The Furnishings Report includes former Tesco's boss Sir Terry Leahy and which has also raised funds from Crowdfunding source Seedrs. Nest is a very fine designer furniture store, the Sheffield based, 17-year-old, project of Christian Hawley. So, the question we need to ask, is how did they get there?
Loving the links

The number of linking root domains you have is one of the most important factors in increasing domain authority is. You can see here that Nest have 94 and Houseology -198. Linking root domains are not, however, all equal. Some have a lot more value than others, it depends on their own authority. You need a link from another site with high authority to increase that all important domain authority for your own site. Link building for ecommerce sites is both a science and an art.
Chose which keywords to focus on
You need to ask yourself a question. Will you be able to build up enough authority to compete with your rivals for any given search term? It will also depend on how well your specific page is optimised for the keyword, how relevant it is to people who find it in this way.
You should also think about where you rank for the keyword. If you are on the bottom of page one, or even page two and the competitors' domain authority is within reach, then it is worth going for it. If you don't rank at all and the gap in domain authority is in double digits then it is time to find another term to compete on. It's all about having a clear and considered strategy.
Research and analyse until you have the right keywords which you can compete on, which will drive the people who want to buy what you are selling to the right place on your site.
And maybe consider Google Shopping.
Google Shopping
Back to that search for 'designer lighting'. Remember how the page was dominated by those adverts? They fall into two categories. Text ads, which are, predictably, text, and shopping adverts which feature pictures and prices. Some also feature extra lines of text and stars. If you have ever wondered how important those stars and reviews are, the short answer is 'very important'.
Getting found in organic search results is important and cost effective but it takes a while to kick in. When we are talking to potential clients we warn them that while improving how they are found through Google and other search engines will add an average of 79% of revenue over the first year it doesn't kick in for up to six or seven months. Then it really kicks in. Paid advertising can, however, have an impact straight away.
Is Google Shopping right for you?
When you are considering Google Shopping, it comes down to maths. Let's break it down into a series of questions.
How many clicks will your budget buy?
How many people who click on your ads will buy from you?
How much will they spend?
Is it worth it?
How many clicks will your budget buy?
From the keyword research we did earlier it's possible to see that the average suggested click would cost £0.93p. If these are the sorts of terms you will be bidding on we can estimate that for a spend of, say £2,000, you buy you 2,150 clicks. In other words
£2,000 (your budget) / £0.93 (Ave. cost per click) = 2,150 (number of clicks you are buying)
How many people who click on your ads will buy from you?
Let's assume a conversion rate of 3%. We've got a separate blog about what's a good ecommerce conversion rate but for now let's stick with 3%. That means around one in every thirty-three site visitors is going to buy.
2,150 (number of clicks you have bought) / 3% (proportion of people who clicked that will buy) = 64 (The number of people who will buy from you)
How much will they spend?
We need to know your average order value. You can get the true figure from your Google Analytics but we are going to assume you are selling classy, pricey, pendants and that you achieve an average order value of £350.
64 (People buying) x £350 (The average amount they spend) = £22,400 (Your revenue from Google Shopping)
Is it worth it?
So that's £22,400 revenue for a media spend of £2,000. A return of X11%. How you feel about that will depend on your profit margins and how much you consider the life time value of that new customer as well as the revenue from the transaction. Once you've got a customer you can use channels such as email marketing to encourage them to buy again. You may also want to think about ways of reducing the cost per click, improving your conversion rate and driving up your average order value.
There are many more important things to know about Google Shopping. It is crucial that you have a good, clean shopping feed to drive it. If you end up advertising products that are not available or with incorrect prices you risk a ban from Google. We also recommend adding custom fields to your field so that you can control what is being displayed and when. That way you can focus on profitable products that are most likely to sell.
Social Advertising with Facebook
We mentioned using email marketing to encourage customers to buy again. You can also use them as part of an effective social advertising campaign. To be clear, we're talking about paid adverts that appear on, for example Facebook or Instagram to send people to buy from your website. We are not talking about boosting your social media presence or influencers.
Facebook Ads comes with the ability to upload your customers' emails. You'll then be able to advertise to them via Facebook and Instagram. You can also advertise to their friends, who are likely to share the same interests, and to look-a-like audiences with similar characteristics. We've found that the most effective way of using look-a-like audiences is to expand the audience incrementally starting by adding a relatively small number of Facebook users with very similar characteristics rather than spreading the net too wide and diluting the similarity with your existing customers. It is wort researching what to overlay in terms of audience. For example, we found the right sort of travel interests worked very well with a high-end jewellery manufacturer. For lights interior design may be worth looking into.
Just a start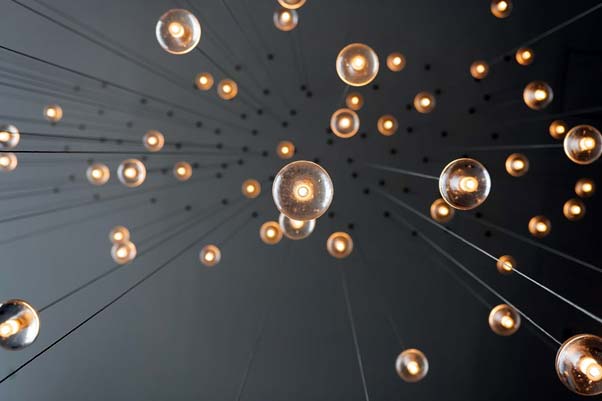 If you sell high-end, designer lighting you'll know how important your ecommerce platform is. Hopefully this blog will encourage you to take a planned, strategic, joined up approach to digital marketing. I've tried to offer some thoughts about digital marketing strategies and tactics you can try yourself but if you are seeking to get out of the shadows, get in touch any way that works for you. Together, we'll shine some light on this.