Digital Marketing Strategies for Sheds, Log Cabins and Garden Buildings
'Slow but steady growth' is predicted for the domestic garden buildings market over the next few years according to AMA Research. They predict 12% growth between 2018 and 2022. It's a market which is impacted by the weather. When the sun shines people start to think about summer houses, when the weather isn't so good they need to repair and replace the shed and storage building, maybe this time with something a little more robust.
Figures from property website Rightmove have revealed a 15 per cent increase in British property listings mentioning log cabins between 2015 and 2016. Provided that they are used as an extension of the main home they will also be unaffected by stamp duty and council tax. So there is a strong market but how do ensure that your sales outstrip the national growth rate?
Who wants a log cabin, and why?
As ever, we start with getting as clear a picture of your customer as possible. Who are they? What do they want? What problems they want to solve when they set out to buy their dream log cabin or shed? Once we've made some sense about that we can start thinking about the words customers use when they are searching.
Choose the right mix of keywords
| Keyword | Avg Monthly Searches |
| --- | --- |
| shed | 110,000 |
| garden sheds | 110,000 |
| log cabin | 60,500 |
| garden storage | 40,500 |
| plastic sheds | 33,100 |
| sheds for sale | 33,100 |
| metal sheds | 22,200 |
| wood shed | 12,100 |
| garden buildings | 12,100 |
| garden house | 9,900 |
| sheds near me | 9,900 |
| small shed | 9,900 |
| garden sheds for sale | 9,900 |
| 6x4 shed | 9,900 |
| corner summer house | 9,900 |
| garden summer house | 8,100 |
| plastic garden sheds | 8,100 |
| summer houses for sale | 8,100 |
| bike storage shed | 6,600 |
| plastic garden storage | 6,600 |
For best practice ecommerce SEO, think of Keywords as falling into one of three categories. There are simple terms. These are just one or two words such as 'shed or 'log cabin'. People tend to use them when they are researching without much 'buying intent'.
Next up we have 'consideration terms' which are more sophisticated and will often be a simple term plus an adjective, for example 'small sheds'. These are searches by people who, at least to some extent, know what they want.
The third category are buying search terms, sometimes including brand names and sizes such as '5m x 3m BillyOh log cabin'. There are less people searching but more are looking for the buy now button. As buying intent increases the number of searches decreases.
Getting Strategic With Metadata
This is the metadata from Living Outside. You can see your metadata by typing 'Site:' and then the main part of your website url into Google.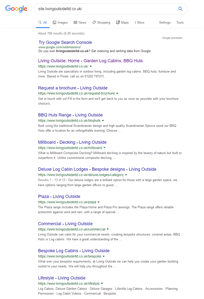 Meta data is the most important place to use keywords that you want to be found for by Google. And it is important to use it carefully. First of all, you have 60 characters so use them wisely and use them all. 'Plaza' is a brand name for a type of awning. And some people may be searching for it by name. But 'Plaza Awning Sunshades' may get you a few more visitors. And there is no point in carefully researching keywords just to use them here, there, and everywhere. Google will either share the attention between pages with the same metadata, so none of them rank highly, or it will ignore your most cared for page completely. You need a clear strategy to determine what goes where. But beware blogs. It's a good idea to have a blog but beware of optimising them with keywords which ought to be sending people to the products they are ready to buy.
The competitive landscape
Which sounds like somewhere you may, or may not, want to put your log cabin. It is, in fact, a look at who else is competing for your customers and what you need to do to beat them.
Here's page one of Google for the search term 'log cabins'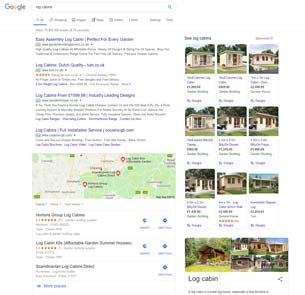 The first thing that strikes you is how dominated the page is by paid advertising - text based and shopping ads. We will come back to that.
The point is, you want to rank as highly as you can. Our own research has shown that companies at the top of page one can get 98% of the clicks. That doesn't leave much for the others.
Let's have a close look at the companies who are ranking well organically without ads, up at the top of page one.
Links, links, links

This chart, from Majestic, shows Trust Flow and Citation Flow for Garden Buildings Direct and Dunster House. Increasing the value of these scores through linking root domains can be one of the most important factors in helping your site rank. That said, it is only the first link from any given site which counts and not all sites are equal. The higher the Trust and Citation flow of the donor sites the greater the benefit will be for your site. There is a way to go about all of this and it is summarised in a very handy blog.
Choosing the keyword to focus on
Will you be able to build up enough authority to rival your competitors for any given keyword? You also need to think about how well your specific page is optimised for the keyword and its relevancy for people who find it by using the keyword.
Now think about where you currently rank for the keyword. If you are on the bottom of page one, or even page two and the competitors' domain authority is within reach, then, if all other things are right, it is worth going for it.
Research and analyse until you have the right keywords which you can compete on, which will drive the people who want to buy what you are selling to the right place on your site.
And then there are Google Ads.
Google Ads
Getting found in organic search results is cost effective but it takes a while to kick in. When we are talking to potential clients we warn them that while improving how they are found through Google and other search engines will add an average of 77% of revenue over the first year it does, however, take a while. Paid advertising can, however, have an impact straight away. It will then improve once your agency gets to know what works and what doesn't.
Back to that search for 'log cabins'. Remember how the page was dominated by adverts? They fall into two categories. Text ads and shopping adverts. Shopping ads feature pictures and prices. Some also have extra lines of text and stars. And those stars make a big difference.
Are Google Ads right for you?
When you are considering Text Ads or Google Shopping, it comes down to maths. Let's break it down into a series of questions.
How many clicks will your budget buy?
How many people who click on your ads will buy from you?
How much will they spend?
Is it worth it?
How many clicks will your budget buy?
From the keyword research we did earlier it's possible to see that the average suggested click would cost £1.62p. If these are the sorts of terms you will be bidding on we can estimate that for a spend of, say £2,000, you buy you 1,235 clicks. In other words
£2,000 (your budget) / £1.62 (Ave. cost per click) = 1,235 (number of clicks you are buying)
How many people who click on your ads will buy from you?
Let's assume a conversion rate of 1%. We've got a separate blog about what's a good ecommerce conversion rate but for now let's stick with 1%. That means around one in every 100 site visitors is going to buy. 1,235 (number of clicks you have bought) / 1% (proportion of people who clicked that will buy) = 12 (The number of people who will buy from you)
How much will they spend?
We need to know your average order value. You can get the true figure from your Google Analytics, but we are going to assume you are selling the sort of log cabins people think about sleeping in and that you achieve an average order value of £4,000.
12 (People buying) x £4,000 (The average amount they spend) = £48,000 (Your revenue from Google Shopping)
Is it worth it?
So that's £48,000 revenue for a media spend of £2,000. A return of X24%. How you feel about that will depend on your profit margins and also the life time value of that new customer. At first site someone who buys a log cabin may look like that they will not be buying more. But there is the possibility of people buying a whole field of log cabins as part of a holiday business. You may also want to think about ways of improving the quality score of your ads. That's a value Google uses to influence the cost per click and how highly your ads appear on the page. You may also want to think about improving your conversation rate and pushing up your average order value.
There are other important things to know about Google Shopping. It is crucial that you have a good, clean shopping feed to drive it. If you end up advertising products that are not available or with incorrect prices you risk a ban from Google. We also recommend adding custom fields to your field so that you can control what is being displayed and when. That way you can focus on profitable products that are most likely to sell.
Social Advertising with Facebook
We have found Facebook and Instagram both have a surprisingly high rate of return for higher value purchases. Facebook Ads come with the ability to upload your customers' emails. You'll then be able to advertise to them via Facebook and Instagram. You can also advertise to their friends, who are likely to share the same interests, and to look-a-like audiences with similar characteristics. The most effective way of using look-a-like audiences is to expand the audience incrementally starting by adding a relatively small number of Facebook users with very similar characteristics rather than spreading the net too wide. It is worth researching what to overlay in terms of audience. For example, we found the right sort of travel interests worked very well with a high-end jewellery manufacturer. For log cabins, interior design may be worth looking into.
Just a start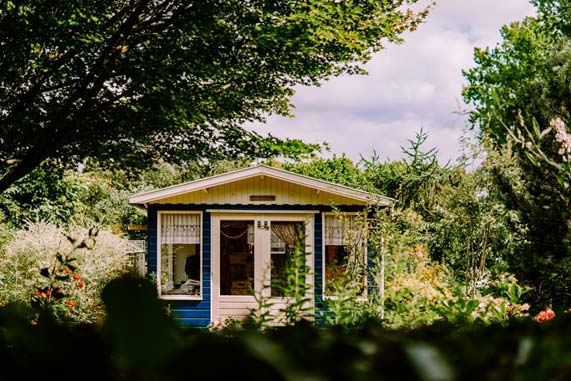 If you sell log cabins, garden buildings or even sheds you'll know how important your eCommerce platform is. This blog is intended to encourage you to take a planned, strategic, joined up approach. If you would like to have a conversation about your business and how to make it grow please get in touch.