Does Google Favour Bigger Brands In Search Results?
A lot has been made over the past few years of how Google has taken action against bigger brands that violate its policies on link spam, brands such as Interflora, JC Penny and Overstock are some of the big names that have been hit. More recently Google is in the process of investigating Microsoft over a marketing agency that has been "soliciting paid posts on behalf of Microsoft's Internet Explorer".
It's all very well that Google wants to be seen to be taking action against the bigger brands; however there are still cases where as an SEO I feel Google should be taking manual action against bigger brands, particularly on a keyword level.
In this blog post I want to look at specific examples of big brands that have pages that are ranking highly in search engines for competitive keywords.
Small Sofas
Take for example the search term "small sofas" which gets 2,900 searches a month according to the Google keyword planner tool.
On Google UK big brands dominate the search results with Ikea and Tesco ranking #1 and #2 respectively and other big brand names such as Argos and John Lewis also appearing on page 1, both of whom also appear in the Shopping and Paid search results. Tesco also pay to appear in the shopping results at the top of Google's search results.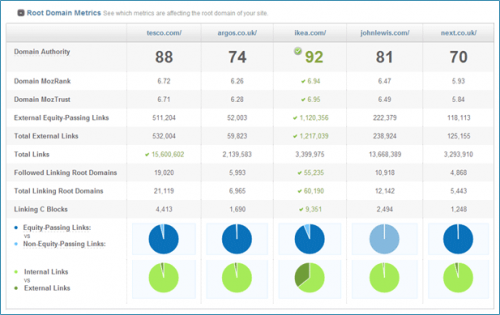 Made.com and housetohome.co.uk also appear on page 1 for the search term "small sofas", however these two sites are leaders in the online interior design sector and both are widely respected in the industry, so it makes sense that they rank for this search term.
There is a trust element involved, as Google knows that people trust these brands and they are well known. I understand that big brands have the advantage of being well known in the offline retail sector, as they have high street and big out of town stores, but why should they dominate the online landscape?
Google may favour the bigger brands as their overall domains have a higher authority but should this enable them to dominate search results on specific keywords?
Tesco Case Study
I could have looked at any of the big brands that are ranking on page 1 for the keyword "small sofas" for the following metrics:
Domain Authority
Page Authority
Onsite Content
External Links
However, the page that I want to look at specifically is the Tesco sofa page, which from a backlink analysis has a variety of paid and spammy links from external domains which I will go into more detail later. This is by no means a criticism of the Tesco brand or their website; it is an analysis of why Google ranks their Small Sofa category page so highly.
Onsite Content
The page that is ranking #2 for the search term "small sofas" is this URL: http://www.tesco.com/direct/home/sofas/cat3375087.cat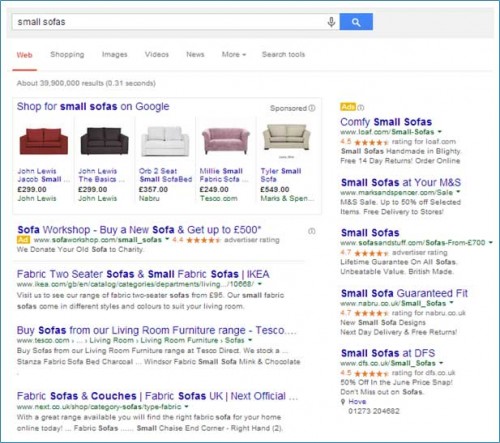 Firstly I would question how relevant is the content on this page for the search term "small sofas"? Google claims to be all about relevancy, but in this case I would question the value of the content for searchers. Looking at the first set of images on the page, they link to other category pages such as Leather Sofas.
Secondly, are these the best sofas available online? Is Google presenting the user with the best set of sofas available on the web? No disrespect to the manufacturers of these sofas, but I am sure that there are higher quality sofas available online and with a bit more searching, a user would be able to find the best sofas available.
Domain Authority
All of the sites that are ranking one page 1 for the keyword "small sofas" have a very high domain authority as you would expect for such big brands.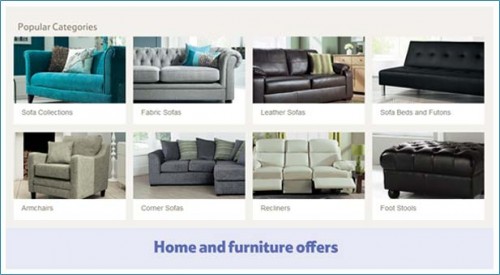 There is a big correlation between how Google ranks sites for their overall domain authority which you would expect. However, when you look at the page authority, external links and onsite content on the Tesco Sofa category, it brings into question how much should overall domain authority count when Google is ranking specific landing pages.
Page Authority & External Links
The Tesco Sofas page has a very high page authority of 55, mainly due to the high domain authority of tesco.com and the external links that are pointing to the site from http://direct.tesco.com, however, there are some links pointing to the URL that are of a questionable quality.

Take for example this blog post which has an anchor text link pointing back to the Tesco sofa page:
http://raising-reagan.com/2014/05/28/enhance-living-room-ambiance-sofa/
I would question if this is a Guest Post or an Organic that happens to have a link pointing back to the Tesco sofas pages, as the lady in question who runs the blog is based in the United States, and there is no obvious reason why the blog would link back to a category page on the Tesco website. It would make more sense if the post was linking to a specific sofa, but even then the link between the two domains is questionable.
Furthermore there is a section which invites companies to submit a Paid Guest Post for $45:
http://raising-reagan.com/contact-us-2/reagans-sponsors/
This would mean that the link in the post is passing authority to the Tesco website, even though it's a sponsored post. Matt Cutts stated back in 2009 that "Paid posts should not affect search engines" as according to Google:
"Buying or selling links that pass PageRank violates our webmaster guidelines. Such links can hurt relevance by causing:
Inaccuracies: False popularity and links that are not fundamentally based on merit, relevance, or authority *
Inequities: Unfair advantage in our organic search results to websites with the biggest pocketbooks" **
Here is another example of a sponsored post from Tesco which has two links passing page authority to the Tesco sofas category page:
http://deepinmummymatters.com/2011/03/choose-tesco-direct-for-kid-friendly-furniture/
It actually has the Tesco logo underneath with a disclaimer of "DISCLAIMER: This is a sponsored post."
The big question here is why Google is ranking the specific URL so highly when it should be penalising the page for having links that clearly violate Google's own quality policies.
In addition to having paid links, this URL also at one point historically had a link from this URL:
http://www.downselot.com/search.php?search=leather%20sofa&action=search
This page is meant to be about "leather sofas", but displays pornographic images.
The URL links to other well-known brands that have sofa category pages such as:
Ikea.com
la-z-boy.com
macys.com
potterybarn.com
These brands rank highly on Google.com for the sofa related keywords. Clearly these links are paid and from a very questionable source, so why isn't Google penalising these brands for having these links.
Tesco have obviously realised that having a link from a page that displays pornographic images, is not in their best interest, but the likes of Ikea have yet to come to that conclusion.
The bigger question here is not about small sofas and Tesco, it's about Google not taking action against the bigger brands for carrying out questionable SEO activities.
Over the last few years Google has penalised many smaller websites through the Google Penguin update for building questionable links to their site, why doesn't Google take action against Tesco instead of letting it rank so highly for such a competitive keyword.
Its time Google levelled up the playing field for smaller brands instead of giving an unfair advantage to bigger brands, who have some very "ropey SEO tactics" indeed.
How Can Smaller Brands Compete Online?
It may seem for smaller website owners that it is almost impossible to compete with bigger brands online. However there are steps that website owners and eCommerce websites in particular can take to compete. These include:
Building faster websites
Implementing better design
Writing better content that is optimised for search engines
Creating a better a user experience
Improving conversion rates
Making category and product landing pages more relevant to the search terms that are driving traffic
Building higher quality links
By improving all of these metrics on your site including on key category and product landing pages, this will help to make your site rank higher in search engines and compete with bigger brands.
If you would like to find out more on how you can improve all of these metrics follow my contributions to the ThoughtShift blog or sign up to the ThoughtShift Guest List, our monthly email, to keep up-to-date on all our blogposts, guides and events.