New Google My Business Features and Help on How to Use Them
Google My Business is one of the most criminally underused aspects of a brand's online presence and historically, one of the most aggravating platforms for marketers. But, that's all set to change. Recent changes to Google My Business has given brands and marketers even more control over what displays in the search results.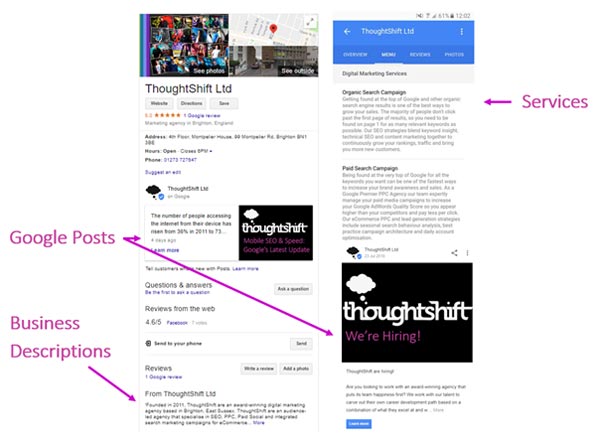 Here's the run-down on the latest additions and help on how to use them.
1. Business Descriptions
They're back and it looks like they're here to stay.
For those that are new to Google My Business; some years ago, it used to be possible to add 100-300 words of brand copy right into your Google My Business profile. This feature was incredibly useful at the time, but Google removed it in August 2016.
Businesses that provide a wide range of product categories or services are very much restricted by the length of meta descriptions and titles. Homepage meta is always a pain-point for clients and agencies because of how challenging it can be to write 150-180 characters of unique, optimised content that includes a balance between whichever keywords you want the homepage to target and brand USPs. Finding that balance and keeping either party happy is tough.
But, the re-addition of business descriptions in Google My Business gives both parties more leeway on what they can write. Brands get up to 750 characters to write all about the services they provide in GMB, which gives agencies a little more room for optimisation in homepage meta. It's a win-win.
But the real benefit of business descriptions is for mobile users who aren't likely to read your meta if they come right from Google Maps. This makes business descriptions essential for those looking to improve their local visibility.
We added the following text to our Google My Business and it pulled through within a minute:
Now mobile users that might be browsing and looking to contact a range of companies within an industry, have a detailed business description to read, that they would have had to visit the website to learn before.
Here's how it looks on mobile:
Here's what we've learned so far:
Be genuine.
Don't stuff your description with keywords.
Include your brand USPs.
Make sure you include any awards or accolades you've won.
Use at least half of the 750-character limit.
We'll be monitoring our rankings to see whether our new description provides any additional boost to our relevancy for certain terms in the coming months.
We'll keep you posted. In the meantime, read our post on local rankings factors on mobile vs desktop.
2. Google Posts
Google Posts are our favourite GMB feature yet.
Google now gives businesses the opportunity to post directly into the search results, within their Knowledge Panel.
You'll see 'Posts' listed in Google My Business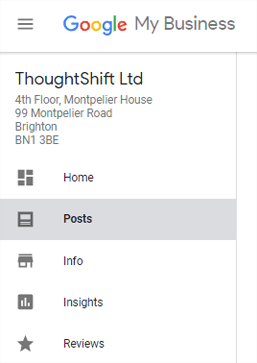 Here's how they appear in the search results: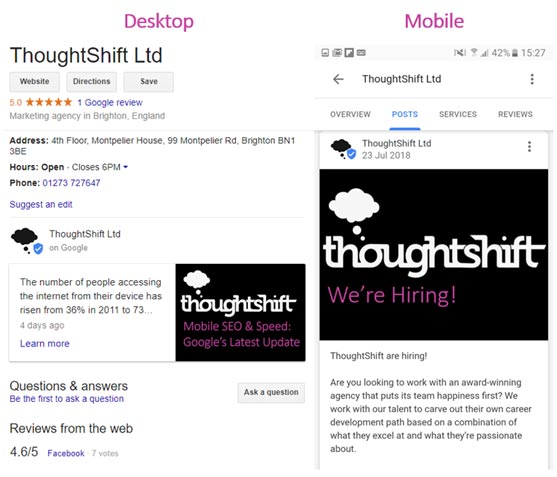 And here's how they look when they're expanded: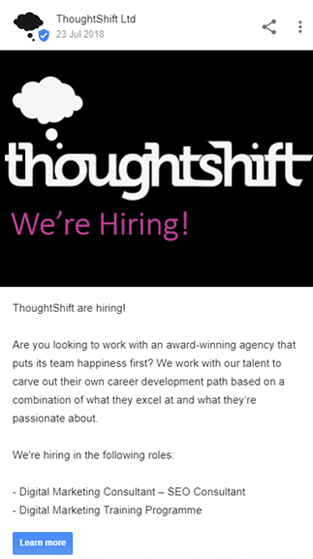 In Google's own words: "Posting through Google My Business lets you publish your events, products, and services directly to Google Search and Maps. By creating posts, you can place your timely text, video, or photo content in front of customers when they find your business listing on Google."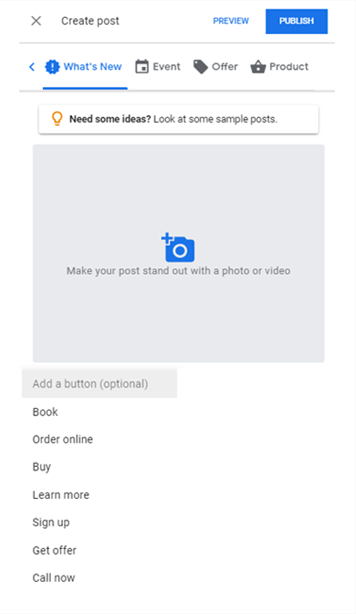 Google encourages small businesses to share 'what's new', 'events', 'offers' and 'product' information in 100-300 words with an accompanying video or image. We've shown the full range of CTA (call to action) options in the image above. Google also gives you the ability to add a specific button point to your landing page to your post for users to click. This could be the full blog-post, full event details, offer redemption form or product landing page.
We've already experimented with the feature for a number of our clients, here's some of the lessons we've learned so far:
Use pictures and videos. Posts perform much, much better when they're visually led.
Make sure your media assets look professional, it will reflect poorly on your brand otherwise.
Post often, Google loves updates!
You don't have to say everything in 100-300 words, you want to give users a reason to click through to your website.
We've had the most success with images that are: 590px by 445px
Be friendly! This post could be the first point of interaction between someone and your brand.
You can have more than one post live at a time, take advantage of it!
We've already seen products top the revenue lists for some of our clients after just one month of a post being live and other forms convert significantly higher than they did when posts weren't live. Google lets you see how many times your post was viewed, and your button clicked in the GMB dashboard.
3. Google Services
Google Services give businesses in certain industries (service industries) the ability to add those exact services into the Knowledge Panel.
Though these aren't showing in desktop search just yet, they do show on mobile – so we advise you take full advantage of the opportunity if you've been granted access. Here's how they look on mobile.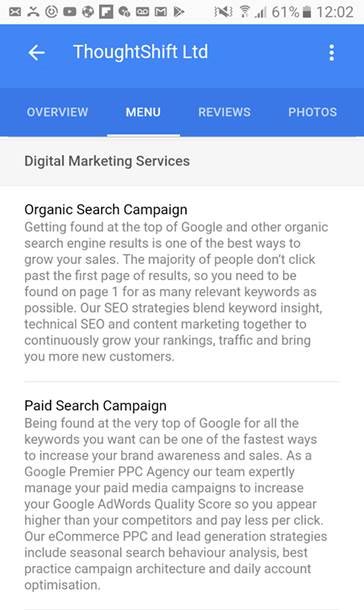 Want to get your own? Here's how:
If you log into Google My Business and navigate to the info panel, which contains your brand details, you'll see the new 'services' option: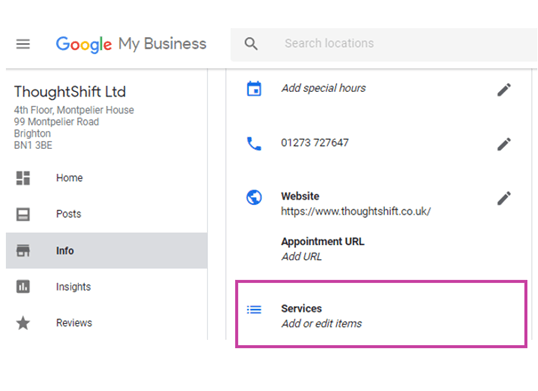 When you expand the menu, you'll see the following (we've already added our menu items, so you'll just see 'Add Section', but you get the gist):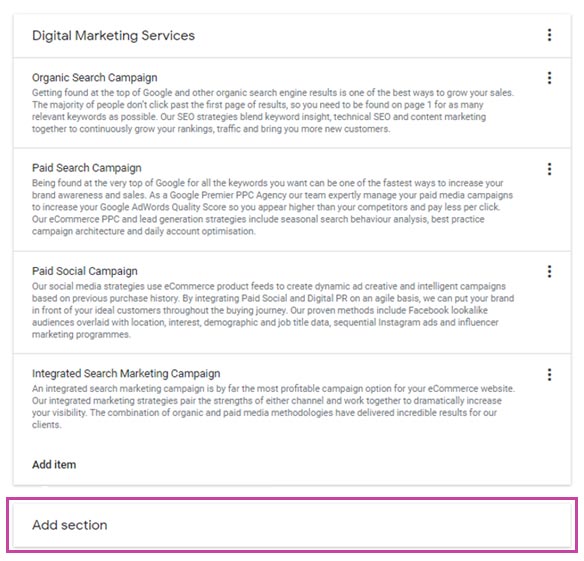 Once you click 'Add Section', you'll be greeted with the following options.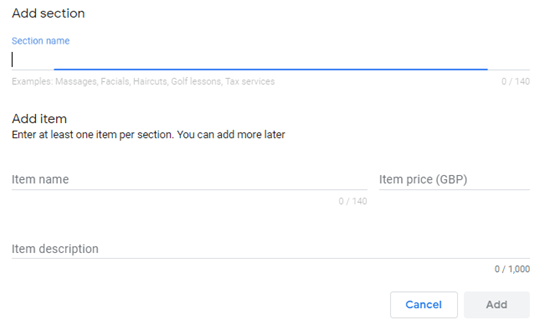 The feature is intuitive and as simple as filling out the requested fields. Here's our key learnings from our experiments so far:
We've used the navigation menu of the client's website to inform our setup. We've used the top-level menu category from the navigation as the Section Name, and we've added each of the subcategories beneath it as their own individual items.
You don't need to add a price, which is ideal for services where a quote is necessary.
If a quote or qualification is necessary, make sure you say so in the item description.
You aren't given the option to point each item to a landing page at this time, so your copy should be as compelling as possible to drive users to your site outside of the menu.
It's tough to see how much benefit this has given our clients as no stats are shown to us about this feature's usage just yet, but if you're looking for a leg-up over the local competition – you shouldn't look any further.
Using just one of the features in this piece is going to make you stand out. But using all three? Well, that's not even fair.
Make sure you're taking advantage of all of them before the competition do. Need more Google My Business help, or unsure where to start? Then we might be the SEO marketing agency for you.
Follow my contributions to the blog to find out more about Google My Business or sign up to the ThoughtShift Guest List, our monthly email, to keep up-to-date on all our blogposts, guides and events.