Digital Marketing Strategies for eCommerce Pet Food and Pet Supplies Retailers
ith 54 million pets split across 12 million households, as counted by The Pet Food Manufacturers Association, the UK is a nation of animal lovers. We are also a nation of internet shopping lovers. We spend more online than any other country, an average of £4,611 per household in 2015 according to the UK Cards Association.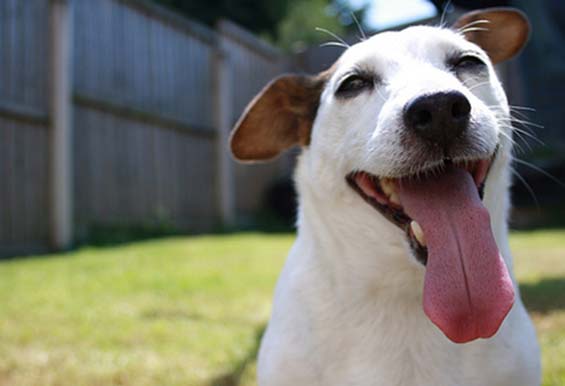 And that's all you really need to know before you appreciate that eCommerce is critical to the success of the pet food and supplies retail industry. According to Pet Gazette, last year, 8.3% of UK dog and cat food sales were made online. Anyone who has ever lugged home bag after bag of weighty dog food will understand why that trend is set to rise.
If you are selling pet food online how do you ensure that your revenue is fitter than a butcher's dog? How do you make sure it isn't a dog's dinner?
We've focused on three aspects of the best digital ecommerce marketing strategies for pet food and pet supplies retailers, Organic Search, Paid Advertising and Social Advertising.
Start with the customer
Get as clear an understanding of your customer as possible. What are they like? What do they like? What are the problems they want to solve when they look for the products you are selling? Once we've got a lead on that, we can roll our sleeves up and start to think about the words they will be using when they search for the sorts of things you are selling. Keyword research is fascinating because it reveals the words consumers are using, not the words the industry thinks they should use. It also reveals some interesting trends.
But before we get into a couple of examples, how do you choose the words to research?
Choose the right mix of keywords
Keywords fall into three categories according to how people are searching. There are general, simple terms, we sometimes refer to them as caveman search terms. Often just one or two words such as 'dog food' they are often used for research and have little 'buying intent'. Consideration terms are more sophisticated and will often be a simple, caveman type term plus an adjective, for example 'vegan dog food' or 'gluten free dog food'.
These are searches by people who, at least to some extent, know what they want. The third category are buying search terms such as 'dog food next day delivery' or 'dog food subscription'. There's less people searching but a greater proportion are heading for the buy now button. In other words, as buying intent increases the number of searches decreases. You need to use a mix of all three and to use them with care.
Choose the right mix of keywords

| Keyword | Avg Monthly Searches | Page One Competition | Suggested Pay Per Click (PPC)  Bid | Estimated Monthly Traffic | Estimated Monthly PPC Budget |
| --- | --- | --- | --- | --- | --- |
| pet shop near me | 27,100 | 9% | £1.71 | 5,420 | £9,268 |
| pet supermarket | 27,100 | 29% | £0.18 | 5,420 | £976 |
| dog food | 12,100 | 100% | £2.06 | 2,420 | £4,985 |
| cat food | 8,100 | 100% | £0.86 | 1,620 | £1,393 |
| pet supplies | 5,400 | 57% | £0.38 | 1,080 | £410 |
| best dog food | 5,400 | 100% | £1.38 | 1,080 | £1,490 |
| pet food | 2,900 | 83% | £1.01 | 580 | £586 |
| pet superstore | 1,000 | 27% | £0.43 | 200 | £86 |
| vegan dog food | 1,000 | 100% | £1.01 | 200 | £202 |
| dog supplies | 880 | 75% | £0.52 | 176 | £92 |
| diet dog food | 720 | 100% | £1.47 | 144 | £212 |
| cheap cat food | 720 | 100% | £0.76 | 144 | £109 |
| cheap dog food | 720 | 100% | £1.41 | 144 | £203 |
| pet food online | 720 | 98% | £0.99 | 144 | £143 |
| vegetarian dog food | 590 | 100% | £1.07 | 118 | £126 |
| gluten free dog food | 590 | 100% | £1.31 | 118 | £155 |
| local pet shops | 590 | 13% | £0.42 | 118 | £50 |
| organic dog food | 480 | 100% | £1.54 | 96 | £148 |
| healthy dog food | 480 | 100% | £2.93 | 96 | £281 |
| cat supplies | 390 | 100% | £0.53 | 78 | £41 |
Strategic metadata – beware of the blog
Metadata is still the most important place to use keywords that you want to be found for in Google search results. However, there's no point in using your carefully researched keywords here, there, and everywhere, spraying them around your site like confetti. We sometimes see the same keywords in the metadata for many pages on the same site. Google responds to that by either sharing the attention between them, so none of them rank usefully, or ignoring your most loved and cherished page completely. You need a clear SEO strategy to determine what goes where. Category pages are important, as are products. But beware blogs. It's great to have a blog but optimising them with keywords which ought to be sending people to the products they are ready to buy, could mean your blog page outranks you buying page and that will certainly be detrimental to your eCommerce sales. 
The competitive landscape
Let's imagine that you've found a keyword that lots of people are using to search for the very product you want them to buy from you. You've also thought about exactly where to use the keyword for the greatest impact on your sales. Happy days? Well maybe. Part of your SEO strategy to get your site to rank highly for that search term needs to consider where you are rank now in Google and what you need to do to compete.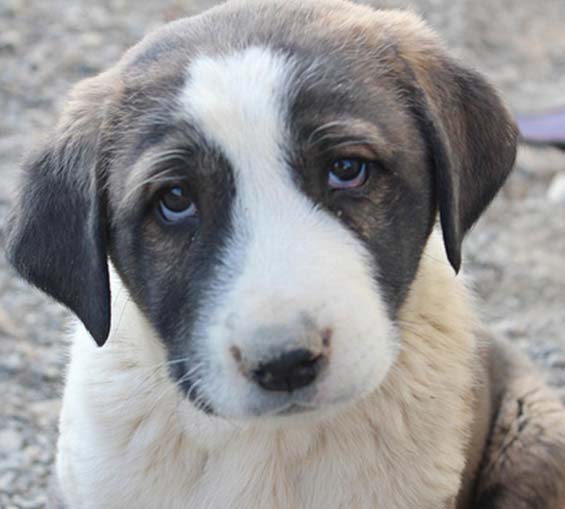 Here's page one of Google for the search term 'vegan dog food'.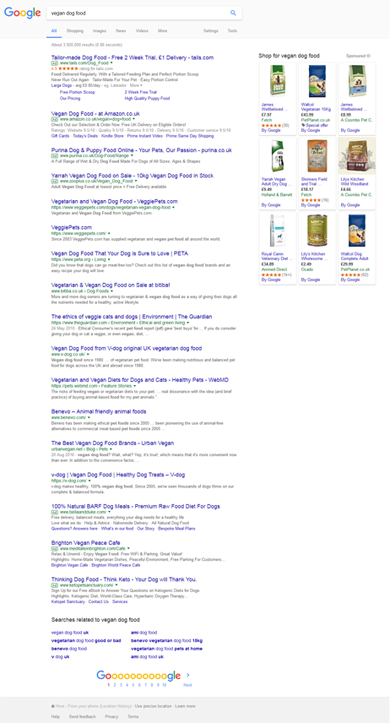 The first thing that strikes you is how dominated the page is by paid advertising - text based and shopping ads. We will come back to that. The point is, you want to rank as highly as you can. Our own research has shown that companies at the top of page one can get 98% of the clicks. That doesn't leave much for the others. Let's have a close look at the companies who are ranking well up at the top of page one.
Once you get to the organic listings you find search results for companies who will sell you something to feed your dog dominated by veggiepets.com, v-dog.com and benevo.com. In amongst them are companies and organisations offering information, advice and opinion, specifically peta.org, theguardian.com and pets.webmd.com.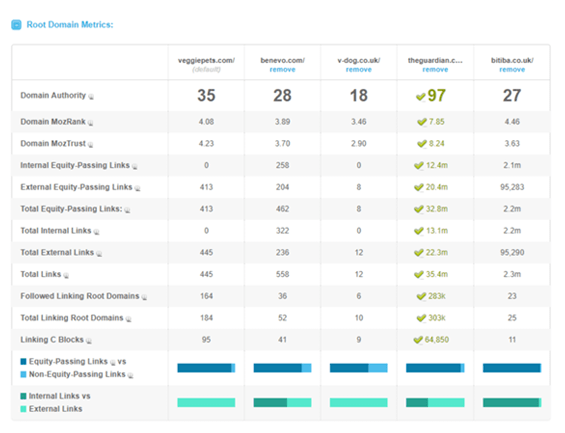 This is a screenshot from a tool called Moz Open Site Explorer. You can use it for free provided you don't go above their daily limit. The big number is a score out of 100 for domain authority. Think of it as a measure of how highly Google regards your site.
The enduring importance of links
One of the most important factors in increasing domain authority is the number of linking root domains you have. But linking root domains are not born equal. In fact, some have a lot more value than others, it depends on their own authority. You need a link from another site with high authority to increase that all important domain authority for your own site. Link building for ecommerce sites is an art with many tactics which need to be pursued strategically, patiently and consistently.
Choose which keywords to focus on
With a domain authority of 97/100 the Guardian is going to take a lot of knocking off that top spot. When you look at the eCommerce listings they range between 18 and 35. Now you need to ask yourself a question. Will you be able to build up enough authority to compete with your rivals for this search term? It will also depend on how well your specific page is optimised for the keyword and how relevant it is to people who find it in this way.
You should also consider where you rank for the keyword right now. If you are on page two and the competitors' domain authority is within reach, then go for it. If you don't rank at all and the gap in domain authority is in double digits then it is time to find another term to compete on. It's all about having a clear and considered eCommerce SEO strategy. Just going after keywords based on search volume or relevance alone is a recipe for disaster, as you won't see any return on your SEO investment in the short term and end up wasting precious resources.
Research and analyse until you have the right keywords  for your website, which you can compete on and which will drive the people who want to buy what you are selling to the right place on your site. 
Google Shopping
Back to that search for 'vegan dog food'. It's just an example. I'm not a vegan and I'm not a dog. And that's a very old internet joke. Remember how the page was dominated by those adverts? They fall into two categories. Text ads, which are, predictably, text, and shopping adverts which feature pictures and prices. Some also feature extra lines of text and stars. If you have ever wondered how important those stars and reviews are, the short answer is 'very important'.
Getting found in organic search results is important and cost effective but it takes a while to kick in. When we are talking to potential clients we warn them that while improving how they are found through Google and other search engines will add an average of 79% of revenue over the first year it doesn't kick in for up to six or seven months. Then it really kicks in. Paid advertising can, however, have an impact straight away.
Is Google Shopping right for you?
It comes down to maths. Let's break it down into a series of questions:
How many clicks will your budget buy?
How many people who click on your ads will buy from you?
How much will they spend?
Is it worth it?
How many clicks will your budget buy?
From the keyword research we did earlier it's possible to see that the average suggested click would cost £1.14. If these are the sorts of terms you will be bidding on we can estimate that for a spend of, say £2,000, that will buy you 1,754 clicks. In other words
£2,000 (your budget) / £1.14 (Ave. cost per click) = 1,754 clicks (number of clicks you are buying)
How many people who click on your ads will buy from you?
Let's assume a conversion rate of 3%. We've got a separate blog about what's a good ecommerce conversion rate but for now let's stick with 3%. That means around one in every thirty-three site visitors is going to buy.
1,754 clicks (number of clicks you have bought) / 3% conversion rate (proportion of people who clicked that will buy) = 52 sales (the number of people who will buy from you)
How much will they spend?
We need to know your average order value. You can get the true figure from your Google Analytics but we are going to assume you are selling big old bags of luxury dog food and that you achieve an average order value of £100.
52 sales (people buying) x £100 average order value (the average amount they spend) = £5,200 revenue (your revenue from Google Shopping)
Is it worth it?
So that's £5,200 revenue for a media spend of £2,000. A return of 260%. How you feel about that will depend on your profit margins and how much you consider the life time value of that new customer, as well as the revenue from the transaction.
Once you've got new customers, you can use other digital marketing channels such as email marketing, social media and retargeting to encourage them to buy again. You may also want to think about ways of reducing the cost per click, improving your conversion rate and driving up your average order value through continuous improvements to your Google AdWords Quality Score.
There are many more important things to know about Google Shopping. It is crucial that you have a good, clean shopping feed to drive it. If you end up advertising products that are not available or with incorrect prices you risk a ban from Google. Including negative keywords in your Shopping campaigns based on search query analysis, as well as adding custom fields to your feed would also mean that you can control what products are being displayed and when. That way you can focus on profitable products that are most likely to sell.
Social Advertising with Facebook & Instagram
We mentioned using email marketing to encourage customers to buy again. You can also use your email address data as part of an effective social advertising campaign. To be clear, we're talking about paid adverts that appear on, for example Facebook or Instagram to send people to buy from your website. We are not talking about boosting your organic social media fan numbers or sending people to your social media profile pages.
Facebook Ads comes with the ability to upload your customers' emails to match those that have Facebook profiles to create Custom Audiences. You'll then be able to advertise to them via Facebook or Instagram. As well as targeting your previous customers to let them know it's time to reorder pet food supplies, you can also advertise to Lookalike Audiences, who are likely to share the same interests and reach a brand new audience with a different message. 
To further increase your online sales, you can overlay the lookalike audience targeting to reach pet owners on Facebook, identified by having previously liked pet-related pages, enabling you to target potential dog owners with pictures of dog supplies in your ad, or cat owners with your cat food offers in your ad. 
The more granular your targeting and the more relevant your ad creative to the audience, the more effective it will be in converting the potential customer to a sale. The more paid social campaigns you have, the more revenue you'll be able to generate.
Just a start
If you're a pet food or pet supplies retailer, hopefully this blog will help you in finding a number of digital marketing strategies and tactics you can try yourself. If you are seeking purrfection, give us a shout on the dog and bone or request your free digital marketing analysis.