The Deal With Twitter's Moments Update
This week social media giant, Twitter, have unveiled Moments, FKA Project Lightning. The new lightning bolt tab within the mobile app (though also available as a tab on desktop too) offers a supposedly easier way to enjoy Twitter, combining all mediums from tweets, videos and Vines (so, all of Twitter's babies, conveniently).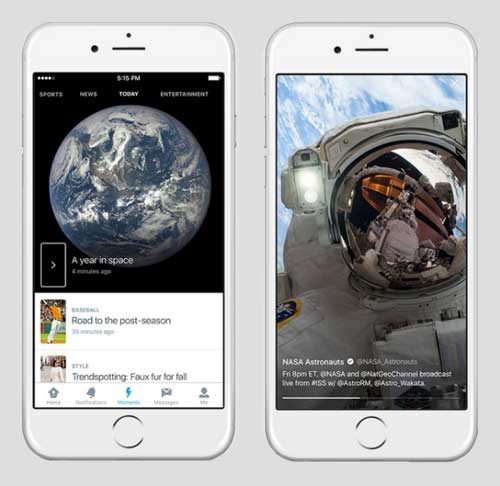 These new 'Collections' collate different tweets from the top news, sports, entertainment and events to be explored as an experience in its entirety, all within a friendly and welcoming, simple layout. This means that a user does not have to follow individual accounts in order to see interpretations of any featured thing and that you won't be left following unwanted accounts after it finishes.Twitter are currently working with influential partners such as Buzzfeed, Entertainment Weekly, Mashable and even Vogue to assemble and curate Moments to suit a plethora of interests, which they are looking to widen further moving forwards.
So Why Are Moments Having A Moment?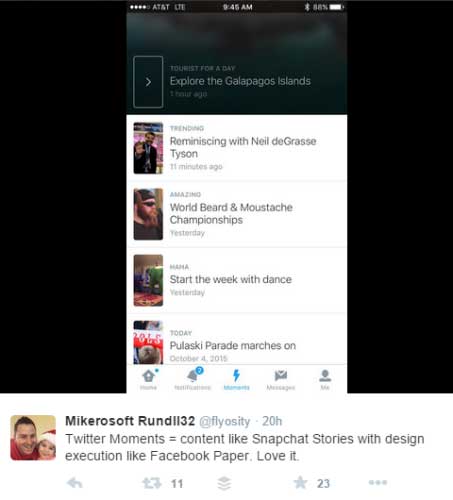 The "biggest change since its invention"1 comes just moments (not even sorry) after Twitter's board announced Jack Dorsey as their Chief Executive. Dorsey, who has previously been Twitter's Chief Exec before, has already outlined a 3 point focus with his return: disciplined execution, simplifying the service and communicating Twitter's value to customers.2It is, therefore, no surprise that the official line over this so-called simplification of Twitter was: "We know finding these only-on-Twitter moments can be a challenge, especially if you haven't followed certain accounts. But it doesn't have to be".3First impressions of the update that is still currently rolling out have described the change as a combination between Snapchat Stories, Facebook's Paper and news sites.Ultimately then, the update is a bid to get more people that find Twitter too confusing to use it currently. Product manager Madhu Muthukumar stated: "We're looking for people who have either tried and kind of given up, or people who use it [Twitter] and know there's good content there but for one reason or another, they haven't really gotten the experience that we all get out of it here – which is this rich, amazing source of the world's voices".4
Still Need Convincing?
So some of the clearest benefits that could be achieved are 1) The hype at least should get even the Twitter experts interested enough to try Moments and get the ball rolling, 2) More people joining Twitter to use Moments, which is what they wanted, and 3) More people will spend more time within the app.From what we have seen so far, this new part of Twitter is impressive enough, you can even explore the Galapagos Islands from your phone! Here are some of the other positive things you can gain from Twitter's update:
You can share Moments on other platforms and embed them into sites – great for showing fresh content on your website (where relevant of course).
You can see an event in real time and after it's finished, which will be really useful for industry-related events that businesses can tap into.
You will not have to commit to following accounts in order to see their impressions of an event, game, place and so on. Once the Moment you are following is finished, the tweets are no longer in your feed.
If you do find Twitter confusing you can use Moments and get the highlights without having to understand the character limits and language used.
New users won't have to follow any accounts to see the Moments feeds, so they are able to get the benefits of real time news immediately.
News organisations have ways to really extend their reach.
Don't Get Ahead of Yourselves Just Yet
On the other hand, of course, such a big update from an already pretty popular establishment will always ruffle some feathers. Here are some gripes:
As simply an additional tab, those that don't like it can simply ignore it or still ignore Twitter all together. However, if they are to integrate Moments into user's main feeds this may agitate old timers who will then stop using Twitter - which is counter-intuitive to its creation.
The tabs on the mobile screen are smaller – this is most certainly a problem for those with bigger thumb sizes (the struggle is real). However, this would suggest that the push for us to move to bigger mobile screens is now unavoidable.
The content is chosen manually, meaning it is someone else's opinion that dictates if something is deemed 'popular' or 'important'. Usually this is done through an algorithm so cannot be biased. So although popular sources such as Vogue and Buzzfeed will choose what to include, there is still their opinion limiting what we will see.
It is yet to be seen how promoted and paid ads will be featured in Moments, questions have already been asked as to the dominance bigger brands may have over any Moment partnerships. This also means that while people spending more time in the app is great and creates more ad space, this could be monopolised by bigger brands in favour with partners.
Are Moments simply glorified #hashtag collections curated by Twitter partners rather than the users themselves?
Evaluation
So, while this 'monumentous' change for Twitter is admittedly a big deal, its success can only be told by how it is used in the months to come. Granted, there is a lot of opportunity for businesses to be innovative if and when they are fully rolled out, but only if a Moment curator deems it so.I believe that the more important part of these announcements is the force for change that Jack Dorsey is clearly driving for. Could we see Twitter morphing into a combination of all of the other social channels in a bid for popularity as it seems Facebook is doing, or could this be the start of something incredible? We shall see!What do you think about Twitter's new Moments update? Let us know in a comment below!Follow my contributions to the blog to find out more about social media marketing, or sign up to the ThoughtShift Guest List, our monthly email, to keep up-to-date on all our blogposts, guides and events.
Sources