Why You Should Create an Integrated Multi-Platform eCommerce Advertising Strategy
Google has created some great resources for marketers to understand consumer behaviour online via their Think With Google website and their Consumer Barometer tool. In one study they found that consumers typically spend 7 hours over 11 interactions in 4 locations researching a brand or product before making the decision to purchase.
Yes, that's right:
7 hours in 11 interactions across 4 locations
Therefore, consumers need to be able to find your brand in at least 4 locations and you need enough content to fill 7 hours of research time.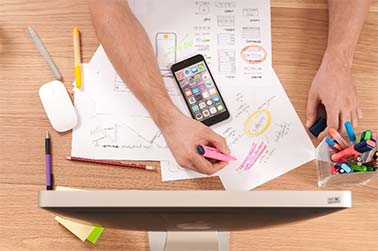 In order to accommodate this customer behaviour a truly integrated marketing strategy is needed. eCommerce marketers need to understand where potential customers go to inform their purchase decision and create appropriate content to satisfy their research behaviour. Depending on your product this may vary but will typically include:
Google Search Results for your brand and/or product
Your website
YouTube coverage of your product (both owned and third party)
Your Facebook and/or Instagram

The content you are posting and the customer comments and reviews

Independent review sites

Either customer reviews such as Feefo or authority reviews such as Which?

Your Twitter / Pinterest
For some eCommerce businesses this can be pretty daunting. Effectively managing social media presences across 3 – 5 platforms is not an insignificant undertaking. Depending on your brand or product, dominating the Google Search results with your desired message can also be a challenge, not to mention the work behind securing both customer and authority reviews. This is where digital advertising can help to lighten the load.
eCommerce Advertising Strategy
In order for your eCommerce advertising investments to be most effective at taking potential customers on a journey through to purchase, without being on your website, you really need an integrated multi-platform digital advertising strategy.
Often brands assign Facebook advertising services to their Social Media agency or team and Google advertising to their PPC marketing agency or team. The result of this approach is two disparate strategies and the opposing teams competing for more budget, assets or recognition of their successes.
So, how can you utilise digital advertising to accommodate customers' research needs?
1. Develop an advertising story
This is not new, it has been used in traditional advertising for years. What is the journey that you want to take potential customers on that ends with purchasing your product? Tap into why your target audiences would have a need for your product and how your product satisfies that need.
2. Map out the journeys
Where is likely to be the first touchpoint with your advertising story? Where do you need to hook them in to find out more about your brand? Is it Facebook and Instagram ads to a tailored audience? Is it Google Search based on keywords? Where will your audience go next?
Apply your story to this journey.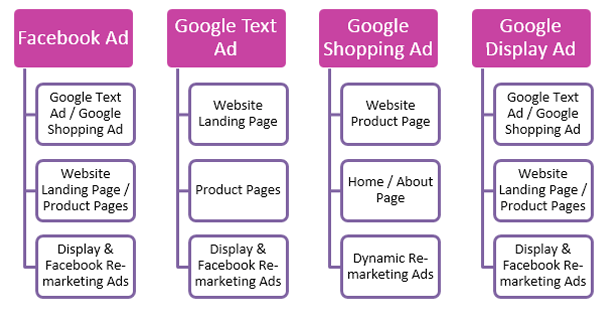 For example: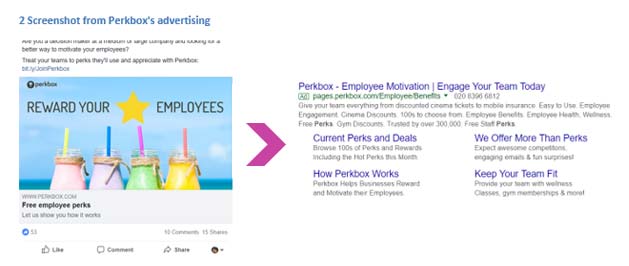 3. Measure each step in the context of the bigger picture
Creating a beautiful integrated digital eCommerce advertising strategy and then measuring each platform on a weekly or even monthly last-click revenue basis is short sighted. Set a timescale for the campaign and measure the overall return from the platforms combined. Use that figure to calculate your Cost Per Acquisition and Return on Ad Spend. In the meantime, agree metrics that will effectively evaluate each platform's performance throughout the advertising journey, whether that is Impressions, Clicks, Click Through Rate or Bounce Rate. These metrics can determine how effective each platform is at driving potential customers through the purchase decision journey and enable you to optimise ads as needed.
As an integrated marketing agency ThoughtShift are often looking at how we can increase cumulative eCommerce revenue by making all the digital marketing channels compliment each other. You can follow my contributions to the blog to find out more about digital marketing strategy or sign up to the ThoughtShift Guest List, our monthly email, to keep up-to-date on all our blogposts, guides and events.