Goddiva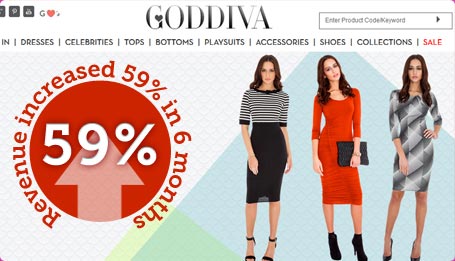 An online fashion retailer, specialising in celebrity style dresses
ThoughtShift provided SEO services
The Situation
An online fashion retailer, specialising in celebrity style dresses wanted to increase traffic and eCommerce sales from their website.
The Solution
Keyword research identified that there was an opportunity to rank on the 1st page of Google results for the keywords "party dresses" or "celebrity dresses".
Technical auditing found quick wins for the site to improve the ability for search engine robots to crawl and index the site.
Meta data optimisation applied the target keywords to title tags, meta descriptions and headings.
Optimised product descriptions and category pages for relevant keywords.
Created unique URLs for page listings to allow search engines to index all products.
Monthly linkbuilding included fashion trend and celebrity style content creation, fashion blogger outreach, Pinterest, Polyvore content curation and community engagement to increase the value of the inbound links .
The Results
Page 1 in Google for competitive keywords like "maxi dresses", "party dresses" & "mini dresses".
Organic revenue increased by 59% in 6 months.
Organic visits increased by 84% in 6 months.