Using PPC to Enhance Your SEO
How can PPC and SEO work together? Well PPC and SEO when managed together can do wonders for your online marketing efforts. Essentially, your PPC  can help drive your SEO campaigns strategy. Not only can paid search provide valuable keyword and conversion data but it can be used in a testing environment for content optimisation. Also PPC is a great backup if the next Google Algorithm update (insert random animal name here) destroys your websites natural search positions. If you have an AdWords account already set up your website can be back at the top of the results page within 15 minutes and stay there for as long as you want it to (dependant on your media spend budget).
Keyword Research and Strategy
PPC can give you instant visibility on any keyword you desire (within Google terms and conditions of course). This allows you to test the keywords you want to target in SEO to ensure they perform how you expect before spending a lot of time and effort on building natural search authority for those keywords on your website.
PPC search query analysis and testing can also allow you to identify less competitive long tail keywords with high conversion rates that with a targeted SEO campaign can be a relatively cheap SEO quick win.
SERP Real Estate
It's a fact that the more you see a brand for a particular product the more "authority" you associate that brand with that product. So why not adopt the same strategy for a Google results page.
As I'm sure you are aware a huge percentage of Google's revenue if from paid advertising on its Search Engine Results Pages (SERP) this is why Google are continually bringing out new pay for position updates.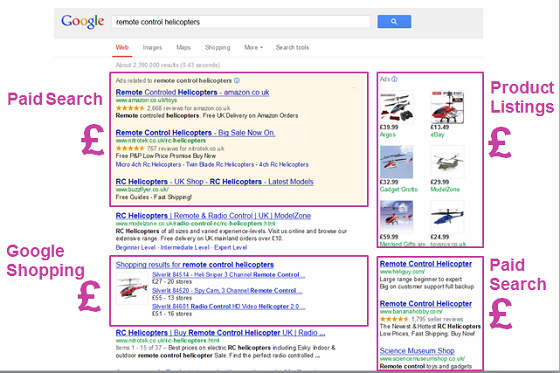 If a searcher sees you brand more than once on a page, chances are, that once more impression over a competitor will win you that click. Your brand will subconsciously carry more authority over a brand that is only featured once on a page or none at all.
This is where you can use paid search to compliment your natural search placement. Dependant on your screen size and viewing device, paid search adverts can take up to 90% of the screen through Text PPC adverts including Ad site links, seller ratings, product and location extensions, product listings and Google Shopping results. If your site features in all the channels available then it will get maximum product brand association, which can also help in offline sales. However all the paid search real estate can also be filled with competitors, allowing them to "steal" the traffic you are after.
Bidding On Your Brand
More often than not a brand should feature in the top natural search result position for Branded searches. If you don't compliment your natural search result with a paid search advert then you are potentially giving that sponsored link top position away to a competitor, which could result in your site losing high quality traffic.
Marketers and site owners might see bidding on your own brand as paying for a click you more than likely would have received anyway. Bidding on branded keywords is generally much cheaper than other keywords as your site is optimised for your brand and should carry high authority, this means you have high landing page, keyword and advert relevancy resulting in a high quality score and advert rank. More importantly having your advert in position one for your brand will mean it is the first text that is read on a SERPs and not a competitor advert trying to steal your traffic.
Landing Page Testing
As with Keyword testing, you can use AdWords to quickly supply relevant traffic to a specific page of your site. This allows you to quickly determine the effectiveness of the landing page and with further testing create the ultimate high traffic, high converting landing pages for your SEO campaign.
Page Title and Meta Description Optimisation
You optimise paid search text adverts to stand out compared to other adverts on a search result page. If your AdWords campaign is well established and optimised then you will have a great idea of which copy works in terms of traffic generation and leads. Use this copy and expand upon it for your site's page title and meta descriptions. As these can be displayed in the natural search results, if the copy has worked in PPC where there are lower character limits then it will boost natural search traffic and conversions.
You can also use PPC to test new page title and meta description, rather than just coding and hoping. When developing new meta data for a page you should be doing so with a Keyword in mind, so use AdWords to bid on that keyword, create a scaled down version of your proposed meta as the title and body of the PPC advert. You can also try other versions out and once you have received a good amount of traffic for that keyword you will be able to make an informed decision by analysing traffic and conversion data of which copy was the most effective and should be used as your meta.
There are many other ways how PPC , SEO, Display and Social media marketing can work in unison, keep visiting the ThoughtShift blog for further updates and insights into online marketing.