What a 114% Increase in UK Loft Conversion Planning Applications Means for Interiors Retailers
At a time when uncertainty is shaping the housing market in the UK and US, our recent research into 2018's home improvement trends revealed that an increasing number of UK homeowners would rather upgrade their homes than move.
people looking for colours, textiles, dividing objects and furnishings to bring their dream space to life and, again, plenty more opportunities to create useful, targeted keyword-rich pages that lead people to your products
In the pursuit of their dream home, more people are now looking to expand the size of their current houses, illustrated by a 114% surge in applications for loft conversions across the UK – a quiet trend that is actually far greater than the much-publicised behemoth basements of London's elite.
Besides being great news for builders, what does trend mean for interior design marketing? And what digital marketing angles should they consider?
It Starts with a Dream
When planning a loft conversion most people will naturally turn to the internet for inspiration, reflected in the growing search traffic for loft- and attic-related terms. Even a fairly specific term like "loft conversion ideas for small lofts" now enjoys 320 searches per month on average in the UK, while the even more specific "small loft bedroom ideas" has 140 monthly searches.
Straight away, for people with a fairly niche search looking at a small room, there are almost 500 monthly searches! And that's well before we consider larger rooms, bathrooms, playrooms, children's rooms, bedrooms or any combination that a customer could have in mind. This is further highlighted by growth in specific terms once people have chosen the direction of their conversion, from "teenage attic bedroom ideas" (30 searches) to "attic master bedroom ideas" (20 searches) all of which offer ripe content gaps for your eCommerce SEO.

Creating compelling and useful content around these terms can help interior retailers showcase their products and collections in a relevant space long before a customer has even built their loft – the products don't even to be loft specific, but the emphasis is on making them relevant to that space and its unique properties. Browsers may even use your site for other home improvements; after all, a lamp that's perfect for tomorrow's loft could still look great in today's living room.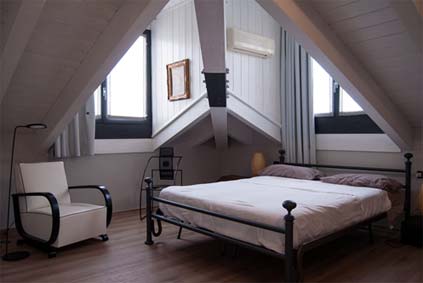 Until Reality Strikes
The essence of marketing is solving people's problems profitably, and search marketing hinges on making sure your brand or product is visible along a customer's journey to solving their problem.
This is where interior design marketers can rejoice as the loft is a space full of challenges, starting from the top down. Most loft rooms will have lower ceilings than the rest of the house and all have some slanted walls where the original pitch of the roof cannot be made into a dormer.
From beds to wardrobes, bookshelves or storage overall, this geometry gives rise to unique search terms that marketers could easily match with their products. Marketers can then either optimise these products for relevant terms or create new category or blog pages around them.
For example, the very specific term "low beds for loft rooms" has 70 searches every month on average in the UK. That term clearly suggests a content gap with high conversion potential for a furniture marketer to fill. With a tight search volume, this term would also support an effective eCommerce PPC strategy that uses the visual nature of Google Shopping to display a low bed in a loft situation – the first item here really nails that.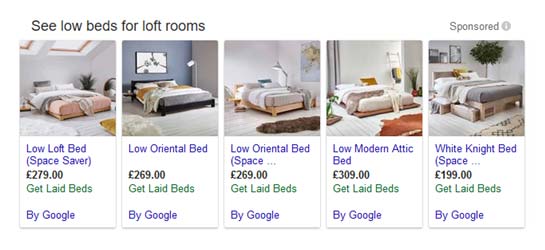 And that's just the tip of the iceberg. Consider how the low ceiling challenge affects specific issues, like lighting, where "lighting for low beamed ceilings" has 40 UK searches a month while "chandelier for low ceiling living room" has 70 searches.
At the broader level, people are still clearly choosing products dictated by the space, hence the search volume for "loft bedroom furniture" (90), "bookshelf for loft bedroom" (40) or "wardrobes for attic rooms" (110) – the latter being an ideal term for both selling shorter or stepped free-standing wardrobes or for fitted furniture sales.
Finishing Touches
There's plenty more to a loft than furniture and so a wide range of retailers who can help. Far from just squeezing things into low-ceilinged, slanted spaces, people will have an idea of how they want their loft to feel, from a calming oasis of open plan space to private zoning for multiple rooms.
These are people looking for colours, textiles, dividing objects and furnishings to bring their dream space to life and, again, plenty more opportunities to create useful, targeted keyword-rich pages that lead people to your products.
Even paint or wallpaper retailers with products that seem entirely universal could benefit from visibility for search terms like "loft decorating ideas" (90) and "loft conversion paint ideas" (40), while furniture retailers with a creative sense for space could address "how to make a loft bedroom private" (140).
Takeaways
Interior retailers cannot overlook the loft trend. As more Brits invest their cash in the attic, they create new bedrooms, bathrooms, playrooms and more that need decorating and furnishing.
While many of the products they need may be the same as those for lower-level living, the loft provides a unique set of challenges that is clearly shaping UK search traffic. To capture it:
Identify the products you sell that match the challenges of a loft or attic
Identify the keywords and search terms relevant to you, from inspiration ("loft playrooms") through to conversion ("low oak double bed")
Create useful guides and content tailored to loft rooms, showcasing your products alongside thoughtful, objective guidance
Create category or collection pages bringing your items together, making sure to optimise all pages and products
Use Google Shopping campaigns to help drive sales of products around relevant searches, ideally using product photography from a loft room
Seal the deal with strong remarketing including using Display ads across home and lifestyle sites
Follow my contributions to the blog to find out more about marketing in a digital world, or sign up to the ThoughtShift Guest List, our monthly email, to keep up-to-date on all our latest guides, advice and blog posts.