What are the SEO Implications of Google and Twitter's latest partnership?
Search Engine Optimisation is fundamentally about making websites show up in the top of search engines. It involves a lot of work, trust and authority building. So is Google really going to start listing a load of new, non-authoritative incomplete sentences above your 10 year old, well written, mobile friendly, conversion optimised website?? I bloody hope not! However, the honest answer is I don't know.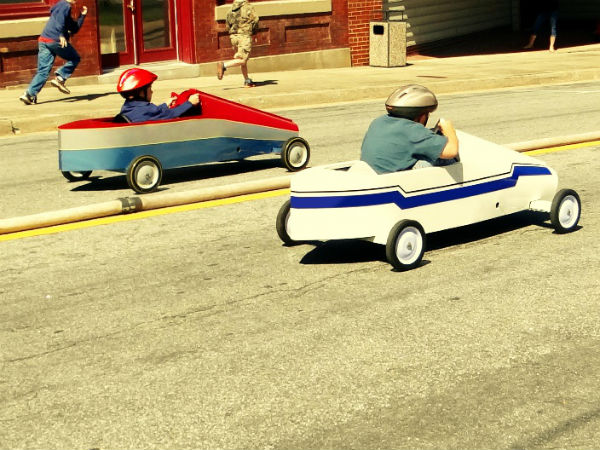 This partnership was announced back in February 2015 with a roll-out plan in the first half of the year. The reason there is such a long roll-out schedule is clearly because Google needs to strike that delicate balance between delivering fresh, relevant real-time results and rubbish. Google wants to deliver the best results for the user but how do they know if the tweets are authoritative or the mindless ramblings of a teenager? The very concept of real-time means that Google can't wait for re-tweet, favourite or reply Twitter engagement metrics as ranking signals.
But that is Google's problem. With the "first half of the year" drawing to a close let's consider the possible impacts on your business's SEO performance.
Where will the Real-Time results be displayed?
It seems unlikely that Google would automatically pull tweets into the main search results. None of the main ranking signals can apply to these brand new content snippets. So where will they be displayed?
There has been speculation that Google will pull the Twitter real-time search results into a Knowledge Graph panel alongside the main search results. This would keep them prominent on the results page without dominating the results listed. I would suggest that another feasible alternative would be to add a Real-Time tab alongside the news, image and video search results:

This would give the user a choice in specifying what they are looking for but may reduce the usage of real-time search results, as it requires an additional click from the user. In both cases these should not impact the current organic search results.
Real-Time in Universal Search Results
Whether this is launched immediately or comes into effect later Google will inevitably pull real-time results into the main search results. This will most probably be laid out in a similar format to the news results that are pulled into the main search results: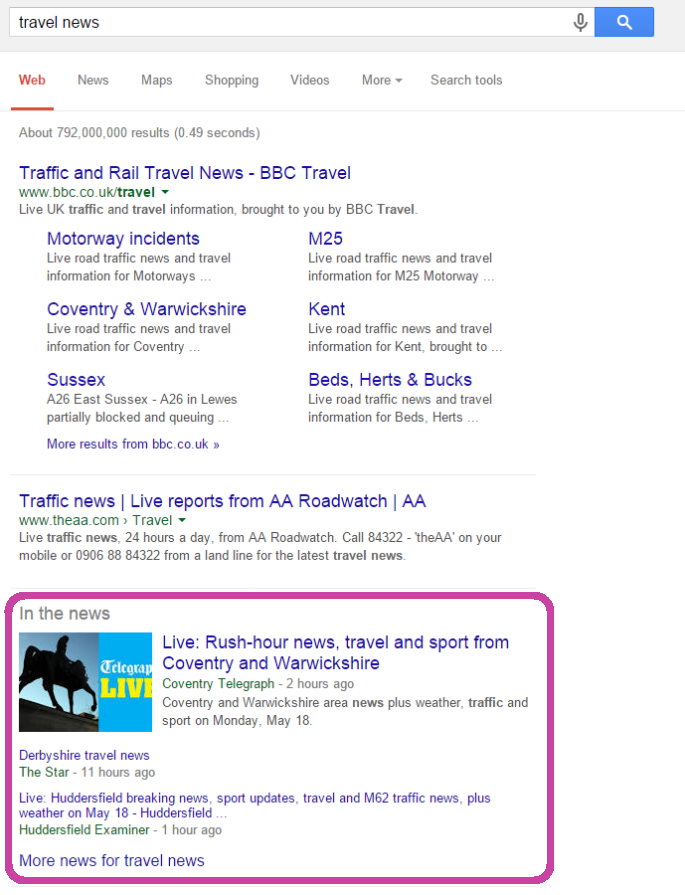 This will impact the main organic search results. At the moment when Google pulls other formats into the Search results it means that fewer web search results are displayed on the page. So, you might keep a #10 ranking but in reality you are now on Page 2 of the search results. This will inevitably impact your organic impressions, click-through rate and traffic.
Update 20/05/15
As if by providence I wrote this post mere hours before Twitter announced the first phase of tweet integration into the Google search results! At this stage the integration has only been rolled out in Google US (English) on mobile search results and the Google app. The first example Twitter has used to demonstrate the integration (see below) suggests that the impact for branded search terms could be bigger than initially anticipated. In the mobile search results at the very least, a brand's latest tweets could be pulled in above their website: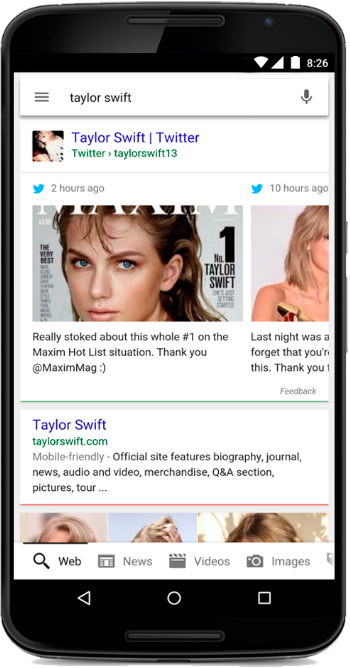 This mobile example does not mean that real-time Twitter results will necessarily be pulled above the web results on desktop search. Mobile search results have always been displayed differently to desktop due to the different dimensions and layout of the page. Therefore, my earlier speculation on the positioning of the real-time results in desktop searches may still apply.
Nevertheless, your Google Analytics can show you the proportion of traffic your website is getting from mobile (see how here). Whatever that percentage may be could be impacted by this update. Visitors will potentially be driven to your Twitter account BEFORE your website, increasing traffic to your Twitter profile and reducing mobile SEO traffic directly to your website. This makes the best practice management of your business Twitter account even more important. Find out more below.
Twitter have said that the desktop search results integration "is coming shortly" and will be rolled out to other countries and languages "in the coming months". It is safe to assume that the UK will be top of the international roll-out plan so watch this space and we will keep you posted!
What are the possible benefits?
Running a healthy, well managed Twitter account could increase your brand awareness through Google considerably. If you are running a well targeted SEO campaign you are likely to be going after more head-match search terms that have a high search volume. Whereas, a good social media strategy will incorporate engaging, themed content that your main website would not necessarily rank for. Therefore, you will have more opportunities to be found by target customers via Google.
Twitter will become an even stronger brand reputation management and PR tool. Tweeting the link to a new press release hosted on your website could get it indexed and gain traction much more quickly than using press release syndication sites. Responding to positive and negative press or social media interactions immediately via Twitter could help brands to stay ahead of reputation management situations. Bear in mind that the opposite is also the case here. A badly worded tweet could have a far greater impact as a result of this integration than is currently the case.
What to do now
This is ultimately speculation and all we can do is wait and see when Google actually launches the integrated Tweets into their search results. Nevertheless, taking the following steps will help to ensure that you capitalise from this partnership when real-time results are re-introduced:
Analyse your target customer base to understand the full potential impact that this could have on your digital performance

What are the potential benefits?
Where are the potential risks?

Plan resource for Twitter management (this can be as little as 3 hours per week depending on the size of your customer base online)
Look at your Twitter and overall social media strategy

Do you have brand tone of voice guidelines?
Do you have a social media response map?
Do you have a social media policy?
Getting these things in place before Tweets are integrated into the Google search results will put your business ahead of the game when the Update is rolled out.
You can follow my contributions to the blog to find out more about digital strategy and trends, or sign up to the ThoughtShift Guest List, our monthly email, to keep up-to-date on all our blogposts, guides and events.