Why Use YouTube For Business: Part Two…Google Prioritises YouTube
YouTube has become the one platform to host videos for businesses and here is why...
In November 2006, the video platform YouTube was bought by Google Ltd. As with any platform Google owns, search results tend to favour their own platforms in its search results rather than any other video platform. Old school SEO results before YouTube showed a manner of different platforms ranking on the first page for video related keywords. We would see videos hosted on their own website and optimised pages would help to rank a video in results. Now there are other factors to consider that will rank a video making YouTube an easier solution to video SEO.
3 Statistic Reasons To Host Video On YouTube
Over 50% of the videos on YouTube have comments on and audience engagement of some kind.
There are millions of subscriber's every day wanting new and exciting content.
Over 100million people use social media to share YouTube videos every day.
Proof of "YouTube's" Priority Over "Videos"
Here is what you see when you are signed into a Google account: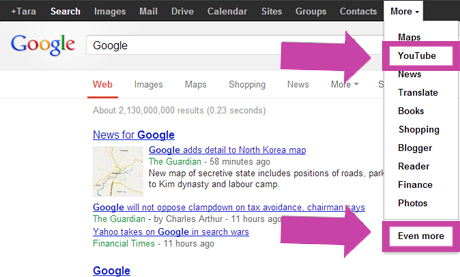 The results under "more" show "YouTube" higher up in the list than "videos" which cannot even be seen in the list. Instead to reach "Videos" results, you have to select the "Even more" tab and search through a list...

Here is what you see when you are not signed in: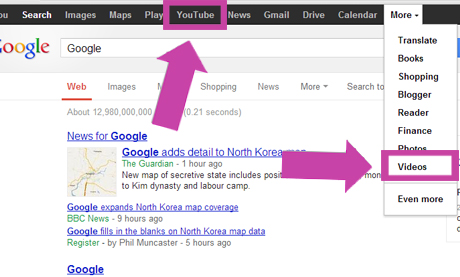 Above we can see that "YouTube" shows in the top search bar navigation of results, whereas "videos" can only be seen in the "more" drop down menu. Again, this shows that YouTube is prioritised over video search results. Just looking at this, are you likely to want to host your brand new video on your own site hoping to get it indexed within Google video results, or should you now go for YouTube where you can get your video indexed instantly, and start sharing it straight away?
The fact that Google now prioritises YouTube results over its video results in the interface of the search engine proves that the video results in organic search will more likely be videos hosted from the YouTube platform. If your business is new to video marketing, perhaps YouTube is the platform to host your videos on. Let's test the theory…
YouTube Ranks Highly…
YouTube videos tend to hold a lot of the top results and ranking positions in Google. I have taken here for example a search for "baby videos" in the Google UK search engine for both organic web results and in Google's videos search results. Both came out with pretty much the same results: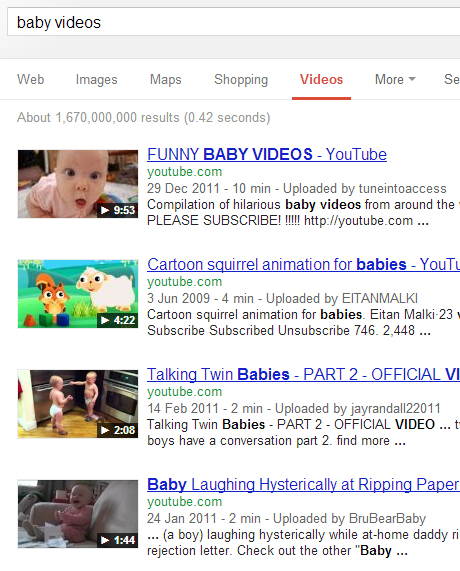 The first nine results are all videos hosted on YouTube.This happens consistently across the board with other search terms such as "funny videos" "flight videos" "amazing videos of the world" and many more... Even in web organic search when video results show within the web results, YouTube dominates the first page. A search for "Tiger Woods Golf Swing" brought the top two video results again hosted on YouTube...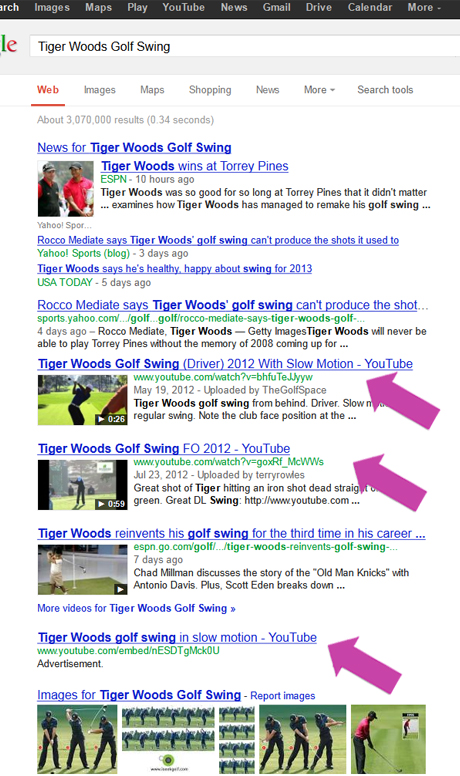 As YouTube video dominates all video results, are you going to follow the trend and host your videos on YouTube? Comment your theories below!

Subscribe to the ThoughtShift Blog today for more information on Digital Marketing Trends. For more of my contributions to the blog, or to find out more information on video SEO, local SEO and digital marketing trends, follow me today!